Abstract
Rationale and objectives
Dl-3-n-Butylphthalide (NBP), a small molecule compound extracted from the seeds of Apium graveolens, possesses a large range of biological effects. Here, we attempted to explore the therapeutic effects of NBP on lipopolysaccharide (LPS)-induced major depressive disorder (MDD) and gain further insight into the underlying mechanisms of the antidepressant effects of NBP.
Methods
We evaluated the effect of NBP against LPS-induced behavioral changes in rats. We also examined the inflammation, oxidative stress, and apoptosis markers and analyzed the Nrf2 and NF-κB pathways in the hippocampus of rats following repeated peripheral immune challenge by LPS for 2 weeks (500 μg/kg every other day).
Results
Our results indicated that repeated LPS administration induced the rats to a depressive-like state and activated inflammatory response, oxidative stress, and apoptosis reactions in the hippocampus. NBP treatment attenuated the LPS-induced abnormal behavior and ameliorated pathogenic processes in rats with MDD. NBP reduced the inflammatory response with inhibited expression of pro-inflammatory cytokines including IL-1β and IL-6 and downregulated the NF-κB signal pathway. Concurrent with the anti-inflammation action, NBP reduced LPS-induced oxidative reactions in the hippocampus and enhanced Nrf2-targeted signals, as evidenced by increased transcription of antioxidant enzymes and decreased malondialdehyde (MDA) production. In addition, NBP inhibited LPS-induced neuronal apoptosis in the rat brain, as evidenced by decreased apoptosis marker Caspase-3 production and TUNEL assay.
Conclusions
These results provide more insight into pathogenesis of MDD and firstly demonstrated the potential antidepressant actions of NBP.
This is a preview of subscription content, log in to check access.
We're sorry, something doesn't seem to be working properly.
Please try refreshing the page. If that doesn't work, please contact support so we can address the problem.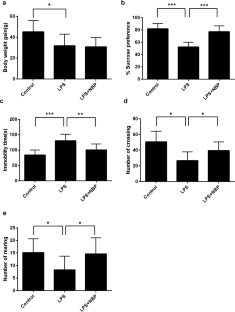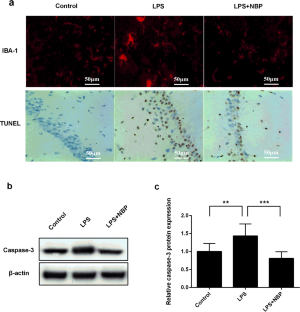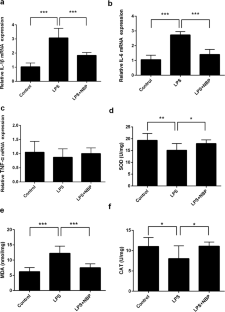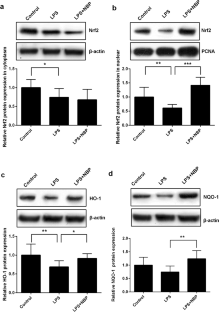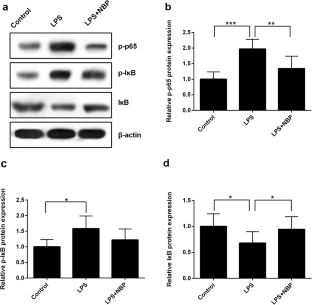 References
Abdoulaye IA, Yi JG (2016) A review of recent advances in neuroprotective potential of 3-N-butylphthalide and its derivatives. Biomed Res Int 2016:1–9

Adzic M, Djordjevic J, Mitic M, Brkic Z, Lukic I, Radojcic M (2015) The contribution of hypothalamic neuroendocrine, neuroplastic and neuroinflammatory processes to lipopolysaccharide-induced depressive-like behaviour in female and male rats: involvement of glucocorticoid receptor and C/EBP-β. Behav Brain Res 291:130–139

Black CN, Bot M, Scheffer PG, Cuijpers P (2014) Penninx BWJH Is depression associated with increased oxidative stress? A systematic review and meta-analysis. In: International Society for Affective Disorders

Bouvier E et al (2016) Nrf2-dependent persistent oxidative stress results in stress-induced vulnerability to depression. Mol Psychiatry

Chang Q, Wang XL (2003) Effects of chiral 3-n-butylphthalide on apoptosis induced by transient focal cerebral ischemia in rats. Acta Pharmacol Sin 24:796–804

Dahl J, Ormstad H, Aass HCD, Malt UF, Bendz LT, Sandvik L, Brundin L, Andreassen OA (2014) The plasma levels of various cytokines are increased during ongoing depression and are reduced to normal levels after recovery. Psychoneuroendocrinology 45:77–86

Dang R, Zhou X, Tang M, Xu P, Gong X, Liu Y, Jiao H, Jiang P (2017a) Fish oil supplementation attenuates neuroinflammation and alleviates depressive-like behavior in rats submitted to repeated lipopolysaccharide. Eur J Nutr 57:893–906. https://doi.org/10.1007/s00394-016-1373-z

Dang R, Zhou X, Xu P, Guo Y, Gong X, Wang S, Yuan F, Yao J, Jiang P (2017b) ω-3 polyunsaturated fatty acid supplementation ameliorates lipopolysaccharide-induced behavioral deficits and modulates neurotrophic factors in rats: focus on tPA/PAI-1 system and BDNF-TrkB signaling. J Funct Foods 30:74–80

De Plaen IG et al (2002) Endotoxin, but not platelet-activating factor, activates nuclear factor-kappaB and increases IkappaBalpha and IkappaBbeta turnover in enterocytes. Immunology 106:577–583

Diao X, Deng P, Xie C, Li X, Zhong D, Zhang Y, Chen X (2013) Metabolism and pharmacokinetics of 3-n-butylphthalide (NBP) in humans: the role of cytochrome P450s and alcohol dehydrogenase in biotransformation. Drug Metab Dispos 41:430–444

Diao X, Zhong K, Li X, Zhong D, Chen X (2015) Isomer-selective distribution of 3-n-butylphthalide (NBP) hydroxylated metabolites, 3-hydroxy-NBP and 10-hydroxy-NBP, across the rat blood-brain barrier. Acta Pharmacol Sin 36:1520–1527

Ellul P, Boyer L, Groc L, Leboyer M, Fond G (2016) Interleukin-1 β-targeted treatment strategies in inflammatory depression: toward personalized care. Acta Psychiatr Scand 134:469–484

Fornaro M, Martino M, Battaglia F, Colicchio S, Perugi G (2011) Increase in IL-6 levels among major depressive disorder patients after a 6-week treatment with duloxetine 60 mg/day: a preliminary observation. Neuropsychiatr Dis Treat 7:51–56

Giunti D (2013) Can we switch microglia phenotype to foster neuroprotection? In: Congress of the British-Society-For-Immunology. pp 16–16

Gou Z, Jiang S, Zheng C, Tian Z, Lin X (2015) Equol inhibits LPS-induced oxidative stress and enhances the immune response in chicken HD11 macrophages. Cell Physiol Biochem 36:611

Griendling KK, Fitzgerald GA (2003) Oxidative stress and cardiovascular injury part I: basic mechanisms and in vivo monitoring of ROS. Circulation 108:1912–1916

He Z et al (2017) Dl-3-n-butylphthalide attenuates acute inflammatory activation in rats with spinal cord injury by inhibiting microglial TLR4/NF-κB signalling. J Cell Mol Med

Hong H, Liu GQ (2006) Scutellarin protects PC12 cells from oxidative stress-induced apoptosis. J Asian Nat Prod Res 8:471–479

Lee JM, Johnson JA (2004) An important role of Nrf2-ARE pathway in the cellular defense mechanism. J Biochem Mol Biol 37:139–143

Lee JM, Calkins MJ, Chan K, Kan YW, Johnson JA (2003) Identification of the NF-E2-related factor-2-dependent genes conferring protection against oxidative stress in primary cortical astrocytes using oligonucleotide microarray analysis. J Biol Chem 278:12029–12038

Lei H, Zhao CY, Liu DM, Zhang Y, Li L, Wang XL, Peng Y (2014) l-3-n-Butylphthalide attenuates β-amyloid-induced toxicity in neuroblastoma SH-SY5Y cells through regulating mitochondrion-mediated apoptosis and MAPK signaling. J Asian Nat Prod Res 16:854–864

Lin WN, Luo SF, Lee CW, Wang CC, Wang JS, Yang CM (2007) Involvement of MAPKs and NF-κB in LPS-induced VCAM-1 expression in human tracheal smooth muscle cells. Cell Signal 19:1258–1267

Liu XG, Feng YP (1995) Protective effect of dl-3-n-butylphthalide on ischemic neurological damage and abnormal behavior in rats subjected to focal ischemia. Yao xue xue bao = Acta Pharmaceutica Sinica 30:896

Luo JG, Zhao XL, Xu WC, Zhao XJ, Wang JN, Lin XW, Sun T, Fu ZJ (2014) Activation of spinal NF-κB/p65 contributes to peripheral inflammation and hyperalgesia in rat adjuvant-induced arthritis. Arthritis Rheum 66:896–906

Matcham F, Rayner L, Steer S, Hotopf M (2013) The prevalence of depression in rheumatoid arthritis: a systematic review and meta-analysis. In: Office for Official Publications of the European Communities, vol 52, pp 2136–2148

Miguelhidalgo JJ et al (2014) Apoptosis-related proteins and proliferation markers in the orbitofrontal cortex in major depressive disorder. J Affect Disord 158:62–70

Monje FJ, Cabatic M, Divisch I, Kim EJ, Herkner KR, Binder BR, Pollak DD (2011) Constant darkness induces IL-6-dependent depression-like behavior through the NF-κB signaling pathway. J Neurosci 31:9075–9083

Nguyen T, Nioi P, Pickett CB (2009) The Nrf2-antioxidant response element signaling pathway and its activation by oxidative stress. J Biol Chem 284:13291–13295

Nikkheslat N et al (2015) Insufficient glucocorticoid signaling and elevated inflammation in coronary heart disease patients with comorbid depression. Brain Behav Immun 48:8–18

Noworyta-Sokolowska K, Gorska A, Golembiowska K (2013) LPS-induced oxidative stress and inflammatory reaction in the rat striatum. Pharmacol Rep 65:863–869

Perry VH, Gordon S (1988) Macrophages and microglia in the nervous system. Trends Neurosci 11:273–277

Rush G, O'Donovan A, Nagle L, Conway C, McCrohan AM, O'Farrelly C, Lucey JV, Malone KM (2016) Alteration of immune markers in a group of melancholic depressed patients and their response to electroconvulsive therapy. J Affect Disord 205:60–68

Sarlus H, Heneka MT (2017) Microglia in Alzheimer's disease. J Clin Investig 127:3240–3249

Seeley JJ, Ghosh S (2016) Molecular mechanisms of innate memory and tolerance to LPS. J Leukoc Biol 101:107

Sheng X, Hua K, Yang C, Wang X, Ji H, Xu J, Huang Z, Zhang Y (2015) Novel hybrids of 3-n-butylphthalide and edaravone: design, synthesis and evaluations as potential anti-ischemic stroke agents. Bioorg Med Chem Lett 25:3535–3540

Stuart MJ, Baune BT (2012) Depression and type 2 diabetes: inflammatory mechanisms of a psychoneuroendocrine co-morbidity. Neurosci Biobehav Rev 36:658–676

Su WJ, Zhang Y, Chen Y, Gong H, Lian YJ, Peng W, Liu YZ, Wang YX, You ZL, Feng SJ, Zong Y, Lu GC, Jiang CL (2017) NLRP3 gene knockout blocks NF-κB and MAPK signaling pathway in CUMS-induced depression mouse model. Behav Brain Res 322:1–8

Subramaniam SR, Federoff HJ (2017) Targeting microglial activation states as a therapeutic avenue in Parkinson's disease. Front Aging Neurosci 9

Sun H, Jia N, Guan L, Su Q, Wang D, Li H, Zhu Z (2013) Involvement of NR1, NR2A different expression in brain regions in anxiety-like behavior of prenatally stressed offspring. Behav Brain Res 257:1–7

Wang CY, Wang ZY, Xie JW, Wang T, Wang X, Xu Y, Cai JH (2016a) Dl-3-n-butylphthalide-induced upregulation of antioxidant defense is involved in the enhancement of cross talk between CREB and Nrf2 in an Alzheimer's disease mouse model. Neurobiol Aging 38:32–46

Wang F et al (2016b) DL-3-n-butylphthalide delays the onset and progression of diabetic cataract by inhibiting oxidative stress in rat diabetic model. Sci Rep 6:19396

Wang C, Xu Y, Wang X, Guo C, Wang T, Wang Z (2018a) Dl-3-n-Butylphthalide inhibits NLRP3 inflammasome and mitigates Alzheimer's-like pathology via Nrf2-TXNIP-TrX axis antioxid redox signal

Wang W, Liu D, Xiao Q, Cai J, Feng N, Xu S, Wang L, Yin D, Wang X (2018b) Lig4-4 selectively inhibits TREK-1 and plays potent neuroprotective roles in vitro and in rat MCAO model. Neurosci Lett 671:93–98

Wei Y, Zhang JC, Chao D, Zhuang C, Hirota S, Inanaga K, Hashimoto K (2015) Effects of amycenone on serum levels of tumor necrosis factor-α, interleukin-10, and depression-like behavior in mice after lipopolysaccharide administration. Pharmacol Biochem Behav 136:7–12

Wen X et al (2016) Butylphthalide suppresses neuronal cells apoptosis and inhibits JNK-Caspase3 signaling pathway after brain ischemia/reperfusion in rats. Cell Mol Neurobiol 36:1087–1095

Xiong N, Huang J, Chen C, Zhao Y, Zhang Z, Jia M, Zhang Z, Hou L, Yang H, Cao X, Liang Z, Zhang Y, Sun S, Lin Z, Wang T (2012) Dl-3-n-butylphthalide, a natural antioxidant, protects dopamine neurons in rotenone models for Parkinson's disease. Neurobiol Aging 33:1777–1791

Xu J, Huai Y, Meng N, Dong Y, Liu Z, Qi Q, Hu M, Fan M, Jin W, Lv P (2017) L-3-n-butylphthalide activates Akt/mTOR signaling, inhibits neuronal apoptosis and autophagy and improves cognitive impairment in mice with repeated cerebral ischemia-reperfusion injury. Neurochem Res 42:2968–2981. https://doi.org/10.1007/s11064-017-2328-3

Yang L et al (2015) L-3-n-butylphthalide promotes neurogenesis and neuroplasticity in cerebral ischemic rats. CNS Neurosci Ther 21:733–741

Yang XD, Cen ZD, Cheng HP, Shi K, Bai J, Xie F, Wu HW, Li BB, Luo W (2017) L-3-n-butylphthalide protects HSPB8 K141N mutation-induced oxidative stress by modulating the mitochondrial apoptotic and Nrf2 pathways. Front Neurosci 11

Zhang T, Jia W, Sun X (2010) 3-n-Butylphthalide (NBP) reduces apoptosis and enhances vascular endothelial growth factor (VEGF) up-regulation in diabetic rats. Neurol Res 32:390–396

Zhang Y, Huang LJ, Shi S, Xu SF, Wang XL, Peng Y (2016) L-3-n-butylphthalide rescues hippocampal synaptic failure and attenuates neuropathology in aged APP/PS1 mouse model of Alzheimer's disease. CNS Neurosci Ther 22:979–987

Zhao W et al (2014) 3-N-butylphthalide improves neuronal morphology after chronic cerebral ischemia. Neural Regen Res 9:719–726. https://doi.org/10.4103/1673-5374.131576

Zhao CY et al (2015) L-3-n-Butylphthalide attenuates neuroinflammatory responses by downregulating JNK activation and upregulating Heme oxygenase-1 in lipopolysaccharide-treated mice. J Asian Nat Prod Res 18:289–302

Zhe Q, Sulei W, Weiwei T, Hongyan L, Jianwei W (2017) Effects of Jiaotaiwan on depressive-like behavior in mice after lipopolysaccharide administration. Metab Brain Dis 32:415–426
Acknowledgements
The study was supported by the National Natural Science Foundation of China (81602846;81703625) and Natural Science Foundation of Shandong Province (ZR2016HP24).
Ethics declarations
All animal studies were performed in accordance with protocols approved by the Regulations of Experimental Animal Administration issued by the State Committee of Science and Technology of the People's Republic of China, with the approval of the Ethics Committee in Jining Medical University.
Conflict of interest
The authors declare that they have no conflicts of interest.
Additional information
Mengqi Yang and Ruili Dang are co-first authors.
About this article
Cite this article
Yang, M., Dang, R., Xu, P. et al. Dl-3-n-Butylphthalide improves lipopolysaccharide-induced depressive-like behavior in rats: involvement of Nrf2 and NF-κB pathways. Psychopharmacology 235, 2573–2585 (2018). https://doi.org/10.1007/s00213-018-4949-x
Received:

Accepted:

Published:

Issue Date:
Keywords
Major depressive disorder

Dl-3-n-butylphthalide

Inflammation

Nrf2 signaling