Abstract
Purpose
Whole lung lavage (WLL) pathophysiologically represents a human model of controlled lung de-aeration, resembling various pathological conditions encountered in the critically ill. Through one-lung ventilation and progressive alveolar flooding, it mimics, respectively, re-absorption atelectasis formation and lung consolidation. With re-ventilation of the treated lung, PEEP application and diuretics administration, it then creates a model of pulmonary edema and its progressive resolution. No studies have so far described lung aeration changes during WLL with ultrasound: objectives of the study were to describe ultrasound findings during WLL with validated semiotics in the critically ill and to investigate their relation with the lung's state of relative aeration.
Methods
In seven patients, 12 lung areas/patient were prospectively studied with ultrasound during six procedural steps of WLL. A three-tiered pattern classification was assigned (1, normal/nearly normal; 2, alveolar-interstitial syndrome; 3, alveolar consolidation) consistently with their previously described meaning in terms of relative air content. The distribution was compared throughout different WLL maneuvers as it was for arterial oxygen measurement distribution.
Results
During one-lung ventilation and saline flooding, ultrasound findings shifted from artifact patterns (normal/nearly normal and alveolar-interstitial syndrome) to alveolar consolidation. Saline removal, re-ventilation and negative water balance were associated with a gradual return to alveolar-interstitial syndrome, then to a normal/nearly normal pattern. Arterial oxygen tension variations were not always consistent with these changes.
Conclusions
In a controlled human model of lung air content variation, the different states of aeration determined by WLL procedure were reliably described with lung ultrasound.
This is a preview of subscription content, log in to check access.
Access options
Buy single article
Instant unlimited access to the full article PDF.
US$ 39.95
Price includes VAT for USA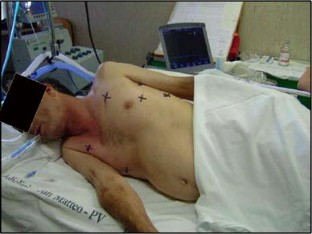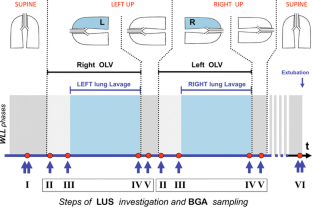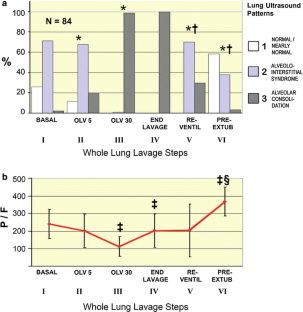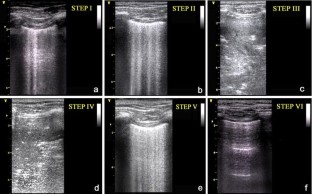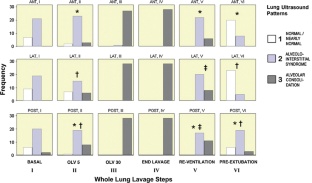 Abbreviations
LUS:

Lung ultrasound

OLV:

One-lung ventilation

PaO2/FiO2 :

Arterial oxygen tension/inspired oxygen fraction ratio

WLL:

Whole lung lavage
References
1.

Lichtenstein D (2007) Ultrasound in the management of thoracic disease. Crit Care Med 35:S250–S261

2.

Volpicelli G, Mussa A, Garofalo G, Cardinale L, Casoli G, Perotto F, Fava C, Frascisco M (2006) Bedside lung ultrasound in the assessment of alveolar–interstitial syndrome. Am J Emerg Med 24:689–696

3.

Soldati G, Testa A, Silva FR, Carbone L, Portale G, Silveri NG (2006) Chest ultrasonography in lung contusion. Chest 130:533–538

4.

Lichtenstein D, Mezière G (2008) Relevance of lung ultrasound in the diagnosis of acute respiratory failure: the BLUE protocol. Chest 134:117–125

5.

Lichtenstein D, Goldstein I, Mourgeon E, Cluzel P, Grenier P, Rouby JJ (2004) Comparative diagnostic performances of auscultation, chest radiography, and lung ultrasound in acute respiratory distress syndrome. Anesthesiology 100:9–15

6.

Soldati G, Testa A, Sher S, Pignataro G, La Sala M, Silveri NG (2008) Occult traumatic pneumothorax: diagnostic accuracy of lung ultrasonography in the emergency department. Chest 133:204–211

7.

Soldati G (2006) Sonographic findings in pulmonary diseases. Radiol Med 111:507–515

8.

Bouhemad B, Liu ZH, Arbelot C, Zhang M, Ferarri F, Le-Guen M, Girard M, Lu Q, Rouby JJ (2010) Ultrasound assessment of antibiotic-induced pulmonary reaeration in ventilator-associated pneumonia. Crit Care Med 38:84–92

9.

Juvet SC, Hwang D, Waddell TK, Downey GP (2008) Rare lung disease II: pulmonary alveolar proteinosis. Can Respir J 15:203–210

10.

Rodi G, Iotti G, Galbusera C, Mencherini S, Raimondi F, Braschi A (1995) Whole lung lavage. Monaldi Arch Chest Dis 50:64–66

11.

Soldati G, Copetti R, Sher S (2009) Sonographic interstitial syndrome: the sound of lung water. J Ultrasound Med 28:163–174

12.

Agricola E, Bove T, Opizzi M (2005) "Ultrasound comet-tail images": a marker of pulmonary edema: a comparative study with wedge pressure and extravascular lung water. Chest 127:1690–1695

13.

Reissig A, Kroegel C (2003) Transthoracic sonography of diffuse parenchymal lung disease: the role of comet tail artifacts. J Ultrasound Med 22:173–180

14.

Lichtenstein DA, Lascols N, Mezière G, Gepner A (2004) Ultrasound diagnosis of alveolar consolidation in the critically ill. Intensive Care Med 30:276–281

15.

Reissig A, Kroegel C (2007) Sonographic diagnosis and follow up of pneumonia: a prospective study. Respiration 74:537–547

16.

Copetti R, Soldati G, Copetti P (2008) Chest sonography: a useful tool to differentiate acute cardiogenic pulmonary edema from acute respiratory distress syndrome. Cardiovasc Ultrasound 6:16

17.

Gargani L, Lionetti V, Di Cristofano C, Bevilacqua G, Recchia FA, Picano E (2007) Early detection of acute lung injury uncoupled to hypoxemia in pigs using ultrasound lung comets. Crit Care Med 35:2769–2774

18.

Rajan GR (2007) Ultrasound lung comets: a clinically useful sign in acute respiratory distress syndrome/acute lung injury. Crit Care Med 35:2869–2870

19.

Agricola E, Picano E, Oppizzi M, Pisani M, Meris A, Fragasso G, Margonato A (2006) Assessment of stress-induced pulmonary interstitial edema by chest ultrasound during exercise echocardiography and it correlation with left ventricular function. J Am Soc Echocardiogr 19:457–463

20.

Gattinoni L, Pesenti A (2005) The concept of "baby lung". Intensive Care Med 31:776–784

21.

Cohen E, Eisenkraft JB (1990) Bronchopulmonary lavage: effects on oxygenation and hemodynamics. J Cardiothorac Anesth 4:609–615

22.

Puybasset L, Cluzel P, Chao N, Slutsky AS, Coriat P, Rouby JJ, The CT scan ARDS Study Group (1998) A computed tomography scan assessment of regional lung volume in acute lung injury. Am J Resp Crit Care Med 158:1644–1655

23.

Patroniti N, Saini M, Zanella A, Weismann D, Isgrò S, Bellani G, Foti G, Pesenti A (2008) Measurement of end-expiratory lung volume by oxygen washin-washout in controlled and assisted mechanically ventilated patients. Intensive Care Med 34:2235–2240
Acknowledgments
We are very thankful to Dr. Gino Soldati for his valuable suggestions on developing the study, to Dr. Vincenzo Emmi for his encouraging comments and to Dr. Marco Garrone for language revision.
Electronic supplementary material
Below is the link to the electronic supplementary material.
Supplementary Video 1 (MPG 460 kb)
Supplementary Video 2 (MPG 460 kb)
Supplementary Video 3 (MPG 678 kb)
Supplementary Video 4 (MPG 290 kb)
Supplementary Video 5 (MPG 206 kb)
Supplementary Video 6 (MPG 540 kb)
Supplementary Video 7 (MPG 317 kb)
Supplementary Video 8 (MPG 499 kb)
Supplementary Video 9 (MPG 290 kb)
Supplementary Video 10 (MPG 460 kb)
Supplementary Video 11 (MPG 238 kb)
About this article
Cite this article
Via, G., Lichtenstein, D., Mojoli, F. et al. Whole lung lavage: a unique model for ultrasound assessment of lung aeration changes. Intensive Care Med 36, 999–1007 (2010). https://doi.org/10.1007/s00134-010-1834-4
Received:

Accepted:

Published:

Issue Date:
Keywords
Chest ultrasonography

Lung, ultrasound diagnosis

Extravascular lung water

Pulmonary edema

Whole lung lavage