Glucose controls glucagon secretion by directly modulating cAMP in alpha cells
Abstract
Aims/hypothesis
Glucagon is critical for normal glucose homeostasis and aberrant secretion of the hormone aggravates dysregulated glucose control in diabetes. However, the mechanisms by which glucose controls glucagon secretion from pancreatic alpha cells remain elusive. The aim of this study was to investigate the role of the intracellular messenger cAMP in alpha-cell-intrinsic glucose regulation of glucagon release.
Methods
Subplasmalemmal cAMP and Ca2+ concentrations were recorded in isolated and islet-located alpha cells using fluorescent reporters and total internal reflection microscopy. Glucagon secretion from mouse islets was measured using ELISA.
Results
Glucose induced Ca2+-independent alterations of the subplasmalemmal cAMP concentration in alpha cells that correlated with changes in glucagon release. Glucose-lowering-induced stimulation of glucagon secretion thus corresponded to an elevation in cAMP that was independent of paracrine signalling from insulin or somatostatin. Imposed cAMP elevations stimulated glucagon secretion and abolished inhibition by glucose elevation, while protein kinase A inhibition mimicked glucose suppression of glucagon release.
Conclusions/interpretation
Glucose concentrations in the hypoglycaemic range control glucagon secretion by directly modulating the cAMP concentration in alpha cells independently of paracrine influences. These findings define a novel mechanism for glucose regulation of glucagon release that underlies recovery from hypoglycaemia and may be disturbed in diabetes.
Keywords
Ca2+ 
Cyclic AMP 
Glucagon release 
Hypoglycaemia 
Insulin 
Pancreatic alpha cell 
Protein kinase A 
Somatostatin 
Abbreviations
[Ca2+]pm

Subplasma membrane Ca2+ concentration

[cAMP]pm

Subplasma membrane cAMP concentration

FRET

Fluorescence resonance energy transfer

IBMX

3-Isobutyl-1-methylxanthine

PKA

Protein kinase A

SSTR2

Somatostatin receptor type 2

TIRF

Total internal reflection fluorescence

YFP

Yellow fluorescent protein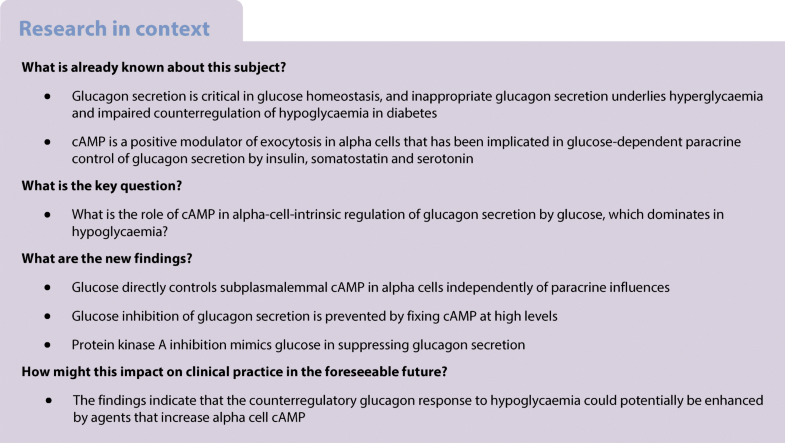 Introduction
Glucagon is released from pancreatic alpha cells in response to hypoglycaemia, amino acids, adrenaline (epinephrine), other hormones and neurotransmitters [1]. Its main effect is to mobilise glucose from the liver, thereby preventing dangerous reductions in the blood glucose concentration. Individuals with diabetes often show chronically increased glucagon secretion, which contributes to hyperglycaemia [2]. Hyperglucagonaemia may even be more important for the clinical presentation of diabetes than insulin deficiency [3]. Diabetes is also characterised by impaired glucagon secretion in response to hypoglycaemia, which increases the risk of therapy-related glucopenia [4]. Despite the importance of glucagon for normal glucose homeostasis and the aberrant secretion in diabetes, there is limited understanding of the mechanisms by which glucose controls glucagon release [1, 5, 6].
While extra-pancreatic glucose sensors, including neurons in the brain, contribute to the regulation of glucagon secretion in vivo [7, 8], it is evident that glucose is also able to control glucagon release in denervated preparations, such as isolated islets [9, 10]. Such non-neuronal control may be indirect and mediated by glucose-regulated release of paracrine factors from beta and delta cells that influence alpha cell function. Accordingly, insulin, Zn2+ and the neurotransmitters serotonin, γ-aminobutyric acid and its metabolite γ-hydroxybutyrate from beta cells have been found to suppress glucagon secretion in some [3, 11, 12, 13, 14, 15] but not all [16, 17, 18] studies, and somatostatin from delta cells potently inhibits glucagon release [16, 19, 20]. However, a strong argument against the involvement of beta cell factors is that insulin and glucagon secretion are regulated by glucose in different concentration ranges. Glucagon release is stimulated by hypoglycaemia and maximally suppressed at around 7 mmol/l glucose, which corresponds to the threshold for stimulation of insulin secretion in mouse islets [9]. Somatostatin secretion, on the other hand, is stimulated at the low glucose concentrations that control glucagon secretion [9]. However, glucose elevation also inhibits glucagon secretion in islets from somatostatin knockout mice [16] and when somatostatin receptor signalling is inhibited [9, 16, 21], indicating somatostatin-independent effects of the sugar.
There are several hypotheses for how glucose elevation inhibits glucagon secretion by alpha-cell-intrinsic mechanisms. For example, glucose has been found to depolarise alpha cells by ATP-sensitive K+ channel closure [10, 18]. The depolarisation causes voltage-dependent inactivation of Na+ and Ca2+ channels, which reduces Ca2+ influx via P/Q-type Ca2+ channels that have been claimed to be particularly important for exocytosis [22]. Other studies have instead indicated that glucose reduces Ca2+ influx by hyperpolarising the alpha cells after glucose-induced inactivation of a store-operated current [23], by stimulating the Na/K pump [24] or possibly by activating other channels [25, 26]. Although Ca2+ is regarded as the main trigger of glucagon exocytosis [27, 28], recordings from alpha cells within intact islets have shown that Ca2+ signalling is only modestly or transiently reduced under conditions in which glucose strongly suppresses glucagon release [29], raising the possibility that Ca2+ plays a permissive role and that exocytosis is regulated by other factors.
cAMP amplifies Ca2+-dependent exocytosis in alpha cells [27], and a reduction in cAMP was recently suggested to account for glucose-induced paracrine inhibition of glucagon release by insulin, somatostatin [30] and serotonin [15]. In the present study, we tested the hypothesis that cAMP mediates alpha-cell-intrinsic glucose sensing. Little is known about cAMP regulation in alpha cells. Using total internal reflection fluorescence (TIRF) microscopy and fluorescent reporters combined with measurements of glucagon release, we investigated how cAMP and Ca2+ concentrations in the sub-membrane space ([cAMP]pm and [Ca2+]pm) of alpha cells change in response to glucose and other modulators of glucagon secretion.
Methods
Quantification and statistical analysis
Image analysis was conducted using MetaFluor (Molecular Devices Corp, Sunnyvale, CA, USA). Fluorescence intensity changes are presented in regions of interest corresponding to single cells with the signal normalised (after background subtraction) to the mean level during the initial condition. In single-wavelength cAMP recordings, the signal was inverted to achieve a positive relationship between normalised intensity and [cAMP]pm. In ratiometric cAMP recordings, the ratio changes (positively related to [cAMP]pm) were normalised to the initial ratio. Single-cell recordings representative of a given number of cells and experiments (islet donors) are shown, along with quantification of responses as scatter plots or means ± SEM. Statistical comparisons were made using Student's paired t tests.
Discussion
Previous studies have provided evidence that Ca2+ is a main trigger of exocytosis in alpha cells [27, 28], and alpha cells show electrical activity and Ca2+ signalling in the presence of low glucose concentrations that stimulate glucagon release in hypoglycaemia [27, 28, 29, 35]. However, increases in glucose concentration, which strongly inhibit glucagon secretion, have modest or transient effects on alpha cell Ca2+ signalling [29, 35]. Therefore, messengers other than Ca2+ may be more important in regulating glucagon release. Exocytosis in alpha cells is known to be strongly dependent on cAMP [27]. The present study provides evidence for a key role of cAMP in glucose-regulated glucagon secretion mediated by a direct effect of the sugar on alpha cells.
We found that glucose modulated [cAMP]pm in both mouse and human alpha cells. Since mouse alpha cells have been reported to express glucagon receptors [36], and glucagon, at least in some mouse alpha cells, increases [cAMP]pm [34], glucose-induced decrease of [cAMP]pm might simply be the consequence rather than the cause of inhibited glucagon secretion. Indeed, [cAMP]pm and secretion showed strikingly similar kinetics. However, the glucose-induced changes in alpha cell cAMP persisted when glucagon secretion was inhibited by Ca2+-deficient medium. Moreover, the glucose-induced reduction in glucagon secretion was prevented when the intracellular cAMP concentration was fixed at a high level, either by membrane-permeable cAMP or a phosphodiesterase inhibitor. These observations strongly indicate that lowering of [cAMP]pm underlies the suppression of glucagon secretion.
We previously reported that very high glucose concentrations induce increases in [cAMP]pm with oscillations in a small fraction of alpha cells [34]. The responses sometimes involved alternating increases and decreases of [cAMP]pm above and below the baseline, resembling the pattern of glucagon secretion under similar conditions [37]. The reason for the discrepancy with the presently observed [cAMP]pm reduction by glucose is unknown, but the lowering effect is now extensively substantiated.
Based on immunohistochemical detection of cAMP, it has been suggested that glucose elevation induces paracrine lowering of cAMP in alpha cells by stimulating the secretion of somatostatin and insulin [30]. In other cell types, including adipocytes, insulin is known to promote cAMP degradation by activating phosphodiesterase 3B [38]. However, we found that insulin itself or blockade of its receptor lacked an effect on alpha cell cAMP, indicating that paracrine insulin signalling is not involved. Alpha cells also express somatostatin receptors with domination of SSTR2 [39, 40]. Somatostatin receptors activate Gi/o to suppress adenylyl cyclase activity, and the present study consequently showed that exogenously applied somatostatin lowers [cAMP]pm in most alpha cells, an effect that was prevented when Gi/o signalling was inhibited with pertussis toxin. However, the toxin did not interfere with the glucose reduction-induced increase in [cAMP]pm. The SSTR2 antagonist PRL2903 increased [cAMP]pm, which indicates that endogenous somatostatin affects alpha cell cAMP, but the drug did not prevent glucose-induced [cAMP]pm reduction. Another SSTR2 inhibitor, CYN 154806, also did not influence the glucose-induced reduction in [cAMP]pm, although it strongly increased glucagon secretion. These observations are consistent with previous conclusions that somatostatin has a tonic inhibitory effect on glucagon secretion [9, 16, 21]. More importantly, the data clarify that glucose elevation reduces [cAMP]pm in alpha cells independent of paracrine influences from insulin or somatostatin. It is also unlikely that serotonin [15] or other factors secreted from islet cells mediate cAMP regulation by glucose, since influx of Ca2+ is required for exocytosis in all major islet cell types [21, 28, 41] and the effect of glucose was maintained under Ca2+-deficient conditions. We therefore conclude that glucose controls cAMP and glucagon release by a direct effect on the alpha cell.
It remains to be elucidated how glucose lowers cAMP. In beta cells, glucose increases [cAMP]pm by activating adenylyl cyclases via elevations of Ca2+ [42] and the cAMP precursor ATP [32]. There are also adenylyl cyclases that are inhibited by Ca2+ [43] and Ca2+-stimulated phosphodiesterases degrading cAMP [44, 45]. Little is known about the adenylyl cyclase and phosphodiesterase protein expression profiles in alpha cells, but several observations indicate that Ca2+ does not mediate the effect of glucose on [cAMP]pm. Although simultaneous recordings of the two messengers indicated that Ca2+ sometimes seems to promote increases in alpha cell [cAMP]pm, there was generally no strong correlation between glucose-induced changes in [cAMP]pm and [Ca2+]pm. Moreover, in accordance with previous studies [29, 35], [Ca2+]pm showed modest glucose dependence in alpha cells. Most importantly, the glucose effect on [cAMP]pm remained when Ca2+ entry was prevented by Ca2+-deficient conditions.
There are alternative hypotheses for the Ca2+-independent effects of glucose on [cAMP]pm. In beta cells, glucose has been found to activate phosphodiesterase 3B in a Ca2+- and insulin-independent manner, associated with changes in enzyme phosphorylation [46]. A similar mechanism may operate in alpha cells. Our previous work has emphasised a role for store-operated Ca2+ entry in regulating alpha cell electrical activity, Ca2+ signalling and glucagon secretion [9, 23]. Interestingly, it has been suggested that cAMP production could be regulated by a store-operated mechanism independently of Ca2+ [47]. Since glucose reduces store-operated signalling in alpha cells [48], such a mechanism can be expected to result in reduced cAMP production.
The link between cAMP and glucagon secretion was studied in islets cultured overnight, which were found to have a more pronounced and consistent secretory response to repeated low-glucose challenges than freshly isolated islets. The cAMP effects seem to involve PKA, since, in line with a previous report [30], inhibition of this kinase suppressed glucagon secretion at 1 mmol/l glucose, whereas another study [49] found no effect of a different PKA inhibitor. cAMP may act in part by activating the voltage-gated Ca2+ channels that mediate exocytosis-triggering Ca2+ influx [27]. The effects are complex and have been suggested to involve PKA-mediated inhibition of N- [49] or P/Q-type [50] channels at small cAMP elevations, and Epac-dependent stimulation of L-type channels at higher elevations [49]. However, a quantitatively more important effect of cAMP is to accelerate the mobilisation of granules to the readily releasable pool [27], consistent with the poor correlation between alpha cell [cAMP]pm and [Ca2+]pm as well as the modest changes in alpha cell [Ca2+]pm that accompany glucose-regulated glucagon secretion. Future studies will clarify whether the residual stimulation of glucagon secretion at 1 mmol/l glucose in the presence of PKA inhibitor (Fig. 6b) is mediated by Epac.
We now propose that glucose concentrations in the hypoglycaemic range regulate glucagon secretion by directly modulating the cAMP concentration in alpha cells. Such a mechanism does not exclude a further role for cAMP in the paracrine regulation of glucagon release [15, 30], which may become dominating during hyperglycaemia [5]. Although Ca2+ is a critical trigger of exocytosis in alpha cells, the ion seems to have a more permissive role and the magnitude of secretion is controlled mainly by cAMP-mediated amplification of granule exocytosis. Further studies are warranted to clarify the mechanisms by which alpha-cell-intrinsic glucose sensing controls glucagon secretion via cAMP, and whether aberrant cAMP signalling underlies the dysregulated glucagon secretion in diabetes.
Notes
Acknowledgements
Some of these data were presented as an abstract at the 52nd EASD annual meeting in 2016.
Contribution statement
QY, HS and PA conducted experiments and analysed data. EG and AT designed the experiments, analysed data and wrote the paper. All authors critically revised and approved the final version of the manuscript. AT is the guarantor of this work and, as such, had full access to all the data and takes responsibility for the integrity of data and the accuracy of data analysis.
Funding
This study was supported by grants from the Diabetes Wellness foundation, the European Foundation for the Study of Diabetes (EFSD-MSD and EFSD-Novo Nordisk), the Family Ernfors Foundation, the Leona M. and Harry B. Helmsley Charitable Trust, the Novo Nordisk Foundation, the Swedish Diabetes Foundation and the Swedish Research Council. Human islets were obtained from the Nordic Network for Clinical Islet Transplantation, supported by grants from the JDRF and the strategic grant consortium Excellence of Diabetes Research in Sweden (EXODIAB).
Duality of interest
The authors declare that there is no duality of interest associated with this manuscript.
Copyright information
© The Author(s) 2019
Open Access This article is distributed under the terms of the Creative Commons Attribution 4.0 International License (http://creativecommons.org/licenses/by/4.0/), which permits unrestricted use, distribution, and reproduction in any medium, provided you give appropriate credit to the original author(s) and the source, provide a link to the Creative Commons license, and indicate if changes were made.