Next up
Mechanism of action
Your browser needs to be JavaScript capable to view this video
Try reloading this page, or reviewing your browser settings
You're watching a preview of subscription content. Log in to check access
Botulinum toxin-A is a potent neurotoxin produced by Clostridium botulinum that is an effective, minimally invasive treatment option for patients with pharmacologically refractory overactive bladder (OAB). OAB is a syndrome that is characterised by urgency and frequency with or without urgency urinary incontinence (UUI). Its prevalence among the global population approaches 11 % and the female to male ratio is approximately 3:2. OAB is associated with significant decrease in quality of life (QoL)in terms of health. Initial treatment for OAB includes conservative and oral pharmacological treatments. Onabotulinum toxin A (BoNT-A), is the only licensed formulation of botulinum toxin A, for idiopathic UUI at 100 units with the small risk of urinary retention (approximately 10%). Therefore patients should be able and willing to perform intermittent catheterization, before administration. In addition, the injections must be repeated on average every 6 to 9 months.
This video gives a comprehensive overview of understanding the concept, evaluation and selection of patient, detailed operative technique with clear demonstration of tips to avoid potential complications and postoperative care. It will be helpful for all those specialists, who are dealing with Female Urology (Urogynecologists, female urologists, minimally invasive pelvic surgeons, reconstructive surgeons, general urologists, general gynecologists, medical students, residents, patients). It is included as the third line management for Urge urinary incontinence, in most of the recently published standard guidelines and is US Food and Drug Administration (FDA) approved.
Introduction
This video explains the concept and mechanism of action of Intradetrusor injection of Botulinum toxin with the overall success rate.
About The Author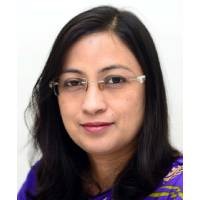 Dr Amita Jain is a graduate from King George Medical College, Lucknow, India and then she obtained her Masters in Obstetrics & Gynaecology from Sarojini Naidu Medical college, Agra, India in 2003. Thereafter she received training in endoscopic surgeries from BEAMS, Mumbai, India followed by fellowship in Urogynaecology from James Cook University, Queensland, Australia in 2009. At present she is the General Secretary of SAFUG (South Asian Federation of Urogynaecology), Executive Committee Member of GIBS (Global IC and Bladder Pain Syndrome Society) and an active member of IUGA (International Urogynecological Association). Also she served as Chairperson of Urogynaecology Subcomittee AOGD ( Association of Obstetricians & Gynaecologists of Delhi) 2017-2019.
She has received many prestigious awards including International Continence Society Travel Award and Appreciation Award from Association of Obstetricians and Gynaecologists of Delhi for her valuable contribution. Besides this, she has written and published extensively on this upcoming field of Urogynecology and has several publications in peer reviewed national and international journals including book chapters. Recently she was also honoured for being nominated for the post of Southern Asia Representative of International Advisory Board at International Urogynaecological Association.
With a vast experience of regularly performing all named surgeries in urogynaecological field vaginal or abdominal (open/ laparoscopic / robotic), she has pioneered several advanced procedures in her country including dynamic MRI pelvis and 2D/3D transperineal USG as diagnostic modalities and first TVT- Abbrevo placement and robotic burch colposuspension for stress urinary incontinence. She has also organized and has been involved as a faculty in many educational conferences, CMEs & workshops, group activities and patient awareness sessions at both national and international forums and is also a part of many national projects like formation of guidelines, fellowship programmes and research. She also continues to be a reviewer of many prestigious journals like Indian Journal of Urology, International Urogynecology Journal, Proceedings in Obstetrics & Gynecology.
About this video
Author(s)

Amita Jain

DOI

https://doi.org/10.1007/978-981-33-6650-3

Online ISBN

978-981-33-6650-3

Total duration

16 min

Publisher

Springer, Singapore

Copyright information

© The Editor(s) (if applicable) and The Author(s), under exclusive license to Springer Nature Singapore Pte Ltd. 2020
Video Transcript
[MUSIC PLAYING]
Intradetrusor botulinum toxin injection for treatment of refractory overactive bladder. Botulinum toxin type A for injection is a sterile, vacuum-dried, purified botulinum toxin type A produced from fermentation of Clostridium botulinum type A, and is considered an effective minimally invasive treatment option for patients with pharmacologically refractory overactive bladder. On January 18, 2013, the US Food and Drug Administration approved an expanded indication for Onabotulinum toxin A, an acetylcholine release inhibitor and a neuromuscular blocking agent, for treatment of overactive bladder in adults who do not tolerate or do not adequately respond to anticholinergic agents. This video demonstrates a technique of cystoscopic intradetrusor injection of botulinum A toxin for the treatment of detrusor overactivity incontinence.