Next up
Fundamentals of Brain, Mind and Consciousness
Your browser needs to be JavaScript capable to view this video
Try reloading this page, or reviewing your browser settings
You're watching a preview of subscription content. Log in to check access
This video elucidates exciting questions in contemporary consciousness studies and brain sciences, inspiring the viewer to explore the relationship between brain, mind, and consciousness. It discusses how such interrelations provide insightful responses to understand the place of self and subjective experience. Through the video, the reader gets enormous details in the field of consciousness research.
Introduction
The video provides an overview of the relationship between the brain, mind, and consciousness. It is produced by a globally renowned expert in the field.
About The Author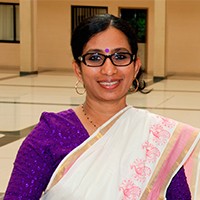 Sangeetha Menon is a professor at the National Institute of Advanced Studies (NIAS), Bangalore, India, and heads the Consciousness Studies programme of NIAS. She is a nominated member of the International Society for Science and Religion (Cambridge), a Board Member of the International Association for Transpersonal Psychology, and a Council Member of the Indian Council of Philosophical Research, Ministry of Human Resources Development, Government of India. Professor Menon has coedited Consciousness, Experience and Ways of Knowing: Perspectives from Science, Philosophy and the Arts (2006); Science and Beyond: Cosmology, Consciousness and Technology in Indic Traditions (2004); Consciousness and Genetics (2002); and Scientific and Philosophical Studies on Consciousness (1999); authored Beyond Experience: Consciousness in the Gita, and coauthored Dialogues: Philosopher Meets Seer. She has visited and spoken at many universities in India, the United States, England, Australia, Germany, France, Italy, Spain, Japan, Taiwan, Singapore, and Moscow. She has been visiting professor at the Oxford Centre for Hindu Studies, Oxford University, and at the Nanzan Institute of Religion and Culture, Nanzan University, Japan. She was invited to be a panellist at the World Parliament of Religions, Melbourne, in 2009. Apart from her academic interests, she writes poetry, fiction and is an avid photographer, artist and web-designer. She also engages in charity programmes, being a trustee of the Sambodh Foundation, Bangalore. For further details, see www.consciousnessshop.com.
About this video
Author(s)

Sangeetha Menon

DOI

https://doi.org/10.1007/978-981-16-9998-6

Online ISBN

978-981-16-9998-6

Total duration

52 min

Publisher

Springer, Singapore

Copyright information

© Producer, under exclusive license to Springer Nature Singapore Pte Ltd. 2022
Video Transcript
Hello. My name is Sangeetha Menon. I am a professor. And I head a Programme on Consciousness Studies at the institute called National Institute of Advanced Studies, which is in the campus of Indian Institute of Science in Bangalore, India
In this video we go through an overview of the various segments we'll be sharing with you. I will talk to you about the Fundamentals of Brain, Mind, and Consciousness in part 1. In part 2 I will discuss with you about the Nature of Awareness.
And part 3 will narrate the Story of our Self. In part 4 we will ask the question, is consciousness caused? And are Brain, Mind, and Consciousness Causally Connected? We will also explore in this part the Easy Problems and the Hard Problem of Consciousness.
Finally we come to the last part of this video, which is the Future of Consciousness, where I'll explain to you how brain and consciousness can be bridged. And we'll also highlight the importance of humanism and what insights we can get from humanism in understanding the nature of consciousness.