Next up
Method of Closed Reduction
Your browser needs to be JavaScript capable to view this video
Try reloading this page, or reviewing your browser settings
You're watching a preview of subscription content. Log in to check access
The impact of distal radial fractures on society can be anticipated to increase over time, since it is once of the as a result, considerable scientific, a clinical, and economic interest in the treatment of these fractures have developed. For several decades, treatment of distal radius fractures has been extensively reported on but the definite treatment of those fractures remains a subject of much debate. The indications for surgical management are obvious, but selecting the right method for fixation of distal radius fractures has been still an issue of controversy. This video shows closed reduction and internal fixation by percutaneous Kirschner wires method in the treatment of closed dorsally displaced unstable intra-articular distal radial fractures. The viewers would be able to appreciate steps such as how to palpate the Lister's tubercle over the radial aspect of the dorsal distal radius, making the first incision dorsal and distal to the Lister's tubercle, how to use the artery forceps to spread the soft tissues and insert the K-wire on the Lister's tubercle in 45-degree obliquity aiming the volar cortex of the proximal fragment in the long axis of the radius. The complete steps would be explained in the video along with surface anatomy, Instruments used, fracture description, reduction, and fixation techniques and pitfalls.
Introduction
This video shows closed reduction and internal fixation by the percutaneous Kirschner wires to treat unstable intra-articular distal radial fractures.
About The Author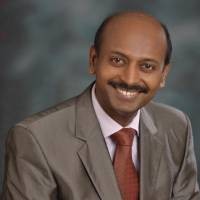 Dr. C. Rex is the Chief Consultant Orthopaedic and Trauma Surgeon, Head of Department of Orthopaedics at the Rex Ortho Hospital, Coimbatore, India. He completed his FRCS Ortho at Royal College of Surgeons of Edinburgh and did his MCh Ortho in University of Liverpool, UK. He did his Ph.D and D.Sc at Victoria Global University, Turks & Caicos. He established an exclusive Trauma and Orthopaedic health care centre, Rex Ortho Hospital, Coimbatore which is a Post graduate Institute for Orthopaedic training. He has authored two books namely "K-WIRING – PRINCIPLES AND TECHNIQUES" –by Thieme Publishers, the first book on K-wiring in the world with foreword written by Dr Jesse Jupiter, AO Professor, Harvard University, USA and "CLINICAL ASSESSMENT AND EXAMINATION IN ORTHOPAEDICS" – by Jaypee publishers. He has written more than 30 original articles in peer reviewed journals and has described the new CT based classification on Hoffas fracture. He has won J and J award, Indo-German gold medal, Xavier medal, Surendran gold medal, Subramanium gold medal, Alan Glass prize for various presentations. Dr MGR medical University gave Best doctor award as an honour. He has been a teaching faculty and given guest lectures in Indo Korean Arthroplasty, Asia pacific arthroplasty and arthroscopy meet, Indian Orthopaedic association conference, Tamil Nadu Orthopaedic Association conference, Indian Arthroplasty conference, AO Nailing course, AO introductory basic course & International Trauma conference.
He was the Past President of Indian chapter, Institute of Biomaterials, Tribocorrosion and Nanomedicine, Ilinois, USA, Past Secretary of Coimbatore Orthopaedic Society and Executive member of Tamil Nadu Orthopaedic association. He is a reviewer of Indian Orthopaedic journal and Tamil Nadu orthopaedic journal. He is an Examiner for post-doctoral fellowship in arthroplasty and arthroscopy for Dr MGR medical University.
About this video
Author(s)

C. Rex

DOI

https://doi.org/10.1007/978-981-16-4220-3

Online ISBN

978-981-16-4220-3

Total duration

16 min

Publisher

Springer, Singapore

Copyright information

© The Editor(s) (if applicable) and The Author(s), under exclusive license to Springer Nature Singapore Pte Ltd. 2021
Video Transcript
[CALM MUSIC]
The distal radius fracture treatment with the percutaneous K wire fixation will be demonstrated.
Distal radius fracture is the commonest fracture of the upper limb, more common in elderlies, and is the commonest fragility fracture in the upper limb due to fall from outstretched hand. It occurs in 17.5% of all fractures in adults, and it can be intra-articular or extra-articular.
The various treatment modalities are possible, and the most common being casting if it is a stable fracture. And if it is unstable after closed reduction, you can do a percutaneous K wire fixation or you can do the external fixator, and the locking plate is also a– another good option. And nailing also is possible.
We have inclusion/exclusion criteria. Inclusion criteria being dorsally displaced distal radius fracture, a fracture less than two weeks old, and must be done in a skeletally mature adult, not in adolescents.
And exclusion criteria being open fracture; volarly displaced fractures, like volar Barton; failed to close reduction; and any pathological fractures is not amenable for this type of fixation.