Your browser needs to be JavaScript capable to view this video
Try reloading this page, or reviewing your browser settings
You're watching a preview of subscription content. Log in to check access
The presented video shows steps of Transcanalicular endoscopic laser assisted dacryocystorhinostomy. Transcanalicular endoscopic laser dacryocystorhinostomy (DCR) involves the creation of an opening between the lacrimal sac and the nasal cavity using a transcanalicular laser fibre. It is indicated in Primary acquired nasolacrimal duct (NLD) obstruction, failed dacryocystorhinostomy (DCR) due to ostia closure, complex congenital nasolacrimal duct (NLD) obstruction. Its advantage is that it can be performed under local anaesthesia as a day-case procedure, can be performed in a patient on anticoagulants and is useful in revision dacryocystorhinostomy (DCR). However, its high cost, high failure rate and complications limit its use in selective cases. The video is aimed at ENT surgeons, rhinologist, oculoplastic surgeons and ophthalmologists. The viewers will find it easy to pick up the steps and practice this surgery.
Introduction
This video provides clarity about the indications and proper case selection for laser dacrocystorhinostomy (DCR).
About The Author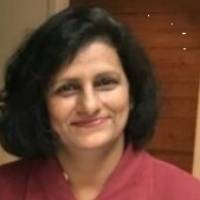 Nishi Gupta is currently the Associate Director and Head Department of ENT at Dr Shroff`s Charity Eye Hospital (SCEH), New Delhi. She obtained her MS degree from the prestigious Mahatma Gandhi Institute of Medical Sciences Wardha, Nagpur university. She has been associated with this institute for close to three decades where she has done extensive work on endoscopic sinus surgeries and microear surgeries. She has always been passionate about endonasal endoscopic dacryocystorhinostomy.
She has been conducting live surgery workshops and hands-on cadaveric dissection training program for ENT and eye surgeons. She has presented several scientific papers on varied ENT topics at various national and international conferences and published research papers in national and international journals. She has the distinction of being an expert on the topic of endoscopic dacryocystorhinostomy and has been a regular invitee for lectures and surgical demonstrations at various endoscopic dacryocystorhinostomy workshops /conferences at national and international levels. This includes Geneva, Hongkong, Athenes, Nepal, and Bangladesh. She is the recipient of many prestigious awards at various sinus endoscopic surgery conferences.
About this video
Author(s)

Nishi Gupta

DOI

https://doi.org/10.1007/978-981-16-2645-6

Online ISBN

978-981-16-2645-6

Total duration

13 min

Publisher

Springer, Singapore

Copyright information

© The Editor(s) (if applicable) and The Author(s), under exclusive license to Springer Nature Singapore Pte Ltd. 2021
Related content
Video


The presented video is an attempt to show how direct endonasal visualization of the lacrimal sac helps in raising the bar in endoscopic dacryocystorhinostomy by addressing a less thought of situation.
Book


Livio Presutti
Francesco Mattioli
This manual covers all aspects of endoscopic surgery of the lacrimal drainage system. Step-by-step descriptions are provided of endoscopic dacryocystorhinostomy (DCR) and its use in revision surgery,...
Video Transcript
[MUSIC PLAYING]
Hello, my name is Nishi Gupta. And I'm heading the Department of Otorhinolaryngology, and working as Associate Medical Director at Dr. Shroff's Charity Eye and ENT Hospital, New Delhi. This is a video on Transcanalicular Endoscopic laser assisted dacryocystorhinostomy.