Next up
Introduction of Dacryolithiasis
Your browser needs to be JavaScript capable to view this video
Try reloading this page, or reviewing your browser settings
You're watching a preview of subscription content. Log in to check access
The presented video shows steps of endonasal endoscopic lacrimal sac surgery in a case of multiple giant dacryoliths forming a cast that took shape of the sac and nasolacrimal duct (NLD) with broader upper part narrowing inferiorly. During endoscopic dacryocystorhinostomy (DCR) these concretions are seen as large masses. All the concretions were removed. This is an interesting video to show how apparently clear looking lacrimal sac could still be having more dacryolith hidden in a diverticulum. Leaving them behind can lead to persistent epiphora that may appear unexplained in the absence of detection.
The video is aimed at ENT surgeons, rhinologist, oculoplastic surgeons and ophthalmologists. The viewers will find it easy to pick up the steps and practice this surgery.
Introduction
This video describes a situation that is a rare combination of multiple giant dacryolith and lacrimal sac diverticulum.
About The Author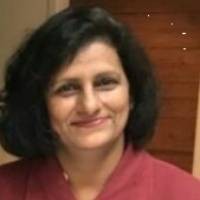 Nishi Gupta is currently the Associate Director and Head Department of ENT at Dr Shroff`s Charity Eye Hospital (SCEH), New Delhi. She obtained her MS degree from the prestigious Mahatma Gandhi Institute of Medical Sciences Wardha, Nagpur university. She has been associated with this institute for close to three decades where she has done extensive work on endoscopic sinus surgeries and microear surgeries. She has always been passionate about endonasal endoscopic dacryocystorhinostomy.
She has been conducting live surgery workshops and hands-on cadaveric dissection training program for ENT and eye surgeons. She has presented several scientific papers on varied ENT topics at various national and international conferences and published research papers in national and international journals. She has the distinction of being an expert on the topic of endoscopic dacryocystorhinostomy and has been a regular invitee for lectures and surgical demonstrations at various endoscopic dacryocystorhinostomy workshops /conferences at national and international levels. This includes Geneva, Hongkong, Athenes, Nepal, and Bangladesh. She is the recipient of many prestigious awards at various sinus endoscopic surgery conferences.
About this video
Author(s)

Nishi Gupta

DOI

https://doi.org/10.1007/978-981-16-2644-9

Online ISBN

978-981-16-2644-9

Total duration

11 min

Publisher

Springer, Singapore

Copyright information

© The Editor(s) (if applicable) and The Author(s), under exclusive license to Springer Nature Singapore Pte Ltd. 2021
Video Transcript
[MUSIC PLAYING]
Hello, everyone. My name is Nishi Gupta and I am working as head of Department of Otorhinolaryngology and associate medical director at Dr. Shroff's Charity Eye and ENT Hospital, New Delhi. This is a video on endonasal endoscopic management of multiple giant dacryoliths evading detection during an endoscopic dacryocystorhinostomy.