Next up
Clinical situations where we would require a UBM
Your browser needs to be JavaScript capable to view this video
Try reloading this page, or reviewing your browser settings
You're watching a preview of subscription content. Log in to check access
Ultrasound Biomicroscopy (UBM) is a high frequency ultrasound with greater resolution which makes delineation of anterior segment structures possible. Its ability to show the structures behind an opaque cornea make it an invaluable tool for the anterior segment surgeon. Childhood glaucoma is an umbrella term for myriad conditions which have very different pathogenesis, phenotypes, presentations and consequently outcomes. Infants often present with corneal haze due to raised intraocular pressures, and a detailed examination for disease recognition is often not possible. The surgical plan usually rests upon knowing what the anterior segment structure is, and in cases with significant corneal haze, this diagnosis and optimum planning remains uncertain. In this scenario, Ultrasound Biomicroscopy (UBM) provides key insights to the anterior segment status, and is an invaluable tool for infants with glaucoma.
This video presents the principles of UBM, the technique and essentials of image acquisition in adults as well as babies in an easy to follow step-by-step guide. It provides information regarding orientation of the probe viz-a-viz the image acquired and show nuances of the technique for optimum image analysis. It demonstrates its utility in various forms of childhood glaucoma and discusses how it changes our management and surgical plan.
The video familiarizes the viewers with UBM techniques as well as its clinical utility and use in everyday surgical management especially with regards to children with glaucoma.
Introduction
This video takes the viewers through the techniques and the use of ultrasound biomicroscopy (UBM) in routine surgical practice in childhood glaucoma.
About The Author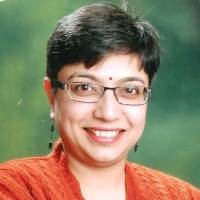 Dr Sushmita Kaushik is Professor at Glaucoma Services, Advanced Eye Centre, Postgraduate Institute of Medical Education and Research, Chandigarh, India. She worked in a center, which was one of the first to acquire a UBM machine in India, way back in 2003. Dr Kaushik has worked on UBM extensively in all forms of glaucoma and published her work in various national and international peer-reviewed journals and chapters. Dr Kaushik has been invited to deliver lectures on her work on UBM and its applications at national and international conferences, such as Annual Conference of the UK Pediatric Glaucmoa Society, London, January 2020, the Asia Pacific Glaucoma Society Conference in Hong Kong in 2015, etc. Dr Kaushik has won several awards and is a member of few societies.
About this video
Author(s)

Sushmita Kaushik

DOI

https://doi.org/10.1007/978-981-16-0774-5

Online ISBN

978-981-16-0774-5

Total duration

38 min

Publisher

Springer, Singapore

Copyright information

© Producer, under exclusive license to Springer Nature Singapore Pte Ltd. 2021
Video Transcript
Hello. I'm Dr. Sushmita Kaushik from the Advanced Eye Center PGI, Chandigarh, India. Today I'll talk to you about a tool which has enhanced the way we treat childhood glaucoma. Ultrasound biomicroscopy, or the UBM, ensures enhanced resolution imaging of the anterior segment of the eye, especially when not visible clinically.
Childhood glaucoma is a difficult disease to treat. Often these babies present with cloudy corneas, which preclude a clinical examination. UBM has proven to be an asset in diagnosing and managing these difficult children.
In this video series, we'll take you through doing the actual procedure. We'll show you how to set up the machine, how to ready the cup, and then explain how the probe positions relate to the image on the screen. We'll follow this up with clinical examples of how we've used the UBM to diagnose and surgically manage these difficult children. We hope you'll enjoy this journey with this awesome tool, which can justifiably be called a game changer for childhood glaucoma.