Your browser needs to be JavaScript capable to view this video
Try reloading this page, or reviewing your browser settings
You're watching a preview of subscription content. Log in to check access
Endolaparoscopic inguinal hernia repair is the preferred modality of repair today. Most inguinal and pelvic hernias are suitable for repair with minimal access techniques. These include hernias encountered in a wide variety of clinical settings such as sliding hernias, irreducible hernias, obstructed hernias, femoral and obturator hernias. The teaching videos under this series of videos demonstrate the surgical approach and operative steps for hernia repair in diverse clinical scenarios.
This video on endoscopic totally extraperitoneal (TEP) repair for direct inguinal hernia (EHS, left PM3) demonstrates the feasibility, application and stepwise approach with emphasis on surgical anatomy to operate a large direct inguinal hernia (EHS, left PM3). It describes and demonstrates the essential surgical steps of the procedure. The video comprises several segments, each segment consisting of one step of the surgical procedure. The essential take home messages comprise the last segment.
This video serves as a valuable learning resource to surgeons interested in endolaparoscopic inguinal hernia repair.
Introduction
The video demonstrates surgical approach & operative steps for endolaparoscopic direct inguinal hernia repair (EHS, left PM3) helpful for practicing surgeon.
About The Authors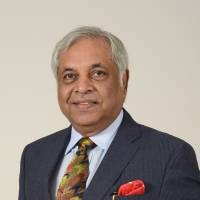 Ayushman Endosurgery is the surgical consortium comprising of the five consultant surgeons contributing to these teaching videos. Ayushman Endosurgery provides professional surgical services and expertise and currently functions at Max Institute of Laparoscopic, Endoscopic & Bariatric Surgery, Saket, New Delhi, India. The Max Institute is recognized to be a global center of excellence in endosurgery. It is recognized as the center of excellence in 'hernia surgery' by Asia Pacific Hernia Society. It is also accredited as the center of excellence in 'hernia surgery' and 'metabolic & bariatric surgery' by the Surgical Review Corporation (SRC), USA. The center has also been certified with the center of excellence accreditation for metabolic and bariatric surgery by OSSI and founder center of excellence for metabolic and bariatric surgery by SRC, USA.
The team of consultants at the Max Institute of Laparoscopic, Endoscopic & Bariatric Surgery have been associated with the establishment and propagation of minimal access surgery (laparoscopic surgery) in India since 1991. Created and conceptualized 35 years ago under the leadership of Dr Pradeep Chowbey, the team includes four Directors - Dr Rajesh Khullar, Dr Anil Sharma, Dr Vandana Soni, Dr Manish Baijal, who have extensive clinical experience; together they are the longest serving surgical team in the world.
Together, the team at Max Saket holds a Limca Book of Record of performing more than 80,000 surgeries. This is reflected in consecutive Limca Book of Record editions from 2000 to 2019.
About this video
Author(s)

Pradeep Chowbey
Rajesh Khullar
Anil Sharma
Manish Baijal
Vandana Soni

DOI

https://doi.org/10.1007/978-981-16-0573-4

Online ISBN

978-981-16-0573-4

Total duration

13 min

Publisher

Springer, Singapore

Copyright information

© Producer, under exclusive license to Springer Nature Singapore Pte Ltd. 2021
Related content
Book


This book is a comprehensive guide to the surgical repair of inguinal and abdominal wall hernias that not only describes all potential approaches, but also places them in the context of the anatomy of the...
Book


Prof. Dr. Reinhard Bittner
Prof. Dr. Ferdinand Köckerling
MD Robert J. Fitzgibbons, Jr.
MD Karl A. LeBlanc
MD Sumeet K. Mittal
Dr. Pradeep Chowbey
This book is distinctive in that it focuses exclusively on current laparoscopic and endoscopic techniques for inguinal, primary and incisional abdominal wall, and hiatal hernias. Individual steps in diagnosis...
Video Transcript
Endoscopic TEP repair is one of the preferred modalities of inguinal hernia repair today. This video demonstrates TEP repair for a large left-sided direct inguinal hernia, and explains the important steps of the surgical procedure.