Your browser needs to be JavaScript capable to view this video
Try reloading this page, or reviewing your browser settings
You're watching a preview of subscription content. Log in to check access
The presented video is a case demonstration of Laparoscopic Heller's Esophago-myotomy for Achalasia Cardia in pediatric patients. This is an idiopathic condition which is often encountered in pediatric age group. Achalasia of the esophagus results in recurrent vomiting and failure to thrive. The most common mode of diagnosis is contrast esophagogram and esophageal manometery. Surgical correction is done by splitting the thickened lower esophagus and partial fundoplication. Lapaproscopy and Robotic is the trending way to do it. The video is aimed at Pediatric laparoscopic surgeon, Pediatric gastroenterologist General surgeons with pediatric practice. The viewer will be able to see the basic steps of the procedure with methods of handling the delicate esophageal mucosa.
Introduction
The presented video shows a case demonstration of laparoscopic heller's esophago-myotomy for Achalasia Cardia in pediatric patients. This is anidiopathic condition which is often encountered in pediatric age group.Achalasia of the esophagus results in recurrent vomiting and failure to thrive.
About The Author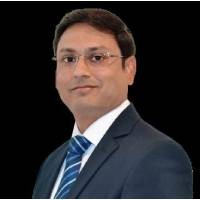 Dr Ravi P. Kanojia is a Professor of Paediatric surgery and predominantly practices Paediatric Laparoscopy and Robotic surgery. He has more than 15 years of experience in this field and has done several surgical firsts in the area of Paediatric Laparoscopy. He has trained from several reputed institutions and attended major Paediatric Surgery centres worldwide. His basic Paediatric Surgery training is from King George's Medical University and following that has been a consultant in PGIMER Chandigarh. He has been a fellow of Paediatric surgery and Paediatric urology at Women's & Children's Hospital Adelaide Australia and Juntendo University Tokyo Japan. He has several awards and honours to his name in the field of Paediatric Surgery, including EUPSA travel fellow and WOFAPS fellow.
He has more than 70 publications and several academic positions are served by him. The most notable are as the Editorial secretary of Journal of Indian Association of paediatric Surgeons (PubMed Indexed Journal 2008-2013). He is the current Editorial Manager for Journal of Paediatric Endoscopic Surgery. He is also the Honorary Secretary of Indian Association of Paediatric Surgeons, a society which advises the practice of Paediatric Surgery in the Indian subcontinent.
A detailed information is available on www.clickonravi.com.
The author has a passion towards online teaching with his teaching videos on YouTube platform and there are 100+ paediatric laparoscopy videos posted on his YouTube channel with more than 1300 subscribers and more that 250000 views of the channel.
About this video
Author(s)

Ravi P. Kanojia

DOI

https://doi.org/10.1007/978-981-15-9596-7

Online ISBN

978-981-15-9596-7

Total duration

17 min

Publisher

Springer, Singapore

Copyright information

© The Editor(s) (if applicable) and The Author(s), under exclusive license to Springer Nature Singapore Pte Ltd. 2020
Video Transcript
[MUSIC PLAYING]
Hello, everyone. Today, we are demonstrating a case of laparoscopic Heller's esophagomyotomy for achalasia patients in pediatric patients. I am Dr, Ravi Kanojia from PGI Chandigarh.
So before we begin with the actual case description, a few words about achalasia cardia. Achalasia cardia is an esophageal motility disorder, which is because of a focal neuro-degenerative disorder and leads to the functional obstruction of the lower esophagus. There is absence of esophageal peristalsis and impaired relaxation of the lower esophageal sphincter in response to swallowing.
So for these patients, the basic problem is recurrent vomiting, and they are not able to swallow whatever they are eating. And the basic treatment goal in this patient is the release of the obstruction by division of the lower-esophageal circular muscle fibers at the level of the lower esophageal sphincter. And then you have to reconstruct the lower esophageal sphincter in order to prevent reflux.