Next up
Facts and Figures & Flagship Project
Your browser needs to be JavaScript capable to view this video
Try reloading this page, or reviewing your browser settings
You're watching a preview of subscription content. Log in to check access
One Belt and One Road (OBOR), also known as the Belt and Road Initiative (BRI) is a key pillar of Chinese strategy and a long-term goal for economic and regional integration. Comprising a six-corridor trade route that would connect China through Asia to Europe, including Africa, the initiative has huge implications; trade initiatives will no longer be primarily driven by the West and the opening up of economies around the world will mean growth in emerging markets.
This video uses international trade theory to highlight how businesses would benefit from One Belt One Road if it becomes successful in bringing countries under one trade network. It provides a complete background and overview of the initiative and gives students an understanding of the drivers and motivations behind the strategy. Finally it offers food for thought on the implications for OBOR in a post-COVID world.
Introduction
This video explores the benefits and concerns of China's Belt and Road initiative using international trade theory.
About The Author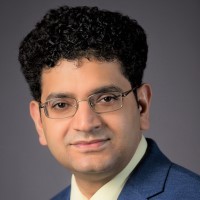 Deepraj Mukherjee is an Associate Professor at Kent State University and Editor-in-Chief of the International Journal of Business and Economic Development. Deepraj's areas of specializations are in international trade and business issues and his works have been published a variety of well-known journals including Applied Economics Letters, Management Decision, European Business Review, Economic Modelling and Review of Development Economics among others. Dr. Mukherjee has been recognized as an excellent scholar related to the emerging markets /economies and has been invited as an affiliate member of Emerging Market Internationalization Research Group (EMIRG) at University of Sydney, Australia. His papers regularly get accepted at prestigious international conferences like the International Atlantic Economic Conference, American Economic Association Annual Conference, and the Annual Conference of the Academy of International Business. Mukherjee also contributed to the capacity of a reviewer for journals like Economic Change and Restructuring, Journal of World Business, and International Journal of Emerging Markets to name a few.
About this video
Author(s)

Deepraj Mukherjee

DOI

https://doi.org/10.1007/978-3-031-12435-8

Online ISBN

978-3-031-12435-8

Total duration

44 min

Publisher

Palgrave Macmillan

Copyright information

© The Editor(s) (if applicable) and The Author(s), under exclusive license to Springer Nature Switzerland AG 2023
Video Transcript
[MUSIC PLAYING]
Hi, all. So, this presentation will discuss about the Belt and Road Initiative. The Belt and Road is a six-corridor trade initiative that is led primarily by China, which will connect China via Asia and then it will go to Europe, including Africa.
The impressive rise of China in the last two decades, which we all know about it has become a significant economic and political power. In fact, it's the global trade order is going towards becoming more and more bipolar in that regard.
So whether the Belt and Road Initiative that China proposed in 2013, which we are going to talk about next. Whether that's an initiative that's a grand strategy a great geopolitical move, or it's a great economical route that will help all the member countries, which we need to figure out.
If it does, then it will allow regional integration dynamics, it will promote equality, and it will be elevated to be considered something to be a contemporary version of the ancient silk road. Now whether China will achieve, or whether all the member countries, I should say, would actually achieve all the purposes, all the grant proposals that were made. Let's figure out.