Your browser needs to be JavaScript capable to view this video
Try reloading this page, or reviewing your browser settings
You're watching a preview of subscription content. Log in to check access
More than 90% of information we receive is either unstructured or semi-structured. While other AI techniques are able to find patterns and discover structure, network graphs provide an important aspect of reasoning – the ability to connect dots and bring centuries of knowledge to interpret and analyze these patterns. This video discusses how graphs enable us to read massive amounts of unstructured information, align entities from disparate sources, and synthesize meaningful abstractions. Technological advancements have placed graphs in everyone's reach and yet, there is so much to learn on how to use and exploit this technology for business purposes. The video offers a set of applications and case studies that show how Graph AI can be used in a variety of business settings.
Introduction
This video discusses how graphs enable us to read massive amounts of unstructured information from disparate sources and synthesize meaningful summaries.
About The Authors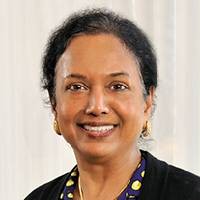 Neena Sathi is a principal at Applied AI Institute. She has 30+ years of experience envisioning, designing, developing and implementing AI solutions associated with enhancing customer experience, back office automation and risk and compliance for many Fortune 100 organizations. She has worked as Director of AI Technologies at Carnegie Group, Inc, an AI startup, Accenture, KPMG, and IBM.
Neena has three masters degrees including MBA from leading US universities. She is Master certified integration architect from IBM and Open Group as well as certified Project management professional (PMP) from Project management institute. She is also certified in many Cloud and Cognitive technologies. She has widely presented and published many papers in AAAI, IEEE, WCF, ECF, IBM Information on Demand, IBM Insight, World of Watson, IBM Developer Works and various academic journals.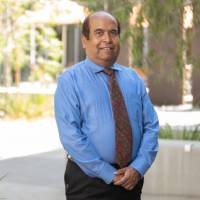 Dr. Arvind Sathi is the Director of AI Literacy at KPMG and a faculty member with University of California where he teaches courses on AI and Analytics. Dr. Sathi received his Ph.D. in Artificial Intelligence from Carnegie Mellon University and worked under Nobel Prize-winner Dr. Herbert A. Simon. Dr. Sathi is a seasoned professional with leadership in Artificial Intelligence and Data Science solution development and delivery. Dr. Sathi was a pioneer in developing AI solutions at Carnegie Group (a Carnegie Mellon startup), leading to its successful public offering as a profitable AI company. At KPMG / Bearingpoint, he led the practices for Intelligent Process Automation, Enterprise Integration, & Analytics. At IBM, Dr. Sathi has led several AI and Data Science programs involving IBM products from IBM Watson, and Cloud business units, and has provided technical oversight to IBM's strategic accounts. He has also delivered numerous workshops and presentations at industry conferences on technical subjects and holds four patents in information technology. He has published four books on analytics - Cognitive (Internet of) Things, Engaging Customers Using Big Data, Big Data Analytics, Customer Experience Analytics. He has also been a contributing author in a number of Data Governance books written by Sunil Soares and has published an article series on Advanced Analytics for IBM Developer Works.
About this video
Author(s)

Neena Sathi
Arvind Sathi

DOI

https://doi.org/10.1007/978-3-030-73139-7

Online ISBN

978-3-030-73139-7

Total duration

1 hr 11 min

Publisher

Palgrave Macmillan

Copyright information

© The Editor(s) (if applicable) and The Author(s), under exclusive licence to Springer Nature Switzerland AG, part of Springer Nature 2021
Video Transcript
Introduction to Graph AI for Business. Customer engagements are aggressively looking for fast turnaround on quality decision making, utilizing all available structured and non-structured data. They want support for proactive, online recommendations to improve customer service. The concept of using graph databases to map relationship digitally started seeing popular usage in business around 2015 with increased compute power, in-memory computing, multiprocessing, and agreed-upon standards moved the concept from academics to real-world uses in business and enterprise computing.
Our definition of Graph AI includes knowledge graph and incorporation of other AI techniques like natural language processing, machine learning, deep learning, and Elasticsearch. Authors of this video book include Dr. Arvind Sathi and Neena Sathi.
Introduction. We welcome you to this Introduction to Graph AI for Business Media Book. In this section, we will provide outline for the content, expected outcome, associated audience, and a brief bio on the authors of this video book.
Outline. This video book is divided into multiple sections. Section 1 provides an introduction to the video book including outline, audience, expected outcome, and authors. In Section 2, we will describe how Graph AI has evolved over the past 50 years. Section 3 will introduce graph case study for real-life example on COVID-19 use case. It will introduce challenges associated with contact tracing problem for this case study.
In Section 4, we will introduce how Graph AI can be used to solve the contact tracing and associated insights. In Section 5, we'll describe a benefit case for this contact tracing Graph AI solution and how this solution can be used in other use cases needing group behavior. In Section 6, we will introduce another case study for Graph AI solution for movie recommendation for streaming platforms. We will introduce problem or view as seen by streaming platform providers on how to match your liking and preferences with content inventory to improve market share and remain competitive in the marketplace.
In Section 7, we will describe users of this Graph AI solution and associated insights for movie recommendation case study. In Section 8, we will provide benefit case for this movie recommendation case study. Finally, in the last section, we will summarize the video contents, and we'll discuss related documentation and references to move forward with Graph AI learning.
Expected outcome. What will you get out of this video book? You will be able to describe what is a Graph AI and its role in developing insights for large masses. You will understand how Graph AI has evolved over the past 50 years. You will be able to understand and articulate the use case for Graph AI solution. You will be able to define benefit case of Graph AI solution, and finally, you will learn how to design a graph AI analytics experience.
Audience. So who will benefit from this video book? The first audience represents business professionals interested in exploring use cases for Graph AI technology. Second audience represents IT professionals engaged in developing Graph AI applications. For them, this video book provides a common language of communication and a framework to define specific projects.
This video book has evolved through graduate-level classes, and this video book remains a good overview for a business student studying general management, analytics, or information technology. With our consulting background, we have seen the need for training the solution provider and consulting community. The video book will definitely benefit vendors, consultants, and service providers and will enhance their ability to consult and sell related solutions.
Hi. I am Neena Sathi, and I worked as director of AI technologies at Accenture, CenturyLink, KPMG, and IBM. I have over 30 years of AI development experience and have widely deployed AI applications in US, Canada, and Latin America. I have widely presented and published AI-related papers in many magazines and conferences. I have deployed AI solutions in many industries like telecom, health care, retail, and government.
In telecom, I had built several application for location and network analytics using Graph AI technology. For retail and health care, I have built Graph AI applications to develop customer insights and providing product recommendations for customers based upon their past purchase behavior and similar customer groups.
Hi. I'm Arvind Sathi. I have teamed up with Neena to provide you with Introduction to Graph AI for Business video book. I have a PhD from Carnegie Mellon University in artificial intelligence and many decades of experience in developing and deploying AI systems.
I teach AI analytics courses at University of California at Irvine, and I'm also working on a data literacy program at KPMG. I have over 30 years of AI development experience in telecom, media, and accounting. I have developed AI applications worldwide and extensively published my experience through many books and publications.