Your browser needs to be JavaScript capable to view this video
Try reloading this page, or reviewing your browser settings
You're watching a preview of subscription content. Log in to check access
Angular is a framework that provides rich and interactive features for single page application, increase development speed and faster user experience.
This video course will help you create a strong foundation on angular framework. The video starts with an introduction on angular covering the basics and installation section of it. Moving forward, you will learn components of angular, it will discuss the different parts of angular so that you'll be able develop the app easily. As we progress, the author talks about the binding part of the angular like forms of module, data binding, input and output, validations and much more.
After completion of this course you will easily develop a single page application and understand the basic concepts of angular as framework.
What you'll learn
Learn the installation process in angular

Develop app in an easier way

Study the forms and validations in angular
Who is this video for
Professionals interested to develop their career in the field of web development
Angular is a framework that provides rich and interactive features for the single-page application increases development speed, and faster user experience.
About The Author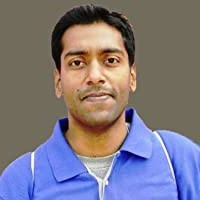 Sourabh Mishra is an entrepreneur, developer, speaker, author, corporate trainer, and animator. He is a Microsoft guy; he is very passionate about Microsoft technologies and a true .NET warrior. Sourabh started his career when he was just 15 years old. He's loved computers from childhood. His programming experience includes C/C++, ASP.NET, C#, VB.NET, WCF, SQL Server, Entity Framework, MVC, Web API, Azure, jQuery, Highcharts, and Angular. Sourabh has been awarded Most Valuable Professional (MVP) status. He has the zeal to learn new technologies, sharing his knowledge on several online community forums. He is a founder of IECE Digital and Sourabh Mishra Notes, an online knowledge-sharing platform.
About this video
Author(s)

Sourabh Mishra

DOI

https://doi.org/10.1007/978-1-4842-8756-9

Online ISBN

978-1-4842-8756-9

Total duration

1 hr 7 min

Publisher

Apress

Copyright information

© Sourabh Mishra 2022
Video Transcript
Hi, my name is Sourabh Mishra. And welcome to my course, Angular: for single page application. I am founder of Sourabh Mishra Notes and IECE Digital, a technology knowledge-sharing platform where one can learn new technologies very easily. You can follow me on below social media links.
I am running a YouTube channel called, Sourabh Mishra Notes, where you can subscribe to my channel and get latest technologies, updates frequently. You can follow me on Facebook, Instagram with SourabhMishraNotes. I am also available on Twitter. I am an Apress Author.
I am the author of Practical Highcharts with Angular, published by Apress. Here, you can learn advanced feature of highcharts with angular. First of all, thank you to picking up this course. I assume that you probably have a strong interest in developing a stunning, faster, single-page application using Angular for your web product.
Angular is an open-source framework which, designed by Google, to build interactive single-page application with the use of HTML and TypeScript. A single page app is an application which interacts with the user by dynamically rewrites the current page rather than loading entire new pages from the server. That's the reason behind its reactive, super fast speed. It contains buttons, animations, menus on a single page when a user clicks on any of them.
Angular is the successor framework of Angular JS. From eCommerce to social media, health care to online banking, millions of users use web and mobile apps. Angular is designed with rich, dynamic, and interactive features. Two-way binding– with this data binding becomes automatic and fast. Changes made from components is automatically reflects into the view and vice versa.
Modular-based design– with the use of modules, we can manage our code base very well. Interactive routing– Angular consist a great routing engine loads the page asynchronously. Here we have three types of page loads– Eager loading, Lazy loading, and Pre-loading Boost and HTML– Angular provides programming into HTML pages, for example, loops, conditional syntax for render, HTML content.