Next up
What are Lookup Tables (Lumetri Look / LUTs)?
Your browser needs to be JavaScript capable to view this video
Try reloading this page, or reviewing your browser settings
You're watching a preview of subscription content. Log in to check access
Create your own collection of Lookup Tables (LUTs) for Photoshop and video rather than buying from a third party. This video will explain what a Look or Lumetri LUT is, how to create these tables from adjustment layers and apply them successfully as a new single adjustment layer in Photoshop, or reuse them in Adobe Media Encoder for short video clips.
The tutorial starts with an overview of LUTs, its history, usage, kinds, color modes, file formats and what Adobe programs use or can create LUTs. You will also find out why you should create your own LUTs. Next, you will learn about best practices when creating a LUT and how to group the adjustment layers correctly as well as look at how you can apply your LUT as a color lookup adjustment layer in Photoshop and further modifications and settings you can apply to that adjustment layer. Finally, you will learn to apply your LUT file to a video clip or stitched clips in Media Encoder. You will also find some advice on where to store your LUT files to maintain the same linkage.
What You Will Learn
Learn to create your own LUTs

How these same files can be reused for video

Learn how LUTs can be reused from Photoshop Projects
Who This Book is For
Graphic artists who may have only beginner experience in how to create LUTs and how to use them in videos.
This video will explain what a Lumetri LUT is, how to create and use them in Photoshop, or reuse them in Adobe Media Encoder for short video clips.
About The Author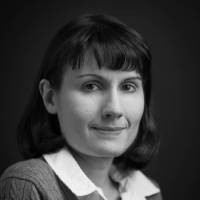 Jennifer Harder has worked in the graphic design industry for over 10 years. She has a degree in Graphic Communications and is currently teaching Acrobat, InDesign, and Dreamweaver courses at Langara College. As a freelancer, Jennifer frequently works with Adobe PDFs to help enhance websites. She enjoys talking about Adobe Software and her interests include writing, illustration, and working on her websites.
About this video
Author(s)

Jennifer Harder

DOI

https://doi.org/10.1007/978-1-4842-7353-1

Online ISBN

978-1-4842-7353-1

Total duration

58 min

Publisher

Apress

Copyright information

© Jennifer Harder 2021
Video Transcript
Hi there. Welcome to my video presentation, Color Lookup for Photoshop and Media Encoder Setting the Mood with Color. My name is Jennifer Harder. And I'm a book and video author for Apress and also instructor at a local college in Vancouver, BC.
In this video, we are going to be looking at the basics of creating and loading your own color lookup table, which is sometimes also called a Lumetri lookup table, or LUT. We will first take a look at the history and usage of the LUT in your photographs and later add it to a video clip using Adobe Media Encoder. We will discover the following, custom creation of your own LUTs in Photoshop saves you money rather than buying them or relying on others, learning how to reuse LUTs for your other Adobe software, such as Media Encoder.
It's easy to learn how to use the lookup tables even if you are a beginner to Photoshop or have never used them before. Learn how to choose the correct color settings so that you don't corrupt your LUTs for other projects. Learn how color affects the mood of your photo and video, for example, fear, excitement, or nostalgia.