Next up
Choosing a Mission Statement
Your browser needs to be JavaScript capable to view this video
Try reloading this page, or reviewing your browser settings
You're watching a preview of subscription content. Log in to check access
Create a brand online through the use of web design, graphic design (Illustrator and Photoshop), outsourcing, social media, and various other strategies. The objective of this video is to help you create a coherent design that speaks to the mission statement of the brand, and that will increase audience engagement and loyalty.
The main strategy is to create a brand design that is unique to the business and that has a specific buyer persona in mind (not to try and 'appeal to everyone'). This will reference Simon Sinek's 'Golden Circle'. From there, a logo can be designed or outsourced to reflect that mission statement. This should be simple, re-useable, scalable, and non-cliched, and the design process may involve a mood board. The design should be a vector file and we will look at the technical skills necessary to create such a design.
The same branding should then be used through a website, and will help to inform design decisions, as well as across social media. The aim here is 'be everywhere' and 'be consistent'. We will discuss how brand strategy can even influence product design, using Apple as the perfect example. We will also discuss branding in the context of content marketing.
What You Will Learn
Create a design aesthetic that expresses your company's valuers and ethos

Choose a mission statement and find a buyer persona to help you meet your goals

Study how you can create and maintain a brand
Who This Video is For
New startups, entrepreneurs, bloggers, and sole traders looking to create a strong platform online. Businesses currently operating with drab and uninspired branding that are losing potential leads as a result. 
About The Author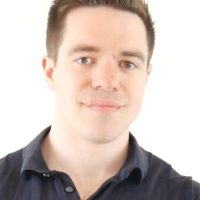 Adam Sinicki is a writer, programmer, and presenter living in Bicester, Oxfordshire, UK where he spends a lot of his time on his laptop in the local coffee shops. He has been working on a freelance basis as a programmer and SEO writer for the past eight years under the company name NQR Productions. He currently spends time as a blogger and YouTube presenter at Android Authority, where he covers phone reviews as well as development content. Adam has also found success with numerous other projects, including his own Android app Multiscreen Multitasking, which had over 30,000 paid downloads across its various iterations and came as preloaded software on over 60,000 handsets in India. He also provided the code for Coldfusion's Voxis Launcher.
If you would like to read more of Adam's work, he also discusses tech, online business, and his other passions for fitness, psychology, and self-development at his blog, The Bioneer, and on his Bioneer YouTube channel. The latter now has over 50,000 subscribers. You can also find him as The Bioneer on Instagram and Twitter. When Adam is not working, he enjoys reading comics, working out, playing video games, and relaxing at home with his wife Hannah.
About this video
Author(s)

Adam Sinicki

DOI

https://doi.org/10.1007/978-1-4842-4958-1

Online ISBN

978-1-4842-4958-1

Total duration

27 min

Publisher

Apress

Copyright information

© Adam Sinicki 2019
Video Transcript
[MUSIC PLAYING]
Hello and welcome to this video course on branding and design for the web. My name's Adam Sinicki, and I've been working as a freelancer online for the past 10 years. Among my various gigs are running my own website, The Bioneer, which has a YouTube channel with over 75,000 subscribers. I'm an author for Apress Media and recently wrote, "Thriving in the Gig Economy." I've been working as a freelance writer and marketing consultant for hundreds of businesses, and I'm a presenter and a writer over at Android Authority.
During this course, you'll learn what makes a brand and especially in the digital era. You'll learn why it's important and how to create brand materials, such as logos and website designs. And ultimately you'll be able to create something memorable that stands out and increases your visibility, your trust, and helps to build real fans, not to just the customers.