Next up
Ahmed Valve with Phacoemulsification and Sulcal Placement of Tube
Your browser needs to be JavaScript capable to view this video
Try reloading this page, or reviewing your browser settings
You're watching a preview of subscription content. Log in to check access
This video walks the viewer through all the steps in the placement of an Ahmed glaucoma valve with the tube passed into the posterior chamber through the sulcus. This is possible in a pseudophakic eye and has the advantage of preventing possible corneal endothelial decompensation secondary to tube-corneal touch. Posterior chamber tube insertion may also be performed by combining surgery with phacoemulsification in older patients with lens changes.
Introduction
The video demonstrates use of the patient's own scleral flap to cover the tube, though it is also possible to use preserved sclera or pericardium for this purpose. Fibrin glue is then carefully used to close the edges of the conjunctiva, ensuring that none passes posteriorly into the sub-Tenon's space. Video segments also discuss priming of the valve, conjunctival peritomy, sub-Tenon dissection, and how to suture the valve plate. The final segments of the video detail how to trim the tube, the insertion of the tube into the posterior chamber, as well as how to anchor the tube to the sclera via a stay suture, and best practices to closing the scleral flap and conjunctiva.
About The Author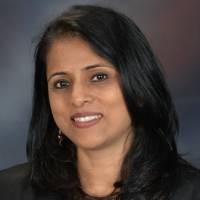 Soosan Jacob , MS, FRCS, DNB, MNAMS, is Director and Chief of Dr. Agarwal's Refractive and Cornea Foundation (DARCF) and Senior Consultant, Cataract and Glaucoma Services, Dr. Agarwal's Group of Eye Hospitals, Chennai, India. Dr. Jacob is widely respected for her innovative techniques and management of complex surgical scenarios and has a special interest in cutting-edge cataract, cornea, glaucoma, complex anterior segment reconstruction, and refractive surgery. She has conducted courses and delivered presentations, including keynote lectures, at numerous national and international conferences. She has received a number of prestigious international awards, including from the International Society of Refractive Surgery, the American Academy of Ophthalmology (AAO), and the American Society of Cataract and Refractive Surgery, and has also won more than 50 international awards for her surgical videos. Dr. Jacob has authored more than 100 peer-reviewed publications and is the editor of 17 ophthalmology textbooks. She is Chair of the Multimedia Board AAO-ISRS, a member of the ISRS Executive Committee, and an associate editor of the Journal of Refractive Surgery.
About this video
Author(s)

Soosan Jacob

DOI

https://doi.org/10.1007/978-3-030-24795-9

Online ISBN

978-3-030-24795-9

Total duration

14 min

Publisher

Springer, Cham

Copyright information

© The Author(s) 2019
Video Transcript
[MUSIC PLAYING]
Hi. I'm Dr. Soosan Jacob. I'm a senior consultant in the cataract and glaucoma services of Dr. Agarwal's Eye Hospital Chennai, India. I have been using the Ahmed glaucoma valve for many years now, and I'm very satisfied with my results.
In this series of educational videos, I hope to share some of my experiences with you regarding implantation of the valve with sulcus placement of the tube into the posterior chamber in an eye that's already pseudophakic, or combining it with cataract surgery and then placing the tube in the sulcus.
This series of videos is divided into eight sections– an introductory clip with a broad overview. The next six clips deal with surgical steps. And finally, a last clip on further reading.
Watching this series of videos will give you an insight into the intricacies and nuances associated with implantation of an Ahmed glaucoma valve, and to get successful outcomes. I do hope this series of videos will be useful for you. Thank you.