Next up
Design of Functional Interfaces
Your browser needs to be JavaScript capable to view this video
Try reloading this page, or reviewing your browser settings
You're watching a preview of subscription content. Log in to check access
Come up to speed with Java functional programming and write effective Java code with less effort using lambdas and the stream API. Make your Java project code more reliable by using the declarative approach provided by these new Java features. Learn how to leverage the updated collections API to facilitate common functional programming patterns such as map/filter/reduce. If you've ever stumbled through constructing for loops and while loops, this video will add to your programming toolbox and allow you to leave such heavy lifting to the stream API.
You'll begin your journey with the syntax of Java lambdas, what they are, and how to use them. You will then be introduced to Java streams and the various ways of creating them for the purpose of processing data. You will also learn about the updates which have been made to the Java collections API for supporting streams. Along the way you will be taught the streams API and how to use the methods defined in the Stream class to process data sources to obtain the results you desire by employing lambdas with the Stream class' operations.
What You Will Learn
Write functional interfaces for defining lambdas

Master lambda syntax for implementing anonymous functions

Create streams associated with data sources

Process data through stream operations

Use method references for simplifying lambda expressions

Discover parallel and sequential streams and how they differ
Who This Video Is For
Software developers familiar with Java who wish to employ functional programming techniques in their software projects in order to write reliable, compact, and easy-to-read Java code.
About The Author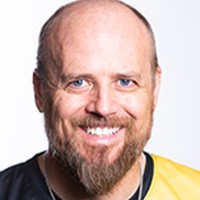 Jim McLaughlin is the lead technical architect at YRCW, a full stack developer, and advocate of functional programming. With over 30 years of software development experience, he speaks on functional programming and is active in several user groups including the Kansas City Java Users Group. He also leads the Operation Code: KC group, dedicated to mentoring and helping veterans and military spouses who are interested in software development careers.
About this video
Author(s)

Jim McLaughlin

DOI

https://doi.org/10.1007/978-1-4842-5594-0

Online ISBN

978-1-4842-5594-0

Total duration

1 hr 1 min

Publisher

Apress

Copyright information

© James McLaughlin 2019
Video Transcript
Hello, and welcome to this course on Java lambdas and the streams API. Lambdas and streams are a powerful update to the Java platform and bring functional programming to the Java ecosystem.
Now, before I jump into the details of lambdas and streams, let me introduce myself. My name is Jim McLaughlin, and I'm a full stack developer with 32 years of software development experience. And I've spent the majority of my professional career working with Java. Currently, I'm the lead technical architect at YRC Worldwide, a shipping and logistics company based in the greater Kansas City metro area. And I enjoy speaking and giving presentations on Java topics to user groups and technical conferences.
In this video series, we'll learn about the functional interfaces used for defining lambdas, lambda functions and their syntax, Java Streams and how to create and associate them with data sources, and how to process data with stream operations like filter, map, and reduce. When you finish, you'll be able to create a stream associated with a data source, apply stream operations such as filter, map, and reduce, and define and use lambda functions. Now, this course does assume that you have some basic understanding of Java, including classes, abstract classes, and interfaces. So let's get started.