Next up
Importing Layered Graphics File
Your browser needs to be JavaScript capable to view this video
Try reloading this page, or reviewing your browser settings
You're watching a preview of subscription content. Log in to check access
Learn the fundamentals of creating animations and motion graphics in Adobe® Premiere Pro with this video. Adobe Certified Expert (ACE) Navin Kulshreshtha shows you how to add motion graphics that will make any project shine.
This video starts with the fundamental concepts of creating motion graphics such as creating keyframes and animating basic properties, including position, scale, and rotation. After covering the basics, you will progress to several intermediate and advanced techniques such as nesting, masking, and easing. You will also learn about importing layered Photoshop files, using the Type tool to create text, working with the Essential Graphics panel, creating animated lower thirds, and animating still images.
Adobe® Premiere Pro includes powerful tools to create professional motion graphics that will impress your viewers and take your project to the next level without ever leaving the program. After watching this video, you will be able to work with these complex and intricate topics, giving you all the skills you need to make great videos.
What You Will Learn
Create your own motion graphics in Adobe® Premiere Pro

Apply your motion graphics to common scenarios such as animating logos, animating lower thirds, panning, and zooming still images

Make your video projects stand out and appear more professional
Who This Video Is For
Those already familiar with Premiere Pro and who are looking to enhance their video-creation skills.
About The Author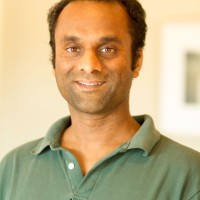 Navin Kulshreshtha also known as the Web Guru, has over 12 years of industry experience and over 8 years of teaching experience. He is an Adobe Certified Expert (ACE) and Adobe Certified Instructor (ACI) and has taught hundreds of groups and individuals. Some of his current and previous clients include: NBC/Universal, NASA TV, WKMG News 6, Boeing, Nordstrom, Costco, Clearwater Casino Resort and many others.
The Web Guru is an expert instructor and also a working professional who has created hundreds of websites and films. His documentary "Asha goes to India" was a finalist at the Moondance Film Festival and is being distributed by Gaiam Television. He has a deep understanding of the software that he uses and brings a wealth of real-world insights into the classroom. He consistently receives high ratings for his training, and also maintains a YouTube channel where he produces instructional videos.
About this video
Author(s)

Navin Kulshreshtha

DOI

https://doi.org/10.1007/978-1-4842-4465-4

Online ISBN

978-1-4842-4465-4

Total duration

1 hr 17 min

Publisher

Apress

Copyright information

© Navin Kulshreshtha 2019
Video Transcript
[Audio Starts at 00:00:12]
Kulshreshtha: Hello. Welcome to creating motion graphics in Adobe Premiere Pro. My name is Naveen Kulshreshtha and I'm an Adobe certified expert and Adobe certified instructor and I'm also a professional filmmaker and web designer. In this video we'll cover the basics of creating of professional motion graphics in Premiere Pro. We'll begin with a layered graphics file and then bring it to file with animation key frames. We'll also learn professional techniques to refine the pacing and timing of the animation with easing and also talk about nesting.
Later I'll show you how to add text in Premiere Pro and how to use the essential graphics panel. We'll animate the text and also create a mask and animate the mask to create a more sophisticated effect. We'll learn how to create image slideshows and then add the Ken Burns Effect by panning and zooming the images. Finally we'll cover best practices for exporting motion graphics so thanks a lot for joining me. Let's get started.