Oligarchs
Reference work entry
DOI:
https://doi.org/
10.1057/978-1-349-95189-5_2457
Abstract
In several countries economic transition was accompanied by the emergence of 'oligarchs' – businessmen who amassed fortunes and used them to influence economic policies. At their height in 2003, a few oligarchs controlled much of Russia's economy, as did a similar elite in Ukraine. Oligarchs seem to run their empires more efficiently than other domestic owners. While the relative weight of their firms in the economy is huge, it is not excessive by the standards of the global economy where most of them are operating. Policymakers should therefore focus on 'political antitrust' to prevent state capture and subversion of institutions.
Keywords
Arbitrage 
Berezovsky, B. 
Bribery 
Democracy 
Hold-up problem 
Khodorkovsky, M. 
Loans-for-shares auctions (Russia) 
Market power 
Oligarchs 
Ownership and control, separation of 
Ownership concentration 
Private property 
Privatization 
Putin, V. 
Rent seeking 
Tariffs 
Total factor productivity 
Transition and institutions 
Vertical integration 
World Trade Organization 
An oligarchy, as discussed in Plato's Republic and Statesman and Aristotle's Politics, is a form of government by a small group. Interestingly, while in Plato's works, oligarchy is used as a neutral term, and may include both aristocracy and plutocracy, Aristotle already provides the term with a negative connotation, defining oligarchy (similar to Plato's plutocracy) as a deviant form of the rule by a few (while aristocracy remains the correct one).
In its current meaning in transition economies, the term 'oligarch' denotes a businessman who controls sufficient resources to influence national politics. (The lists of oligarchs include only men; the richest Russian businesswoman, Moscow mayor's wife Elena Baturina, ranked outside the top 25 wealthiest Russians in 2004; she entered the
Forbes
billionaires list (Fig.
1
) only in 2005 but remained the only woman in the list, ranked 27 out of 34 in 2006 (
Forbes
2004–6). Such businessmen have played a substantial role in almost all transition countries, although most of the discussion of the role of oligarchs in transition has concerned Russia and Ukraine. The reason for this is also similar to the ideas of Plato and Aristotle, who classified oligarchy as an intermediate form of government between dictatorship/monarchy and democracy. On the one hand, EU accession countries in Central and Eastern Europe have succeeded in building accountable and democratic governments, thus limiting the role of oligarchs. On the other hand, members of the Commonwealth of Independent States (except Russia and Ukraine) have seen the concentration of power in the hands of a single politician rather than a group of rich businessmen. Also, Russian oligarchs have been more prominent than those in Ukraine, in terms of both their wealth (due to Russia's resource richness) and their substantial impact on politics. Actually, in the
Forbes
2005 and 2006 lists the total wealth of all non- Russian billionaires from transition countries (including China but excluding Hong Kong) was less than that of the single richest Russian. Not surprisingly, Russian oligarchs have been studied in far more detail. This is why this article concentrates on the case study of Russia even though most issues are relevant to Ukraine and other transition countries. (See Aslund
2006
, for a study of Ukrainian oligarchs; Gorodnichenko and Grigorenko
2005
, provide a quantitative analysis.)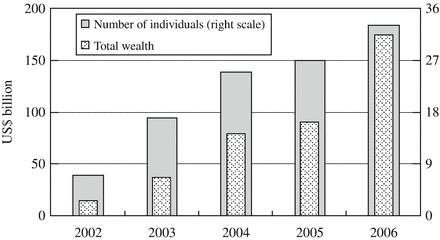 It is not clear who first used the term 'oligarch' to describe the newly emerged class of Russian tycoons. Kommersant (2003) refers to a pro-market politician Boris Nemtsov (then a governor of Nizhny Novgorod region, later to become a deputy prime minister) and a journalist, Alexander Privalov (then Izvestiya daily and Expert weekly), both introducing the term in 1994–5. It is also clear that the Russian elite's thinking of oligarchs has been affected by Jack London's The Iron Heel (1908), an anti-utopia on the rise of an oligarchy of robber barons, which was widely publicized in Soviet times.
Who Are the Oligarchs?
There is no complete list of Russian oligarchs. Given the multi-layered and nontransparent ownership structure of Russian companies, compiling such a list would be extremely difficult. On the other hand, any such list has to be constantly updated: there is substantial vertical mobility among Russia's richest. For example, out of seven or eight business groups that dominated President Yeltsin's Russia in the 1990s, two were destroyed by the 1998 crisis (SBS and Inkombank), one took a hit but survived to be later sold to fellow billionaires (Roskredit-cum-Metalloinvest), two have their leaders (Berezovsky and Gusinsky) in exile, and one (Khodorkovsky) in prison. Other problems are related to the vagueness of the definition of oligarchs. First, there are different views on how to measure tycoons' power rather than wealth (this is especially important for a comparison between oligarchs and US robber barons). Second, it is not clear whether to count public officials and CEOs of large public companies as oligarchs. In what follows, we stick to the definition of oligarchs as private owners, although certain CEOs of state-owned firms and family members of some government officials do resemble oligarchs in many respects.
The first list of oligarchs probably belongs to Boris Berezovsky (by all accounts, an oligarch himself) who, in his 1996 interview in the
Financial Times
, named seven bankers who controlled about 50 per cent of the productive assets of the Russian economy. Since then there have been numerous lists, some even endorsed by the oligarchs themselves. Still, all the oligarch rankings identify similar sets of individuals. Table
1
presents a list that was constructed based on a study of ownership concentration in a substantial subset of Russian economy by the World Bank's
2004
Country Economic Memorandum
(CEM) for Russia (see Guriev and Rachinsky
2005
, for a detailed description of the data-set and the project). The study refers to summer 2003 – the oligarchs' heyday. While this study has its limitations, it makes it possible to reach some conclusions on who the Russian oligarchs are, and why they matter.
Oligarchs, Table 1
Russian oligarchs as of summer 2003
| Senior partner (s) | Holding company/firm, major sector(s) | Employment, '000s (% sample) | Sales, in billions of roubles (% sample) | Wealth, in billions of US dollars | Other rankinga | RSPP bureau, head of committee/taskforce (as of June 2004) |
| --- | --- | --- | --- | --- | --- | --- |
| Oleg Deripaska | Base Element/RusAl, aluminum, auto | 169 (3.9) | 65 (1.3) | 4.5 | P, BR, DS, K, F | B, Railroad reform |
| Roman Abramovich | Millhouse/Sibneft, oil | 169 (3.9) | 203 (3.9) | 12.5 | S, BR, DS, K, H,b F |   |
| Vladimir Kadannikov | AutoVAZ, automotive | 167 (3.9) | 112 (2.2) | 0.8 | BR, K |   |
| Sergei Popov, Andrei Melnichenko, Dmitry Pumpiansky | MDM, coal, pipes, chemical | 143 (3.3) | 70 (1.4) | 2.9 | F | B, Financial markets (Mamutb) |
| Vagit Alekperov | Lukoil, oil | 137 (3.2) | 475 (9.2) | 5.6 | S, P, BR, DS, K, F |   |
| Alexei Mordashov | Severstal, steel, auto | 122 (2.8) | 78 (1.5) | 4.5 | BR, DS, F | B, Customs and WTO accession |
| Vladimir Potanin, Mikhail Prokhorov | Interros/Norilsk Nickel, non-ferrous metals | 112 (2.6) | 137 (2.6) | 10.8 | B, S, P, BR, DS, K, F | B, Social and labour relations (Eremeevb) |
| Alexandr Abramov | Evrazholding, steel | 101 (2.3) | 52 (1.0) | 2.4 | F | B |
| Len Blavatnik, Victor Vekselberg | Access-Renova/TNK-BP, oil, aluminum | 94 (2.2) | 121 (2.3) | 9.4 | DS, F | B |
| Mikhail Khodorkovskc | Menatep/Yukos, oil | 93 (2.2) | 149 (2.9) | 24.4 | B, S, P, BR, DS K, H, F | B, International affairs |
| Iskander Makhmudov | UGMK, non-ferrous metals | 75 (1.7) | 33 (0.6) | 2.1 | K |   |
| Vladimir Bogdanov | Surgutneftegaz, oil | 65 (1.5) | 163 (3.1) | 2.2 | P, BR, DS, K, F |   |
| Victor Rashnikov | Magnitogorsk Steel, steel | 57 (1.3) | 57 (1.1) | 1.3 |   |   |
| Igor Zyuzin | Mechel, steel, coal | 54 (1.3) | 31 (0.6) | 1.1 |   |   |
| Vladimir Lisin | Novolipetsk Steel, steel | 47 (1.1) | 39 (0.8) | 4.8 | F | B |
| Zakhar Smushkin, Boris Zingarevich, Mikhail Zingarevich | IlimPulpEnterprises, pulp | 42 (1.0) | 20 (0.4) | 1 |   |   |
| Shafagat Tahaudinov | Tatneft, oil | 41 (1.0) | 41 (0.8) | 2.9 |   |   |
| Mikhail Fridman | Alfa/TNK-BP, oil | 38 (0.9) | 107 (2.1) | 5.2 | B, S, P, BR, DS, K, F | B, Judiciary reform |
| Boris Ivanishvili | Metalloinvest, ore | 36 (0.8) | 15 (0.3) | 8.8 | P | B, Land reform (Kiselevb) |
| Kakha Bendukidze | United Machinery, engineering | 35 (0.8) | 10 (0.2) | 0.3 | BR, K | B, Budget and taxes |
| Vladimir Yevtushenkov | Sistema/MTS, telecoms | 20 (0.5) | 27 (0.5) | 2.1 | S, P, BR, DS, K, F | B, Industrial policy, Pension reform (Yurgensb) |
| David Yakobashvili, Mikhail Dubinin, Sergei Plastinin | WimmBillDann, dairy/juice | 13 (0.3) | 20 (0.4) | 0.2 |   |   |
| Total |   | 1,831 (42.4) | 2,026 (39.1) |   |   |   |
How Important Are the Oligarchs?
First, the oligarchs do control a substantial part of Russian economy. In the CEM sample, they account for about 40 per cent of sales and employment – more than all other private owners combined, or more than federal and regional governments combined. (As of June 2006, quite a few of these oligarchs have seen their assets nationalized, so a more relevant figure would be 30 per cent.)
Cross-country comparisons of wealth concentration are usually based on the share of stock market capitalization controlled by a given number (often ten) of families. Certainly, it is not a perfect metric – after all, it doesn't include firms not listed on stock markets, and emerging markets are likely to provide at best an imperfect measure of value. But we are not aware of comparable data-sets on non-listed firms, so we have to rely on the data on the share of the stock market owned by the top ten families. By that measure, ownership concentration in modern Russia is higher than in any other country for which the data are available. The top ten families or ownership groups (a subset of Table 1) owned 60.2 per cent of Russia's stock market in June 2003. This percentage is much higher than in any country in Continental Europe, where the share of the ten largest families is less than 35 per cent in small countries and less than 30 per cent in all large countries. In the United States and the United Kingdom, this share is in single-digit percentages. (A less rigorous approach is to look at the Forbes billionaires lists. Even though Russian companies are significantly undervalued relative to their OECD counterparts, Forbes, 2004, lists 26 billionaires in Russia; only the United States and Germany have more. The 26 Russian billionaires are worth $81 billion, or 19 per cent of Russia's annual GDP. The 26 richest US citizens are worth four per cent of US GDP; the total wealth of all US billionaires is less than seven per cent of US GDP.) In the East Asian countries before the 1997 crisis, the highest shares of the ten largest families were in Indonesia (58 per cent), Philippines (52 per cent), Thailand (43 per cent) and Korea (37 per cent). The numbers for Indonesia and Philippines include the holdings of the Suharto and Marcos families, each controlling 17 per cent of total market capitalization in the respective countries. In Russia, the personal wealth of ex-President Yeltsin and President Putin is considered to be very modest.
What Do Oligarchs Control?
Each group in Table 1 controls assets in multiple provinces of Russia and even other countries, and in several industries. Mostly, the oligarchs' conglomerates are horizontally and vertically integrated. (Only Abramovitch, Deripaska, MDM group, and Potanin control major assets in unrelated industries, but even in their empires a single industry accounts for most of the conglomerate's value.) Oligarchs do dominate the largest industrial sectors, in particular natural resources (especially oil and metals) and automotive. The only large sectors not controlled by oligarchs are natural gas, energy, and manufacture of machinery. The gas and energy sectors are dominated by federally owned monopolies Gazprom and RAO UES; machinery production is a diverse sector which is populated by defence equipment suppliers (controlled by the federal government), oligarch firms and smaller firms controlled by non-oligarch private domestic owners.
Do oligarchs exercise excessive market power in the sectors that they control? The sectors controlled by oligarchs are indeed those with the highest concentration ratios in Russia (Guriev and Rachinsky 2005). However, these are also tradable goods sectors that are subject to global competition. For example, consider the ten sectors where oligarchs control more than 20 per cent of total sales. Except for ore and automotives, all these sectors sell to the global market: they export 30 to 90 per cent of their output; indeed, these sectors account for half of total Russian exports. The first exception, ore production, is mostly owned by oligarchs' vertically integrated conglomerates, where ore is an input. The second exception, the automotive sector, is a classic example of interest group politics. Russian cars are not internationally competitive, and the industry has always relied on protection. Such protection was usually granted, especially in the period in the 1990s when the largest carmaker's CEO, Vladimir Kadannikov, served as the first deputy prime minister in charge of economic policy. Yet, even with high import duties and support for domestic producers through generous tax write-offs and subsidies, import penetration was 25 per cent and rising. As of 2000, Oleg Deripaska consolidated his control over the second largest car producer and almost all of the bus and truck production, and the lobbying for stronger protection reached new heights. Indeed, one of the main reasons Russia is not yet a member of the World Trade Organization is that the WTO requires lowering import duties for cars, and Russia's automotive lobby launched an aggressive (and a very successful) anti-WTO campaign. The lobbyists managed to install increasingly high tariffs on both used and new imported cars.
The large industries where oligarchs play a large role are also those with substantial economies of scale. Indeed, these are exactly the sectors where large business empires originated in many countries in the late 19th century and the early 20th century, including the United States, Japan and Sweden. But, except for the automotive sector, there seems little reason for concern that Russia's oligarchs have excessive market power. Although their conglomerates are large by Russian standards, they are certainly not excessive by global standards. Some oligarchs are important global players in their industries (especially in oil and metals), but none is a dominant market leader. Thus, there is no basis, on efficiency grounds, for antitrust policies aimed at breaking up the oligarchs' companies. Instead, it is more important that Russian competition policy assure a level playing field for all owners without regard to their size and political influence.
How Did the Oligarchs Gain Control?
A common belief is that the oligarchs owe their fortunes to the 'loans-for-shares' auctions held in mid-1990s, which are widely regarded as the most scandalous episode of Russian privatization. In the classical loans-for-shares scenario, the government appointed a commercial banker to run an auction that would allocate a controlling stake of a large natural resource enterprise in exchange for a loan to the federal government that the latter never intended to repay. Not surprisingly, the auctioneer always awarded the stake to himself for a nominal bid (usually, slightly above a very low reserve price) by excluding all outside bidders. The scheme was designed to consolidate the bankers' support for Yeltsin's re-election campaign in 1996.
The conventional loans-for-shares story fits Abramovich (in 1995–7, a junior partner of Berezovsky), Khodorkovsky, and especially Potanin. The other two winners were the oil sector insiders Alekperov and Bogdanov, who obtained stakes in firms they already controlled. However, most of those listed in Table 1 did not become oligarchs through the loans-for-shares programme. Some of the 22 largest owners tried to participate in the loans-for-shares programme and even offered more competitive bids, but were excluded by those in charge of respective auctions; some even raised their concerns in public.
Most of the individuals listed in Table 1 are relatively young: nine of them are in their thirties, and 13 are in their forties. (Both mean and median individuals in Table 1 are 44 years old. Russian oligarchs are much younger than their American counterparts. In the Forbes 2004, list, the average age of the 25 richest Americans is 64 years; the average age of all 262 US billionaires is the same.) The older oligarchs have typically come from Soviet-era nomenklatura. Prior to transition, they were either managing their respective enterprises or working in government agencies supervising those enterprises. When Soviet-era enterprises were privatized, they successfully converted their de facto control into ownership rights. The younger entrepreneurs started from scratch in the late 1980s, building their initial wealth during President Gorbachev's partial reforms when the coexistence of regulated and quasi-market prices created huge opportunities for arbitrage. In 1992, as price liberalization and privatization began, most of them owned trading companies and/or banks. Thus, when privatization of industrial enterprises occurred, they had the financial capital available to purchase ownership in privatization auctions. Some of these entrepreneurs were neither industry nor government insiders; yet, they converted Soviet manufacturing enterprises into successful modern capitalist firms. Of course, a cynic might note that such companies are near the bottom of the list in Table 1 in terms of size, while the loans-for-shares winners dominate the top of the list.
Oligarchs' Dilemmas
Whatever the source of individual oligarchs' wealth, the Russian public still deems it illegitimate, believing that the oligarchs obtained their initial wealth through connections and furthered it by securing preferential treatment through exerting political influence. (In a July 2003 poll by ROMIR, an independent Russian research and polling agency, 88 per cent responded that all large fortunes were amassed in an illegal way, 77 per cent said that privatization results should be partially or fully reconsidered, and 57 per cent agreed that the government should launch criminal investigations against the wealthy; Vedomosti2003.) This has created a fundamental problem for Russia's transition: promoting democratic values (that is, respecting the median voter's opinion) may undermine liberal values (private property rights in a substantial part of the economy). This conflict has created a window of opportunity for such a pragmatic politician as President Vladimir Putin, who has managed to play oligarchs and voters off against each other to consolidate his own political power.
Curbing the oligarchs' political influence was an essential part of Vladimir Putin's presidential campaign in 2000. In his open letter to voters, he promised to treat the oligarchs in the same way as other entrepreneurs; a few days later he announced that all interest groups would be kept at an 'equal distance' from his government. In the first meeting with the leading oligarchs on 28 July 2000, President Putin offered them the following pact. As long as the oligarchs paid taxes and did not use their political power (at least not against Putin), Putin would respect their property rights and refrain from revisiting privatization. This pact defined the ground rules of oligarchs' interaction with central and regional government during Putin's first term (2000–4). Although the pact could have never been written, even the general public was well aware of its existence. A poll by FOM (2000), an independent non-profit Russian polling organization, a week after the meeting showed that 57 per cent Russians knew about it.
Putin's threat to prosecute any oligarch who deviated from the pact was based on the median voter's support for expropriating the oligarchs. Putin carried out his threat in 2003, when the prominent oligarch Mikhail Khodorkovsky, the majority owner of the Yukos oil company, deviated from the pact by openly criticizing corruption in Putin's administration and supporting opposition parties and independent media. He and his partners were soon arrested or forced into exile, and their stakes in Yukos expropriated. It is not clear why Khodorkovsky did not stick to the pact. Perhaps he thought that supporting opposition parties rather than challenging Putin himself was not a violation. Almost certainly, he did not expect Putin to respond so decisively.
The expropriation of the Yukos shareholders certainly involved serious costs for Russian economy – the investment climate worsened and capital flight increased substantially. However, Putin clearly demonstrated that his priority was to establish his credibility even if this damaged his economic agenda. The Yukos affair has clarified the rules of the game between oligarchs and the Kremlin. Oligarchs have learned the risks associated with violating the pact, and so in the future they will be less likely to interfere in national politics. The Yukos affair effectively shifted the bargaining power from oligarchs to bureaucrats. Although outright expropriation of oligarchs will probably remain just a threat, their cash flows will be milked more intensively by bureaucrats in the form of kickbacks, donations to pet projects, and direct bribes (for a discussion of this 'contract' between bureaucrats and the entrepreneurs as a 'viability insurance contract', see Ickes 2005). This will in turn undermine oligarchs' property rights and incentives to invest. To sustain economic growth, Putin has to constrain rent-seeking by his own bureaucrats. This task is certainly not an easy one, given that democratic checks and balances are very weak. Moreover, neither government nor the oligarchs are interested in the development of democracy and civil society. (Actually, oligarchs may also benefit from imperfect property rights protection as there are economies of scale in private rent-seeking; see Glaeser et al. 2003; Rajan and Zingales 2003; Sonin 2003.) Bureaucrats do not like to cede their control, while oligarchs are afraid of the median voter's redistributive agenda.
The potential exit strategy for any individual Russian oligarch is to sell a large stake to a reputable foreign investor. Indeed, expropriating foreigners is harder for the state because they are more popular than oligarchs, and because of pressures from foreign governments. However, timing the exit properly is a complex problem. Selling too early would bring too little as the assets are initially undervalued. Delaying the sale in order to restructure the company and improve its transparency would raise the price, but would also increase the risk of expropriation by the Russian government. This expropriation may also occur through a seemingly market- based transaction. For example, the government can use public funds to pay the oligarch the market value of his assets in exchange for (hidden) substantial side payments to selected government officials or their pet projects. Given the threat of complete expropriation, this is an offer the oligarch cannot refuse.
Economic Performance of the Oligarchs
Do oligarchs create value or strip assets? Do they improve the performance of the firms they control or injure their performance?
Most oligarchic groups are horizontally or vertically integrated and are run by active majority owners, so the usual 'conglomerate discount' diseconomies of scale are unlikely to apply. A more important problem is, of course, the political risk of expropriation that shortens time horizons and reduces the incentives to invest.
On the other side, several arguments suggest that Russia's oligarchs might improve firm performance. First, the oligarchs' performance might be superior because they have successfully overcome the separation of ownership and control. An oligarch who owns a very large majority share should have strong incentives to restructure companies and to seek to improve the value of this asset, rather than for diverting cash flows and stripping the assets. Even if a firm was originally privatized to dispersed shareholders, its ownership structure was quickly consolidated through dilution and, in some cases, outright expropriation of outside investors, including government and foreigners. The current champions of transparency, Mikhail Khodorkovsky and Vladimir Potanin (now chairing Russia's National Council for Corporate Governance), kept expropriating outside investors until as recently as 1999. In our sample, oligarchs do control large stakes in their firms. In an average firm where the largest owner is the oligarch, he controls 79 per cent; in the case of non-oligarch private domestic owners, the corresponding figure is only 74 per cent. The difference is statistically significant but not necessarily economically important. The average degree of control exercised by smaller owners over their companies is also very high. Poor protection of minority shareholders rights has resulted in consolidation of control within most Russian companies. As a result, smaller owners are not investors that hold small stakes in large companies; rather, they hold large stakes in small companies.
Second, vertical integration can mitigate the risk of hold-up problems, where in a situation of relatively few buyers and sellers each party must be concerned that the other will attempt to renegotiate and seize a greater share of the joint surplus. Many oligarch empires have been built to overcome such hold-up problems: for example, all Russian major oil companies are vertically integrated; most steel producers own sources of coal and ore; some companies own ports, fleets of railroad cars and even railroad track. Third, in a situation with underdeveloped financial markets, external finance is costly; larger oligarch-run firms can benefit from their access to internal finance. They can create an internal financial market to finance expansion (see Khanna and Yafeh 2005, for the discussion of these two benefits for business groups in developing countries). Fourth, Russia lacks a clear rule of law, and the larger conglomerates are certainly more effective than small firms in influencing judicial and political decisions and protecting their property from the predatory 'grabbing hand' of federal and local governments.
There is still no convincing test of whether and how oligarchs affect the performance of their firms. Constructing such a test is a significant challenge. Preliminary results (Guriev and Rachinsky 2005) show that in terms of total factor productivity growth (with industry, region and size controlled for) oligarchs' firms do perform almost as well as foreign firms and better than other Russian-owned firms. Yet more empirical work is needed to control for endogeneity of oligarch ownership, and to study the long-term effects. In addition, more work is needed to produce a quantitative evaluation of the oligarchs' effect on social welfare.
Oligarchs and Russia's Future
While ownership concentration in Russia is higher than in other countries today, it does not seem unprecedented in historical perspective. Owners of Korean chaebols, Japanese zaibatsu, Sweden's and Italy's largest family controlled firms, and US 'robber barons' exercised a similar share of economic and political power. Also, in many of these countries the oligarchs' wealth was accumulated with substantial support from the state (in direct subsidies, tax breaks, land grants, subsidized credit, and so forth) and was deemed illegitimate by a substantial share of the public at some points in history. Yet these countries have managed to build functioning market economies, although it took much longer for some of them to create functioning democracies. Therefore, it is not clear whether and how soon Russia will succeed in establishing legitimacy of private property rights and whether this will be accompanied by a transition to a sustainable democracy.
Notes
Acknowledgment
This articledraws substantially on Guriev and Rachinsky (2005) and mostly refers to the situation in Russia prior to the renationalization campaign that started in 2004.
Copyright information
© Macmillan Publishers Ltd. 2018