Abstract
This chapter examines the autonomous migration of children, adolescents, and young people under the age of 18 in two border cities, Tangier, in northern Morocco, and Tapachula, on the southern border of Mexico. The world's border regions are paradigmatic spaces and provide the basis for an analysis of the coordination of border regimes, the management of global mobility, and the dynamics of transnational capital. Unaccompanied child migrants are actors articulating new transnational mobility processes. The chapter begins with an analysis of both border regions. The border is regarded not only as a physical element but also as a process within countries, with its legal, procedural, technological, and ideological aspects all taken into account. The intersection between the European and North American migratory regimes and existing legal regimes for the protection of children turns unaccompanied child migrants into ambivalent legal subjects who are at once young people requiring protection and migrants to be controlled. Against the backdrop of this situation, the article examines the mobility processes of these subjects and the vulnerability they may experience. It also describes the actors who mobilize to control these subjects and those mobilizing to defend their rights. The article ends with a description of the work being done to defend the rights of child migrants by organizations in the two border cities (the Al Khaima Association in Tangier and the Fray Matías de Córdova Human Rights Centre in Tapachula) and the insights that these groups provide into the international paradigm for child protection through transnational social mediation. The work being done by the two organizations then leads to an examination of how to incorporate mobility into the protection paradigm promoted within the framework of international law and human rights.
Keywords
Border regions 
Transnational migration field 
Transnational social mediation 
Mobility processes 
1

Introduction
I left Ghana and it took me something like two months to get to Libya. I went across Burkina Faso and Nigeria. After that, I lived in Libya for about a year. Finally I decided to go to Morocco and I made it to Casablanca. The police arrested me and I spent a whole day under arrest. They deported me to the Algerian border, but I made it back to Casablanca with the help of some friends. The only way to stay under the radar was to go into hiding. I hid in a house for three months. I only went out onto the street three days. I had to move around Morocco like I was invisible; it was the only way to protect myself. After that, I crossed the sea and came to Spain. I'll never forget how frightened I was. Eric, 17. (Alkhaima et al. 2010)

Alicia walked across the border near Rumorosa [a crossing point on the Tecate border in Baja California, Mexico, that is particularly dry and rocky]. She was with the whole group when la Migra [a Spanish slang term for the Border Patrol] spotted them. She told me, "I was unlucky, but my mom and dad are going to keep helping me so I can join them. They're in Los Angeles. I grew up with my grandma in Michoacán." I met Alicia in 2007 in the place that the DIF [the Mexican National System for Integral Family Development] has on the San Ysidro border crossing in Tijuana to receive unaccompanied minors. She had been deported after spending twenty-four hours in a detention center in San Diego. She was 15 and very self-assured and concluded, saying: "This time, they didn't fingerprint me, it's the second time I've done it and I'm going to keep trying." (Jiménez and Vacchiano 2011)
The report Niñez Detenida [Arrested Childhood] (Ceriani 2012) analyzes the situation of young migrants on the border between Mexico and Guatemala. In 2012, the experts working on the report had already observed an increase in the number of Central American children at this border, above all young people from Guatemala, Honduras, and El Salvador fleeing violence and poverty. Some had come to work in the fields, as street sellers or in domestic service, and went back every year for Christmas. Others crossed Chiapas to be reunified with one or both of their parents in the USA. Two years later, in June 2014, President Obama spoke of a "humanitarian crisis" when the presence of these children at the borders began to receive media attention. Approximately 33,000 Central American young people had been detained at the US border, and the press covered the situation of collapse in the detention centers, especially in the state of Texas where military installations had to be outfitted to handle the overflow. Some of these children had passed through Tapachula. There they found the Modelo Siglo XXI Migrant Holding Center, from which Central American young people detained throughout Mexico are deported to their country. In May 2013, during a visit to the center in Quetzaltenango (Guatemala) to which Guatemalan children are deported from Tapachula, the center workers said that many of the children came from neighboring villages and that they would go back to Tapachula immediately after being deported. The children would then stay there, caught up in a border network that seems to mix control and protection, but where the primary emphasis is on control.
These stories narrate the tales of young people moving across borders. One of the conceptual keys to this chapter is the autonomous migration of children, the subject of study of a chapter in another volume (Jiménez-Alvarez 2015). Autonomous migration is looked at in the context of the border regions of the world (Ribas-Mateos 2011; Cornelius et al. 2004), and the observation and analysis of borders is another key concept. Additionally, borders are analyzed as dynamic processes within countries and not as static barriers in order to examine the ways in which children are controlled and classified (Ribas-Mateos and Laiz 2014). One of the central questions here is the infringement of children's rights. Some of the stories about the young boys and girls that illustrate this chapter occur in Tangier or Tapachula. As with so many other cities in the world where stories like these can be found, Tangier and Tapachula are border cities, one located in southern Mexico in the state of Chiapas and the other in Morocco on the Strait of Gibraltar, the gateway to the Mediterranean Sea. The two cities have several characteristics in common but also differ in some key ways. In any case, this chapter does not set out to compare the cities but rather to understand them as settings (Sassen 1991) for child mobility, both for the children who can call these border regions home and for young people merely passing through them. These border cities are nodes along the world's migratory routes. Tangier and Tapachula serve as two portals to understand the autonomous migration of children between borders, the infringement of their rights, and the active defense carried out on their behalf by some human rights organizations.
Eric and Alicia are representatives of adolescent mobilities (Ribas-Mateos and Laiz 2014). They are children moving separately from their families in an act of autonomous migration (Jiménez-Alvarez 2015). Children have been actors throughout the history of migration (Suárez-Orozco 2003; Salazar 2005), and while child migration is usually analyzed in relation to the migration of families and adults (Orellana et al. 2001), this chapter focuses on the autonomous migration of children, that is, migration that is undertaken on their initiative, in which the family may be present to some degree, but can also be completely absent. This chapter analyzes the autonomous migration of minors as a resemantization of infant-child circulation in the context of postmodernity (Jiménez-Álvarez and Vacchiano 2012; Jacquemin 2009). The concept of child circulation is a very broad one (Meillasoux 1977; L'Allemand 1993). It can refer to domestic or international migration processes, but also to other child mobility practices, like work or education opportunities, circulation between families, and adoption or fosterage. This chapter views child migration as one of many forms of child circulation, as do other chapters in this book (Jiménez-Alvarez 2015). This chapter takes a closer look at the migration processes of young boys and girls migrating autonomously at two different border regions in the world. Borders in the chapter are not only considered geographical limits but also processes of segregation and classification inside countries that determine access to rights.
Several authors have analyzed the presence of children in border contexts (Spyrou 2014) and different forms of mobility in the contexts of work, war, structural violence, migration, and daily life around a border. Other authors have investigated the meaning of independent migration (Hashim 2006; Whitehead and Hashim 2005; Orellana et al. 2001), placing special emphasis on agency (Huijsmans 2011; Orgocka 2012). This chapter specifically discusses autonomous migration (Suárez-Navaz 2006; Jiménez 2011) in border regions and in the borders that exist within countries.
Autonomous migration is analyzed here by looking at the decisions made by children in the context of the circumstances in which they find themselves and their own resources and distinct objectives. There are three fundamental elements in the construction of this form of migratory autonomy: a particular set of circumstances, resources that come into play in a transnational context, and the children's own objectives. One of the main questions concerns the analysis of the border control of children and the infringement of children's rights. Eric crossing western Africa, Alicia crossing the border separating the north of Mexico from the USA, and the young Guatemalans moving between Quetzaltenango and Tapachula, at the border between Guatemala and Mexico, represent this autonomous migration and the forms of control present in these spaces. They are legally called "unaccompanied minors," the term for children who move around without their families. They can be found in many and varied situations. At times their families have been "left behind" (Jiménez-Álvarez 2015) in the child's country of origin, while some families already live in the countries the children are headed to, but where lawful family reunification is impossible due to legal difficulties.
The border regions of the world form paradigmatic spaces for the analysis of migration policies, global mobility governance, the dynamics of international capital, and the processes of transnational trafficking and violence. The Mediterranean and US-Mexico borders are often compared. On the one hand, the border dividing northern Mexico from the southern USA is regularly cited as a paradigm of control. On the other hand, the Mediterranean is often depicted as one of the most unequal border regions in the world (Ribas-Mateos 2011). Without question, certain processes in these border regions provide a unique understanding of global geostrategy and socioeconomic and political relations in the world system (Wallerstein 1998). A focused analysis on the borders and the mobility of people highlights certain processes that are similar in both regions. The first is the preeminence of border fortification and control. The second is the way in which this logic of control is being externalized to countries such as Mexico and Morocco.
2

Mobility and Borders

This section describes the border processes that are deployed by governments/authorities, which construct children who migrate autonomously into "uncomfortable" subjects according to the logic of migration control. These border processes are compared from four perspectives (legal, executive, material, and ideological), focusing on two regions in the world and two particular border cities, Tangier and Tapachula, as spaces where the mobility of these children is particularly visible.

Tangier and Tapachula are two cities that represent border spaces. Since the beginning of the twenty-first century, controlling the border has been prioritized over managing the mobility of people at the borders of the European Union and USA (Cornelius et al. 2004). These borders are not only physical. They are also processes that are implemented in the territories that apply mechanisms of classification to determine access to certain rights. These border processes can be analyzed from four perspectives: legislative, executive (policies), material (control technologies), and ideological (the legitimation of the creation of the categories that determine access to rights). This reading of borders as a dynamic process arose from the union of border theory and transnationalism (Basch et al. 1994; Levitt and Glick-Schiller 2004, 2008; Portes 2005; Waldinger and David 2004), drawing specifically on the concept of a transnational migration field (Faist 2005; Goldring 1999; Pries 2008), understood as an analytical metaphor (Suárez 2007). This analytical metaphor makes it possible to analyze the capillarity of power and how its forms of governance control the different forms of mobility of people and capital. Frontiers, therefore, are not only physical but also legislative, executive, technological, and ideological.

Between October 2013 and May 2014, US Customs and Border Protection detained around 52,000 unaccompanied minors at the southern US border, especially in Texas. Nearly one third were Mexican children, who were automatically deported back to Mexico under general deportation agreements signed between the two states. Some organizations have drawn attention to the limitations of these agreements, which do not protect Mexican children (Catholic Relief Services 2009; Sin Fronteras 2010; Appleseed 2011). The rest were children from Central America, mainly Honduras, Guatemala, and El Salvador, who, according to UNHCR, were possibly deserving of international protection or asylum as individuals fleeing various forms of violence, including Mara (gang) violence, intrafamily violence, and sexual or institutional violence (UNHCR 2014; Casa Alianza 2012; Ceriani 2012). These children could not be automatically deported before being brought before a judge since the William Wilberforce Trafficking Victims Protection Reauthorization Act of 2008 stipulates that a judge must decide whether or not a child deserves protection.

The presence of unaccompanied minors was not something new in the USA (Chavez and Menjívar 2010), and neither was the call to attention from international organizations and experts regarding the infringement of children's rights (Bhabha and Schmidt (2006); Human Rights Watch (1997); Women's Refugee Commission 2009; Vera 2012). However, the arrival of these young people was extensively covered by the media, giving the impression that it was a new phenomenon. Different media outlets published photos of the detention facilities where the youngsters were waiting, accompanied by images of children crammed into small spaces sitting on mattresses tossed onto the floor, their faces filled with uncertainty. Additional space had to be found in military bases in California, Texas, and Oklahoma and economic resources mobilized to expedite court procedures. President Obama spoke of a humanitarian crisis and sent a clear message that all of the children would be deported despite warnings from different groups in the USA, Mexico, and Central America (American Immigration Council 2014a, b; USCRI 2014) that these were children deserving of protection. Above all, these young people highlighted the fact that the border between the USA and Mexico is a dynamic process where legal, political, technological, and ideological facets all come into play, as well as almost 2,000 miles of fortified physical border.

From a legal perspective, the border creates classifications where some children, like Mexican children (the largest group of unaccompanied minors to enter the USA), are deported expeditiously, while other others are not, at least automatically. The law operates like a classification mechanism that limits, for example, the right of Mexican young people to seek asylum. Moreover, the political border reveals how the application of these laws is always modulated by political decisions (Motomura 2014). The case of these young boys and girls generated a debate about President Obama's political leeway regarding the deportation of children and limitations to the application of the law. This debate also arose with respect to the application of the Deferred Action for Childhood Arrivals (DACA) program introduced by Obama in August 2012, which suspends the deportations of young people under the age of 31 who entered the country irregularly before age 16, the so-called dreamers, because of the dream implicit in being able to live legally in the country and have a set of recognized fundamental rights. The border is also a network of material resources (fencing, radars, cameras) and personnel specializing in control, as the stories of these young people illustrate. Finally, the border's ideological facet legitimizes or delegitimizes access to protection available to these young boys and girls.

The young boys and girls who cross the Mediterranean border alone also talk about the fortified sea and land. The arrival of unaccompanied minors autonomously migrating to Europe is not a new or fleeting phenomenon (Jiménez 2015). During the so-called Arab Spring, the migration of unaccompanied minors crossing European borders also became visible. The number of migrants and refugees who move in south-south mobility processes outside the European Union or between southern and eastern Mediterranean countries is higher than the number of migrants and refugees trying to reach the European Union (Fargues and Fandrich 2012). According to UNHRC, in 2014 almost four million Syrian refugees reached Jordan, Turkey, and Lebanon, while the number of Syrian refugees in Europe was below 200,000. The media covering Europe also spoke of an "avalanche," and European Union policy was oriented toward strengthening migration control (European Commission 2011). Asylum policies were very limited. Europe continued to be a fortress (De Lucas 1996).

Young migrants who reach the European Union without their parents or a guardian can find themselves in a variety of situations. They are mainly boys, although there are some girls, who usually encounter more precarious situations. They come from different countries (primarily Afghanistan, Iraq, Somalia, Eritrea, and Nigeria). They also have very different profiles and life stories, diverse in age though they are most commonly between 15 and 17 – and have different motivations. To make matters worse, there are no reliable statistics. Regarding children who seek asylum, according to the European Commission (2012), in 2011, 12,225 requests for asylum were received in the 27 member states of the European Union. Sweden and Germany received the highest number of asylum requests from young people in 2011, with Sweden receiving 2,655 and Germany 2,125. Most of these young boys and girls had come from Afghanistan or Iraq.

While not all the unaccompanied minors who reach the EU are eligible for asylum, they are deserving of protection in some countries like Italy and Spain, where they cannot be expelled, but must be accommodated in the same conditions as minor citizens. Children who are not fleeing a war – such as those from North Africa (Morocco, Algeria, Tunisia) – are more problematic when it comes to receiving protection and being counted. According to the European Commission (2012), there is little data on the movement of these young boys and girls in the absence of a registration system in the European Union. In 2011, the different EU countries issued 4,406 residence permits to unaccompanied minors with this profile, i.e., they were ineligible for asylum. Italy and Spain granted the highest number of residence authorizations to this group in 2011, 2,278 and 819, respectively. Most of these young people were from Morocco. Taking them in is problematic due to the tension between their condition as minors to be protected – because they arrive alone – and migrants reaching the country irregularly, which makes them objects to be controlled.

The borders in the European Union are also more than mere physical barriers impeding access to the land, and its legal procedures reflect this fact. In the European Union, the legal facet of borders and regulations concerning unaccompanied minors trying to cross them reveal tensions between different laws in different member states. The factors at play in this tension include laws on aliens and child protection in each individual state, European Community law (e.g., the Return Directive), and international law focused on protecting human rights, epitomized by the Convention on the Rights of the Child ratified by all the European countries (although some did so with reservations about migrant children). Because of the contradictions between judicial bodies – and especially between the laws that protect the rights of children and those that control migration – these children are susceptible to institutional abuse. The executive or political facet of the border question determines other aspects of how they are treated, two examples being the 2009 Stockholm Program and the Action Plan on Unaccompanied Minors. The latter program divides unaccompanied minors into different categories based on whether they are fleeing poverty, are seeking asylum, and/or are victims of abuse deserving of international protection. In the Mediterranean, children and young people also risk their lives trying to cross the sea and must confront fences, security systems, and biometric controls. Control technologies are, thus, the physical expression of the border, against which young people often only have their naked bodies (Agamben 1998). Unaccompanied minors migrating to Europe have also been described as the "most inconvenient minors," which often exposes them to criminalization or victimization. The different terms used to describe them, such as "stinkers" and "little delinquents," signal the construction of the "dangerous minor" whose right to receive protection is challenged. Moreover, the treatment meted out to them in some institutions consistently raises questions about their rights. This is the ideological border.

In this network, a second important process is the externalization of control to intermediate countries like Mexico in the case of the USA and the Maghreb and Turkey with the European Union. These intermediate countries have come to play the role of guardian in the domain of political interests. According to Pisarello and Aparicio (2006), externalizing the borders makes other countries responsible for migration control. They explain how externalization is structured around four main axes: (a) refusing entry to people, (b) reinforcing control in transit countries, (c) intercepting migrants before they arrive, and (d) readmission agreements.

As part of this process, Mexico and Morocco have developed legal borders, for example, their own laws on aliens. These laws act on three levels: they are used to control the migration of their own nationals (bearing in mind that a fundamental part of the economy of both Morocco and Mexico depends on migrant remittances); they have to control foreigners coming from neighboring countries (West and Central Africa or Central America) who are in transit; and they have to manage the reality that these countries have also become host countries. These laws often contradict the human rights regime of international law. In the case of unaccompanied minors, this tension is paradigmatic. While all of these countries are signatories of the 1989 Convention on the Rights of the Child, human rights organizations have observed that the rights of migrant children in transit are constantly infringed and violence and institutional abuse are rife. It is not only the legal border that has been externalized. In Mexico and Morocco, policies on migrant control are often placed above the protection of migrants' rights. There is also a myriad of externalized control technologies on their territory (fences, border police, deportation, and detention centers) and an ideological border that permits the systematic infringement of rights.

One final important factor in this consideration is that both Mexico and the Maghreb are regions that live off their economic and geostrategic interdependence with the neighboring countries they are called upon to control. Economic activity in both regions is expanding, and the logic of mobility there forms part of their prosperity, something reflected in different political agreements. West Africa has the Economic Community of West African States (ECOWAS), which has permitted free movement among 15 countries since 1975 without a passport or visa (the sole requirement is an identity document). Since 2006, Guatemala, El Salvador, Honduras, and Nicaragua have been signatories of the Central America-4 (CA-4) Border Control Agreement, while the Central American Integration System (SICA) has streamlined regional integration processes.
3

Tangier and Tapachula as Case Studies of Autonomous Child Migration

The two cities of Tangier and Tapachula, then, are located in two different regions in the world engaged in processes of cross-border relocation. One of the material expressions of the logic of migration control and the relocation process can be seen in the deportation centers and holding centers for foreigners. At both borders, foreign unaccompanied minors are the group of migrants which provide the clearest example of the crystallization of the dynamics of control and the infringement of rights, despite being relatively unimportant in terms of numbers.

Tangier, which has been called the "gateway to Europe" (Ribas-Mateos 2005), is located on the westernmost corner of the Mediterranean region on the Strait of Gibraltar in the Tangier-Tetouan border zone. According to the Recensement général de population de l'habitat (2004) census, the region has a population of two and a half million, of whom one and a half million live in urban areas. Since the early 1970s, the region has been a reception area in the relocation of production in the Mediterranean, especially in the textile, automobile, and food-processing sectors. This relocation process has made Tangier the second largest industrial center in Morocco after Casablanca. With the construction of the strategically positioned Tanger-Med Port, the region's economy has been stimulated and the road and rail infrastructure improved. Since the mid-twentieth century, Tangier has been the destination for the rural exodus from the Rif and other points in the region. The process of the relocation of international capital and the need for workers in internationalized companies has sustained this rural exodus up to the present time.

The Tangier-Tetouan region is also the area that has traditionally sent Moroccan workers abroad, mainly to Spain, France, and Belgium (López García 1996). Because of its past status as an international city, Tangier has also received Europeans, with the largest community being Spaniards, followed by French and Italians. Finally, due to its geographic position on the Strait of Gibraltar, 56 miles from Ceuta (a Spanish enclave on African land), it is a crossroads and transit city, both for Moroccans and for people from West Africa, mainly Senegal, Nigeria, Mali, Cameroon, the Ivory Coast, Guinea, and the Democratic Republic of the Congo. Tangier is one of numerous Moroccan cities involved in the European Union border relocation process. Studies from various associations (GADEM 2007; MSF 2010) have reported on the extremely difficult living conditions for migrants seeking asylum and taking refuge in Morocco. Tangier is a waiting point for migrants trying to cross the Strait, and the women and children caught up in trafficking networks there are particularly vulnerable (WWL 2008). According to the investigation done by Al Khaima et al. (2010), unaccompanied minors and adolescents from West and Central Africa in Morocco can find themselves in various situations: as refugees or asylum seekers; as victims of trafficking networks; as young people beginning the journey accompanied by an adult, family member, or relative; and as children beginning the journey alone or accompanied by other young people. The difficulties experienced by Moroccan minors who are "potential migrants" are related to discretional access to education, health, leisure activities, and documentation. Another adversity is violence, which is especially common among foreign girls and young women, and the violence that both Moroccan minors who want to migrate and foreign minors experience in border areas. The hypervisibility of Moroccan children in Europe contrasts with the invisibility of young sub-Saharan boys and girls in Morocco, who are excluded as beneficiaries of the legal advances being made in Morocco with regard to the protection of children. They are also excluded from the different projects being implemented in that country by foreign organizations for migrant children, which are largely aimed at returning them and preventing migration.

Tangier is also the hometown for the highest number of unaccompanied Moroccan minors in European protection systems in addition to being the crossing point for Moroccan youngsters from other parts of the country. Most of these children are boys between 11 and 17 years old with a history of truancy and academic failure, followed by early unstable and discouraging work experiences and few expectations for the future. Most young people migrate to "have a better life" and "earn a living." For them, migration is a form of promotion. Girls usually migrate with the assistance of their families, while boys become visible in the ports (Vacchiano and Jiménez 2012), risking their lives in their attempt to cross the border, hiding in trucks carrying merchandise, under tourist buses or as stowaways in boats. Numerous articles in the Moroccan and, especially, international press have reported on this phenomenon. When studying this kind of migration, some journalists have identified irresponsible parents, while others merely see adventurous young people. However, these migrating children have their own circumstances, objectives, and resources (Jiménez 2015).

Tapachula is located in the state of Chiapas, Mexico, in the Soconusco region. The southern border of Mexico is made up of four states: Chiapas, Tabasco, Campeche, and Quintana Roo which form the border with Guatemala and Belize. Tapachula is the southeastern-most city in the Soconusco region. It has its own tradition of cross-border labor mobility (Ceriani 2012), with numerous Guatemalan laborers working in agriculture in the region. In the 1970s and 1980s, refugees from Guatemala, Honduras, and El Salvador all settled there. The Central American migrants going to the USA cross this region on their way, although some end up staying there. This border dynamic also includes young boys, girls, and adolescents who are trying to make their way across the borders for various reasons. According to the latest study by the Fray Matías de Córdova Human Rights Centre (Ceriani 2012), these young migrants have three distinguishable profiles: Mexican children migrating alone to the USA, usually to reunite with a family member, often a parent, and two groups of Central American youngsters being held in the Modelo Siglo XXI Migrant Holding Center (part of the National Institute for Migration) and the DIF shelter in Chiapas. The first contains children working in the city of Tapachula as street sellers, in domestic service or in agriculture, while the second is made up of children passing through Chiapas on their way to the USA, either in search of a family member or trying to escape from violent situations of different types.

Even without drawing detailed comparisons between the two cities, one difference between them is quite clear. Most Central American and Mexican children migrating to the USA are unaccompanied because their fathers and mothers migrated north years earlier. Their parents reached the USA and work there, but they have found it impossible to become regularized or find the legal channels that would allow them to reunite with their children. This is why migration reform in the USA is more necessary now than ever and explains why children have been arriving at the Mexico-US border for years. They were left behind. Migrating on their own is the alternative that they have constructed, paying an extremely high price in the process. Fears about taking control of this situation have only resulted in violence and the further infringement of their rights. In the Mediterranean, migration by unaccompanied minors combines migration for family reunification, migration to escape conflict, and migration as a form of promotion. In this region, in countries like Morocco, Algeria, and Tunisia, it is the families who are left behind by the unaccompanied migration of adolescents. Most young people migrating autonomously are not trying to reunite with their families in Europe. They are leading the way in their own mobility process, while their families stay behind in the home country. The migration of these children is a way of "contributing" to the family economy. Their reasons for migrating may include helping the family and saving their parents. They themselves begin this process of mobility, which is facilitated by the fact that they are children; in this case dependency is a resource that opens the door to child assistance systems in Europe (Jiménez-Alvarez 2015).
4

Inconvenient Mobility

It is possible to find stories about children and adolescents moving around without their parents or other adults throughout the history of human mobility. However, in the contemporary context, the migration of young people has caught the attention of researchers and human rights organizations for two reasons. The zeal for border control is increasing in the world. Young migrants are putting a strain on control systems because they are simultaneously young people requiring protection and migrants to be controlled. Border control is challenged by child protection, generating a wide range of institutional abuses. However, at the same time, since the mid-twentieth century, there has been a consensus about the construction of children as subjects with rights deserving of a specific type of protection because of their age. This consensus has produced international institutions and forms of governance focused on defending the best interests of children. The maps included here illustrate the routes taken by some of the children and adolescents illustrated ethnographically in this chapter (see Figs.

1

and

2

).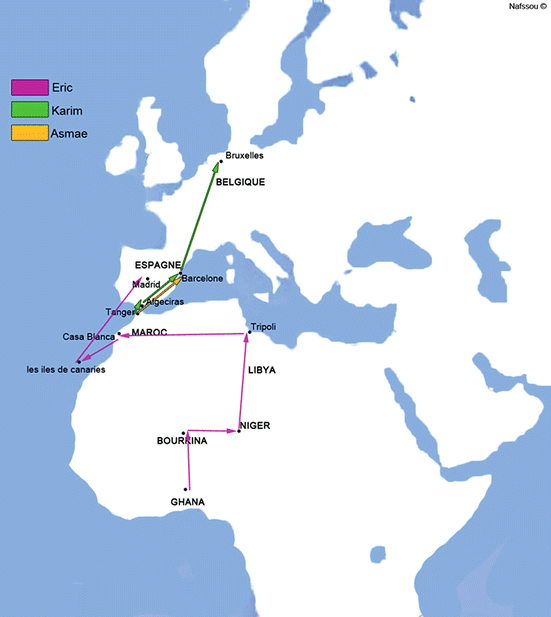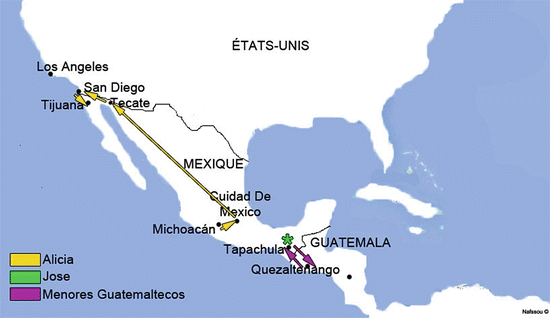 Some authors have observed that these children and adolescents constitute a new migration agent (Suarez
2006
) and have inaugurated "new ways to move." This refers to the routes that some youngsters follow as they cross different borders and countries and are exposed to different forms of violence, extortion, and violation. It also refers to a new way to move related to the fact that migration creates a form of social transgression that challenges gender and generational relationships within the family. Furthermore, the mobility of children across Europe is related to institutional abuse and the infringement of rights. Many young people use movement as a strategy or a way to escape from situations in which they are not protected. The situations in which children's rights are most often infringed in both border regions are (Alkhaima et al. (
2010
); American Immigration Council (
2014a
,
b
); Appleseed (
2011
); Bhabha and Schmidt (
2006
); Catholic Relief Services (
2009
); Casa Alianza (
2012
); Ceriani, P. (Coord) (
2012
); Human Rights Watch (
1997
), Jiménez- Álvarez and Vacchiano (
2011
), (
2012
); Sin Fronteras (
2010
) Women's Refugee Commission (
2009
)):
A lack of access to protective measures suitable to their age and needs

Abuse from security forces

Abuse and extortion from traffickers

The lack of enforcement of the right to be heard in procedures affecting them

Arbitrary detention without procedural guarantees

A lack of translators and lack of understanding of the procedures affecting them

The lack of legal defense (effective judicial protection)

Schooling limitations (either they are not schooled because they are foreigners or they receive classes in temporary stay centers, but do not attend school)

An inability to contact their families and lack of respect for the right to live together as a family

Deportation without procedural guarantees

Ineligibility to seek asylum

The violation of their physical integrity and sexual abuse

Abusive application of tests to determine age (they are minors, but since bone tests – which have a margin of error of 18 months – prevail, they are excluded from protection systems, despite having documentation showing they are minors)

Deficient consular services

Victimization from labor or sex exploitation trafficking networks
This tension between rights and practice reveals how the rights of migrating children and adolescents are constantly being challenged for the sake of migration control, due to their dual status as minors to be protected and migrants to be controlled (Jiménez- Álvarez and Vacchiano 2011, 2012).
At the end of 2009, Terres de Hommes (2009) published a report on the situation in Spain, France, Belgium, and Switzerland for young migrants who had passed through some kind of protection service and ended up leaving it. The report observed that there are no statistics on the number of children who have disappeared from social services. Neither was it possible to discover the number whom social services never reached. This mobility was silenced in the interest of classifying these movements as "flights" or "escapes," without considering how this behavior might be evidence of a gap between protection resources and young people's need for or expectation of protection. One of the report's conclusions emphasized a general laxness in the protection offered unaccompanied minors in the four countries studied. Without question, the fact that an indeterminate number of young people disappear after first making contact with the social services in different European countries is disturbing. Although the Terres de Hommes' (2009) report is limited to the European context, other reports on Mexico and the USA also speak of young people disappearing from social services. The territorial aspect of protection systems becomes strained when confronted with the mobility strategies of migrating children and young people. The logic of child protection is linked to the institutions that offer it in a country. The question then arises: should a protection paradigm based on territorial jurisdiction be reformulated when considering active ways to protect migrant children and adolescents?
Transnational social mediation is a concept under construction that arose in the context of a networking project between various organizations in Spain and Morocco designed to defend the rights of young migrants beyond borders. The idea consists of constructing a transnational psychosocial-educational context linking families, the voluntary sector, public institutions, and young people. The main orientation is to accompany the migration process without criminalizing it, the children, or their families, to search for a frame of reference for young migrants, and to make the family, public institutions, and associations responsible for their role in the protection of children. The formulation of transnational social mediation is based on a set of prior three suppositions.
This first is a commitment to a conception of transnational migration. Perceptions about migration processes led by so-called unaccompanied minors are often hijacked by a territorially limited view of child protection systems which has given migrant children visibility and determined the type of intervention to be used with them (control, protection, deportation). The institutions that work with young people (public administrations, guardianship groups, volunteer associations) have all focused on the part of the migration process that develops spatially in the specific territory where these institutions operate. Transnational social mediation argues for a holistic view of the migration process, a socio-educational intervention that incorporates the family (and not only for the purposes of repatriation or deportation), and the process of life, instead of dismantling the family into individuals according to some political construction. In this respect, the transnational perspective provides theoretical and methodological support for the intervention. The second is a commitment to an inclusive dimension of intervention with young migrants from the general perspective of protecting the rights of all young people, thus avoiding the perverse effect of converting interventions with migrant children into the promotion of migration per se. The third is that social mediation challenges actions designed to prevent the migration of children, most of which are applied as a way of dissuading migration, and is committed to understanding and accompanying migration processes from the perspective of the defense of rights.
Three elements are key in transnational social mediation : networking and creating transnational protection networks; working with young people and their families in synchronicity; and training professionals using a transnational perspective. One example of this transnational networking process is the Al Khaima Association, an organization created in Tangier in 2007 after a meeting between a group of people and organizations working on migration and child protection. Transnationalism inspired both the working and activism methods (Portes 2005) used to fight the expulsions of Moroccan children that took place between 2005 and 2008 from Spain to Morocco without procedural guarantees. The association's history actually began years earlier, when this group of people began to understand the complexity of the situations in which young migrants find themselves in Europe and the need for transnational mediation between different countries. Bridges had to be built. First, new users were coming into the institutional system to receive child migrants, challenging the profile of children requiring guardianship at that time. Moreover, professionals working in child protection did not understand the complexity of migration processes, while families of young migrants were equally uninformed about the situation in Europe.
The Al Khaima Association began to work beyond Mediterranean borders. After a meeting with the Fray Matías de Córdova Human Rights Centre (CDH Fray Matías) in Tapachula, the associations embarked upon a joint project to defend the rights of unaccompanied child and adolescent migrants in an effective way. The CDH Fray Matías is a human rights association that has been working for more than 15 years to promote, disseminate, and defend the human rights of migrants, refugees, refuge seekers, and their families. In 2012, they focused their attention on the young migrants being detained in the Modelo Siglo XXI Migrant Holding Center and carried out an investigation that spotlighted the situation of these Central American children and the infringement of their rights. The meeting between the two organizations generated joint reflections on the processes affecting child migrants in Tangier and Tapachula. Both groups are currently working to defend rights from a transnational perspective and are committed to creating a child protection paradigm that incorporates mobility.
5

Conclusion

Three principal conclusions can be drawn from the examination of autonomous migration in this chapter. The first concerns how borders and border regions highlight the preeminence of a securitarian perspective over human rights, even when children are crossing them. Migrating children and adolescents who become visible at these borders undergo a process of stigmatization and criminalization because their migration strikes at the heart of global security questions. Borders are spaces where these minors are visible. Within the countries themselves, other tensions appear between the rights of migrating minors and the practices enforced by states, which are not always visible. Children and adolescents who move alone are witnesses to the ferocity and preeminence of securitarian logics.

The second conclusion focuses on mobility. Mobility becomes a strategy to deal with the state's institutional reception systems. The territoriality of protection systems is called into question by the mobility strategies of young migrants. The logic of protecting children becomes linked to the institutions that operate in a country. This chapter argues that it is necessary to reformulate national protection paradigms designed to protect migrating children and adolescents, along the lines of transnational social mediation. Children who migrate autonomously form a group which may be of little significance quantitatively, but who, from a qualitative point of view, provide the best opportunity to understand how the dynamics of control that infringe upon migrant rights – whether adults or children – crystallize.

The final conclusion regards violence. The commitment of those who defend the rights of migrants, both minors and adults, is fundamental if these violent situations are to be visibilized and a voice given to minors. Two defenders of minors presented in this chapter, the Al Khaima Association and the Fray Matías de Córdova Human Rights Centre, provide an example of going beyond the politics of compassion to fight for the defense of human rights. Merely increasing awareness about the situations of violence experienced by these migrant minors is not sufficient; it is necessary to do so from a perspective of defending rights and respecting their dignity. Moreover, it is important not to victimize or criminalize migrant children when telling these stories, but rather to carefully analyze the structural causes of border violence. This chapter has presented an analysis of these structural causes in two border regions to understand the mobility of these children that so inconveniences migration control and to underscore the work to defend their rights being done by organizations that are helping to make their small voices heard.
Copyright information
© Springer Science+Business Media Singapore 2015