Neuropsychological Consequences of Chronic Disease in Older Persons
Living reference work entry
DOI:
https://doi.org/
10.1007/978-981-287-080-3_324-1
What Is Chronic Disease?
The World Health Organization defines chronic disease as noncommunicable diseases (diseases not passed from person to person) that generally progress slowly and are of long duration (WHO
2014a
). They are commonly divided into four types: cardiovascular diseases (such as hypertension, heart attack, or stroke), cancers, chronic respiratory diseases (such as asthma, obstructive sleep apnea, or chronic obstructive pulmonary disease), and diabetes (see Fig.
1
), all of which are more common as we age.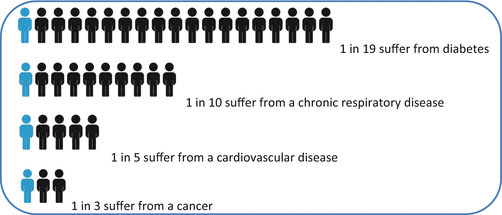 Keywords
Chronic Disease 
Obstructive Sleep Apnea 
Executive Function 
White Matter Lesion 
Obstructive Sleep Apnoea 
These keywords were added by machine and not by the authors. This process is experimental and the keywords may be updated as the learning algorithm improves.
Copyright information
© Springer Science+Business Media Singapore 2016