Abstract

Children's ability to avoid a danger of crime may depend on the way in which these dangers are predicted. Based on the concept of crime opportunity theory, community safety maps represent a learning tool that enhances one's ability to recognize whether or not a location is prone to crime just by examining its landscape. This aspect resembles crime opportunity profiling conducted in the United Kingdom in that crime opportunity generators serve as the point of focus and that visual analysis and photographic image-based explanations of the potential crime scene are employed. After incorporating community safety maps in elementary school lessons, the following results were conformed to appear: an improvement in the risk prediction ability of children, the forming of social bonds that help prevent delinquency, and a decline in the occurrence rate of street crime.
Keywords
Community

Map

Crime opportunity

Risk prediction

Education

Japan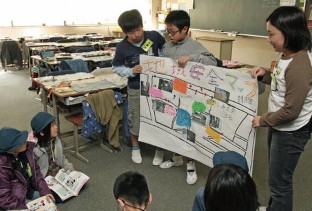 References
Baumer, E., Wright, R., Kristinsdottir, K., & Gunnlaugsson, H. (2002). Crime, shame, and recidivism: The case of Iceland. British Journal of Criminology, 42(1), 40–59.

Bayley, D. H. (1976). Forces of order: Police behavior in Japan and the United States. Berkeley: University of California Press.

Blades, M. (1997). Research paradigms and methodologies for investigating children's wayfinding. In N. Foreman & R. Gillett (Eds.), Handbook of spatial research paradigms and methodologies (Spatial cognition in the child and adult, Vol. 1, pp. 103–129). Hove: Psychology Press.

Bottoms, A. E. (1994). Environmental criminology. In M. Maguirc, R. Morgan, & R. Reiner (Eds.), The Oxford handbook of criminology. Oxford: Oxford University Press.

Braithwaite, J. (1989). Crime, shame and reintegration. Cambridge: Cambridge University Press.

Brantingham, P. J., & Brantingham, P. L. (1981). Environmental criminology. Beverly Hills: Sage.

Brantingham, P. J., & Brantingham, P. L. (1984). Patterns in crime. New York: Macmillan.

Clarke, R. V. (1997). Introduction. In R. V. Clarke (Ed.), Situational crime prevention: Successful case studies (2nd ed.). Guilderland: Harrow and Heston.

Cohen, L. E., & Felson, M. (1979). Social change and crime rate trends: A routine activity approach. American Sociological Review, 44, 588–608.

Cornish, D. B., & Clarke, R. V. (1986). Introduction. In D. B. Cornish & R. V. Clarke (Eds.), The reasoning criminal: Rational choice perspectives on offending. New York: Springer.

Crawford, A. (1998). Crime prevention and community safety. London: Longman.

Crowe, T. D. (2000). Crime prevention through environmental design: Applications of architectural design and space management concepts (2nd ed.). Boston: National Crime Prevention Institute, Butterworth-Heinemann.

Felson, M. (1998). Crime and everyday life (2nd ed.). Thousand Oaks: Pine Forge Press.

Felson, M., & Clarke, R. V. (1998). Opportunity makes the thief: Practical theory for crime prevention (Police research series no. 98). London: Home Office.

Gilling, D. (1997). Crime prevention: Theory, policy and politics. London: UCL Press.

Gottfredson, M. R., & Hirschi, T. (1990). A general theory of crime. Stanford: Stanford University Press.

Haramiishi, Y., & Iwai, N. (2008). Shogakko ni okeru Kiken Kaihi Ryoku wo Minitsukeru tameno Anzen Kyoiku no Arikata [An ideal style of safety education to enhance the risk avoidance ability of children in elementary schools]. Syakai Anzen, 69, 17–28.

Hawkins, J. D., Catalano, R. F., Kosterman, R., Abbott, R., & Hill, K. G. (1999). Preventing adolescent health-risk behaviors by strengthening protection during childhood. Archives of Pediatrics and Adolescent Medicine, 153(3), 226–234.

Herbert, D. T. (1989). Crime and place: An introduction. In D. J. Evans & D. T. Herbert (Eds.), The geography of crime (pp. 1–15). London: Roudedge.

Hira, S. (2007). A preliminary analysis of effects of local safety mapping activity. Journal of Fukuyama University Psychological Services, 1, 35–42.

Hirschi, T. (1969). Causes of delinquency. Berkeley: University of California Press.

Japanese Ministry of Internal Affairs and Communications. (2008). Chiiki Komyuniti Saisei [Regional community renaissance]. Tokyo: MIC.

Kelling, G., & Coles, C. (1996). Fixing broken windows: Restoring and reducing crime in our communities. New York: Touchstone.

Komiya, N. (1999). A cultural study of the low crime rate in Japan. British Journal of Criminology, 39(3), 369–390.

Newman, O. (1996). Creating defensible space. Washington, DC: U.S. Department of Housing and Urban Development, Office of Policy Development and Research.

O'Donnell, I., Baumer, E., & Hughes, N. (2008). Recidivism in the Republic of Ireland. Criminology and Criminal Justice, 8(2), 123–146.

Oxley, J., Reijnhoudt, P., van Soomeren, P., Beckford, C., Jongejan, A., & Jager, J. (2005). Crime Opportunity Profiling of Streets (COPS): A quick crime analysis – rapid implementation approach. Watford: BRE Bookshop for BRE Trust.

Tilley, N. (2009). Crime prevention. Cullompton: Willan.

Wilson, J. Q., & Kelling, G. (1982, March). Broken windows: The police and neighborhood safety. Atlantic Monthly, 29–38.
Copyright information

© 2017 Springer Science+Business Media Singapore
About this entry
Cite this entry
Komiya, N. (2017). Community Safety Maps: Child-Driven Crime Opportunity Profiling. In: Freeman, C., Tranter, P., Skelton, T. (eds) Risk, Protection, Provision and Policy. Geographies of Children and Young People, vol 12. Springer, Singapore. https://doi.org/10.1007/978-981-287-035-3_14