Abstract
This chapter applies a systems lens to the governance of projects, megaprojects (which are major undertakings, typically in infrastructure development), and Organizational Project Management (OPM), which is the integration of all project-related activities in an organization. The chapter provides an overview of systems thinking in the governance literature and relates it to the layers of an OPM model to outline the architecture of OPM systems in respect of Stafford Beer's viable systems model (VSM). It then addresses megaprojects as a further viable system, something quite different from the normal organizational perspective. A case study from a real-life megaproject exemplifies the theoretical findings for practical use. The chapter ends with a reflection on the new insights to project governance when employing a viable systems perspective. This includes identification of specific governance issues for better project results, such as adjustment of steering groups to the variability of project outcomes, as well as less dominance of symbolism at VSM systems 4 and 5, combined with more realistic planning at systems 1 and 2, followed up by system 3 in megaprojects.
Keywords
Organizational Project Management

Megaprojects

Governance

Viable governance model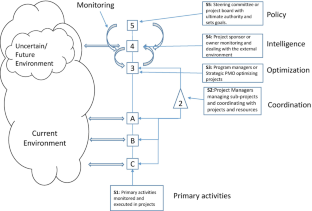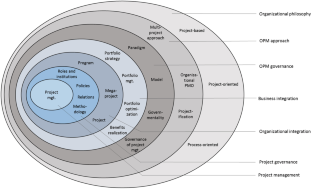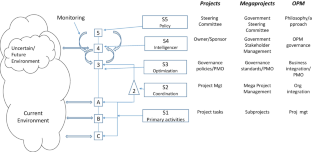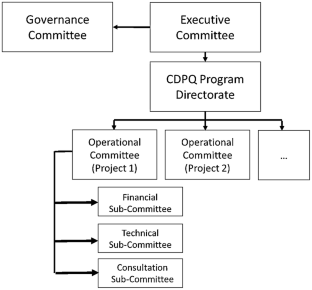 References
Ackoff RL (1962) Scientific method: optimising applied research decisions. Wiley, New York

Ackoff R, Gharajedaghi J (1996) Reflections on systems and their models. Syst Res 13(1):13–23

Adams KM, Mun JH (2005) Towards a system of system methodologies, once again. In: Proceedings of the 26th ASEM National Conference, Virginia Beach, Virginia, pp 502–510

Aldrich H (1979) Organization and environment. Prentice-Hall, Englewood Cliffs

Alqurashi E, Wills G, Gilbert L (2013) A viable system model for information security governance: establishing a baseline of the current information security operations system. In: Janczewski LJ, Wolfe HB, Shenoi S (eds) Security and privacy protection in information processing systems. SEC 2013. IFIP advances in information and communication technology, vol 405. Springer, Berlin/ Heidelberg

APM (2011) Directing change: a guide to governance of project management. Association for Project Management, Princes Risborough

Ashby WR (1964) An introduction to cybernetics. Methuen, London

Barnard CI (1938) The functions of the executive. Harvard University Press, Cambridge, MA

Beer S (1959) Cybernetics and Management. The English Universities Press Ltd., London

Beer S (1972) Brain of the firm. Penguin, Harmondsworth

Beer S (1979) The heart of enterprise. Wiley, Chichester

Beer S (1981) Brain of the firm, 2nd edn. Wiley, Chichester

Beer S (1984) The viable systems model; its provenance, development, methodology and pathology. J Oper Res Soc 35(1):7–235

Beer S (2001) 'What is Cybernetics?' Acceptance speech for an honorary degree at the University of Valladolid, Mexico. Unpublished.

Burns T, Stalker GM (1961) The management of innovation. Tavistock, London

Chih Y, Zwikael O (2015) Project benefit management: a conceptual framework of target benefit formulation. Jpma 33(2):352–362. https://doi.org/10.1016/j.ijproman.2014.06.002

Clegg S, Sankaran S, Biesenthal C, Pollack J (2017) Power and sensemaking in megaprojects. In: Flyvbjerg B (ed) Oxford handbook of megaproject management. Oxford University Press, Oxford, pp 238–258

Cooper RG, Edgett SJ, Kleinschmidt EJ (1997) Portfolio management in new product development: lessons from the leaders – I. Res Technol Manag 40(5):16–28

Crawford L, Pollack J (2004) Hard and soft projects: a framework for analysis. Int J Proj Manag 22(8):645–653

De Raadt JDR (1987) Ashby's law of requisite variety: an empirical study. Cybern Syst 18:517–536. https://doi.org/10.1080/01969728708902152

Durkheim É (1983) Pragmatism and Sociology. Translated by JC Whitehouse. Cambridge University Press, Cambridge, UK

Emery FE, Trist EL (1960) Socio-technical systems. Management sciences, models and technique. Pergamon, London

Espejo R, Reyes A (2011) Organizational systems. Springer, Berlin/Heidelberg

Espinosa A, Walker J (2011) A complexity approach to sustainability: theory and application. Imperial College Press, London

Flyvbjerg B (2014) What you should know about megaprojects and why: an overview. Proj Manag J 45(2):6–19. https://doi.org/10.1002/pmj

Hasse R, Krücken G (2008) Systems theory, societal contexts and organizational heterogeneity. In: Greenwood R, Oliver C, Sahlin K, Suddaby R (eds) The SAGE handbook of organizational institutionalism. SAGE, London, pp 539–559

Hobday M (2000) The project-based organisation: an ideal form for managing complex products and systems?. Res Policy 29(7–8):871–893. https://doi.org/10.1016/S0048-7333(00)00110-4

Jackson M (1991) Systems methodology and the management sciences. Springer, New York

Jackson M, Keys P (1984) Towards a system of system methodologies. J Oper Res Soc 35(6):473–486

Jackson M (1999) Towards coherent pluralism in management science. J Oper Res Soc 50(1):12–22. https://doi.org/10.2307/3010384

Jaradat R (2015) Complex system requires systems thinking – how to find systems thinkers. Int J Syst of Syst Eng 6(1/2):53–70. https://doi.org/10.1504/IJSSE.2015.068813

Kast FE, Rosenzweig JE (1981) General systems theory: applications for organization and management. J Nurs Adm 11(7):32–41

Katz D, Kahn RL (1966) The social psychology of organization. Wiley, New York

Keating CB (2014) Governance implications for meeting challenges in the system of systems engineering field. In: Proceedings of the 9th international conference on system of systems engineering (SoSE), Adelaide, Australia, June 9–13, pp 154–159

Keating C, Rogers R, Unal R, Dryer D, Sousa-Poza A, Safford R, Peterson W, Rabadi G (2003) System of systems engineering. Eng Manag J 15(3):36–45

Lawrence P, Lorsch J (1967) Differentiation and integration in complex organizations. Adm Sci Q 12:1–30

Lewis E, Millar G (2009) The viable governance model: a theoretical model for the governance of IT. In: Proceedings of the 42nd Hawaii international conference on system sciences, Big Island, Hawaii, 10pp

Lewis E, Millar G (2010) The viable governance model: a theoretical model for the corporate governance of IT. Int J IT/Bus Align Gov (JITBAG) 1(3):19–35

Luhmann N (1995) Social systems. Stanford University Press, Palo Alto

Mele C, Pels J, Polese F (2010) A brief review of systems theories and their managerial applications. Serv Sci 2(1/2):126–135

Midgley G (1997) Mixing methods: developing systemic intervention. In: Mingers J, Gill A (eds) Multimethodology: towards a theory and practice in mixing and matching methodologies. Wiley, Chichester, pp 249–290

Midgley G, Ochoa-Arias AE (2001) Unfolding a theory of systemic intervention. Syst Pract Act Res 14(5):615–649. https://doi.org/10.1023/A:1011977220479

Miller R, Lessard DR (2007) Evolving strategy: risk management and the shaping of large engineering projects (January 2007). MIT Sloan research paper no. 4639-07. https://doi.org/10.2139/ssrn.962460

Mingers J, Gill A (eds) (1997) Multimethodology: Towards a Theory and Practice in Mixing and Matching Methodologies. Wiley, Chichester

Müller R, Zhai L, Wang A (2017) Governance and governmentality in projects: Profiles and relationships with success. Inte J Project Manag 35(3):378–391. https://doi.org/10.1016/j.ijproman.2017.01.007.

Müller R, Drouin N, Sankaran S (2019) Modeling Organizational Project Management. Project Manag J 50(4):499–513. 

Peppard J (2005) The application of the viable systems model to information technology governance. In: 26th international conference on information systems (ICIS), Las Vegas, pp 11–23

Pollack J (2009) Multimethodology in series and parallel: strategic planning using hard and soft OR. J Oper Res Soc 60:156–167

Project Management Institute (2003) Organizational project management maturity model: knowledge foundation. Project Management Institute, Newtown Square

Project Management Institute (2013) The Standard for Portfolio Managemetn, 3rd. edn., Project Management Instiuute, Newtown Square, PA

Rosenhead J, Mingers J (2001) Rational analysis for a problematic world revisited, 2nd edn. Wiley, Chichester

Sainati T, Brookes N, Locatelli G (2017) Special purpose entities in megaprojects: empty boxes or real companies? Proj Manag J 48(2):55–73. Retrieved from https://search.ebscohost.com/login.aspx?direct=true&db=bth&AN=122103748&site=ehost-live

Sankaran S, Müller R, Drouin N (2017) In: Sankaran S, Müller R, Drouin N (eds) Cambridge handbook of organizational project management. Cambridge University Press, Cambridge, UK

Schmitt R, Falk B, Frank D (2015) Efficient validation during product development using a self-optimizing inspection system. Procedia CIRP 33:47–52

Söderlund J (2010) Pluralism in project management; navigating the crossroads of specialization and fragmentation. Int J Manag Rev 13(2):153–176

Spencer BG (1969) Laws of form. Allen and Unwin, London

Turner JR (2018) The management of the project-based organization: a personal reflection. Int J Proj Manag 36(1):231–240. https://doi.org/10.1016/j.ijproman.2017.08.002

Turner JR, Müller R (2003) On the nature of the project as a temporary organization. Int J Proj Manag 21(1):1–7. https://doi.org/10.1016/S0263-7863(02)00020-0

Von Bertalanfy, L. (1968). General system theory: foundations, development. George Braziller; New York

Wiener N (1948) Cybernetics. Sci Am 179(5):14–19

Wiener N (1952) The human use of human beings: cybernetics and society. Philosophy 27(102):249–251

Wooten M, Hoffman AJ (2008) Organizational fields: past, present and future. In: Greenwood R, Oliver C, Sahlin K, Suddaby R (eds) The SAGE handbook of organizational institutionalism. SAGE, London, pp 130–148
Section Editor information
Copyright information
© 2021 Springer Nature Singapore Pte Ltd.
About this entry
Cite this entry
Müller, R., Drouin, N., Sankaran, S. (2021). Governance of Organizational Project Management and Megaprojects Using the Viable Project Governance Model. In: Metcalf, G.S., Kijima, K., Deguchi, H. (eds) Handbook of Systems Sciences. Springer, Singapore. https://doi.org/10.1007/978-981-15-0720-5_14
DOI: https://doi.org/10.1007/978-981-15-0720-5_14

Published:

Publisher Name: Springer, Singapore

Print ISBN: 978-981-15-0719-9

Online ISBN: 978-981-15-0720-5