Abstract

This chapter maps the terrain of thematic analysis (TA), a method for capturing patterns ("themes") across qualitative datasets. We identify key concepts and different orientations and practices, illustrating why TA is often better understood as an umbrella term, used for sometimes quite different approaches, than a single qualitative analytic approach. Under the umbrella, three broad approaches can be identified: a "coding reliability" approach, a "codebook" approach, and a "reflexive" approach. These are often characterized by distinctive – sometimes radically different – conceptualizations of what a theme is, as well as methods for theme identification and development, and indeed coding. We then provide practical guidance on completing TA within our popular (reflexive) approach to TA, discussing each phase of the six-phase approach we have developed in relation to a project on men, rehabilitation, and embodiment. We conclude with a discussion of key concerns related to ensuring the TA you do – within whatever approach – is of the highest quality.
Keywords
Code

Codebook

Coding reliability

Epistemology

Latent

Reflexive thematic analysis

Semantic

Thematic map

Theme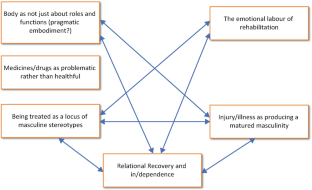 References
Ando H, Cousins R, Young C. Achieving saturation in thematic analysis: development and refinement of a codebook. Compr Psychol. 2014;3:4.

Aronson J. A pragmatic view of thematic analysis. Qual Rep. 1994;2(1):1–3. http://www.nova.edu/ssss/QR/BackIssues/QR2-1/aronson.html.

Boyatzis RE. Transforming qualitative information: thematic analysis and code development. Thousand Oaks: Sage; 1998.

Braun V, Clarke V. Using thematic analysis in psychology. Qual Res Psychol. 2006;3(2):77–101.

Braun V, Clarke V. Thematic analysis. In: Cooper H, editor. APA handbook of research methods in psychology, Research designs, vol. 2. Washington, DC: APA books; 2012. p. 57–71.

Braun V, Clarke V. Successful qualitative research: a practical guide for beginners. London: Sage; 2013.

Braun V, Clarke V. (Mis)conceptualising themes, thematic analysis, and other problems with Fugard and Potts' (2015) sample-size tool for thematic analysis. Int J Soc Res Methodol. 2016;19(6):739–43.

Braun V, Clarke V, Rance N. How to use thematic analysis with interview data. In: Vossler A, Moller N, editors. The counselling and psychotherapy research handbook. London: Sage; 2014. p. 183–97.

Brewster ME, Velez BL, Mennicke A, Tebbe E. Voices from beyond: a thematic content analysis of transgender employees' workplace experiences. Psychol Sex Orient Gend Divers. 2014;1(2): 159–69.

Brooks J, McCluskey S, Turley E, King N. The utility of template analysis in qualitative psychological research. Qual Res Psychol. 2015;12(2):202–22.

Cedervall Y, Åberg AC. Physical activity and implications on well-being in mild Alzheimer's disease: a qualitative case study on two men with dementia and their spouses. Physiother Theory Pract. 2010;26(4):226–39.

Connelly LM, Peltzer JN. Underdeveloped themes in qualitative research: relationships with interviews and analysis. Clin Nurse Spec. 2016;30:51–7.

Dapkus MA. A thematic analysis of the experience of time. Personal Process Individ Differ. 1985;49(2):408–19.

DeSantis L, Ugarriza DN. The concept of theme as used in qualitative nursing research. West J Nurs Res. 2000;22(3):351–72.

Finlay L, Gough B, editors. Reflexivity: a practical guide for researchers in health and social sciences. Oxford: Blackwell Science; 2003.

Fugard AJB, Potts HWW. Supporting thinking on sample sizes for thematic analysis: a quantitative tool. Int J Soc Res Methodol. 2015;18(6):669–84.

Gershgoren L, Basevitch I, Filho E, Gershgoren A, Brill YS, Shink RJ, Tenebaum G. Expertise in soccer teams: a thematic enquiry into the role of shared mental models within team chemistry. Psychol Sport Exerc. 2016;24:128–39.

Gough B, Madill A. Subjectivity in psychological research: from problem to prospect. Psychol Methods. 2012;17(3):374–84.

Guest G, Bunce A, Johnson L. How many interviews are enough? An experiment with data saturation and variability. Field Methods. 2006;18(1):59–82.

Guest G, MacQueen KM, Namey EE. Applied thematic analysis. Thousand Oaks: Sage; 2012.

Hennink MM, Kaiser BN, Marconi VC. Code saturation versus meaning saturation: how many interviews are enough? Qual Health Res. 2016;27(4):591–608.

Hill M, Welch V, Gadda A. Contested views of expertise in children's care and permanence proceedings. J Soc Welf Fam Law. 2017;39(1):42–66.

Holton GJ. Thematic origins of scientific thought: Kepler to Einstein. Cambridge, MA: Harvard University Press; 1973.

Joffe H. Thematic analysis. In: Harper D, Thompson AR, editors. Qualitative methods in mental health and psychotherapy: a guide for students and practitioners. Chichester: Wiley; 2011. p. 209–23.

Kidder LH, Fine M. Qualitative and quantitative methods: when stories converge. In: Mark MM, Shotland L, editors. New directions in program evaluation. San Francisco: Jossey-Bass; 1987. p. 57–75.

King N. Using templates in the thematic analysis of text. In: Cassell C, Symon G, editors. Essential guide to qualitative methods in organisational research. London: Sage; 2014. p. 256–70.

Kinsky G, Strunk WO. Was Mendelssohn indebted to weber? An attempted solution of an old controversy. Music Q. 1933;19(2):178–86.

Langdridge D. Introduction to research methods and data analysis in psychology. Harlow: Pearson; 2004.

Lazarsfeld PF, Merton RK. The psychological analysis of propaganda. In: Proceedings, Writers' Congress: Berkeley and Los Angeles: University of California Press; 1944.

Madill AL. Qualitative research is not a paradigm. Qual Psychol. 2015;2(2):214–20.

Malterud K, Siersma VK, Guassora AD. Sample size in qualitative interview studies: guided by information power. Qual Health Res. 2016;26(13):1753–60.

Manago AM. Negotiating a sexy masculinity on social networking sites. Fem Psychol. 2013;23(4):478–97.

McSherry W, Bloomfield S, Thompson R, Nixon VA, Birch C, Griffiths N, Fisher S, Boughey AJ. A cross-sectional analysis of the factors that shape adult nursing students' values, attitudes and perceptions of compassionate care. J Res Nurs. 2017;22(1–2):25–39.

Mellor R, Lovell A. The lived experience of UK street-based sex workers and the health consequences: an exploratory study. Health Promot Int. 2012;27(3):311–22.

Miles MB, Huberman AM. Qualitative data analysis: an expanded sourcebook. 2nd ed. Thousand Oaks: Sage; 1994.

Moran C, Lee C. Selling genital cosmetic surgery to healthy women: a multimodal discourse analysis of Australian surgical websites. Crit Discourse Stud. 2013;10(4):373–91.

Nadin S, Cassell C. Using data matrices. In: Cassell C, Symon G, editors. Essential guide to qualitative methods in organisational research. London: Sage; 2014. p. 271–87.

Namey E, Guest G, McKenna K, Chen M. Evaluating bang for the buck: a cost-effectiveness comparison between individual interviews and focus groups based on thematic saturation levels. Am J Eval. 2016;37(3):425–40.

Redmond L, Suddick K, Earhart GM. The lived experience of freezing in people with Parkinson's: an interpretive phenomenological approach. Int J Ther Rehabil. 2012;19(3):169–77.

Ritchie J, Lewis J. Qualitative research practice: a guide for social science students and researchers. London: Sage; 2003.

Ritchie J, Spencer L. Qualitative data analysis for applied policy research. In: Bryman A, Burgess RG, editors. Analysing qualitative data. London: Taylor & Francis; 1994. p. 173–94.

Roditis ML, Halpern-Felsher B. Adolescents' perceptions of risks and benefits of conventional cigarettes, e-cigarettes, and marijuana: a qualitative analysis. J Adolesc Health. 2015;57:179–85.

Sandelowski M, Leeman J. Writing usable qualitative health research findings. Qual Health Res. 2012;22(10):1404–13.

Smith J, Firth J. Qualitative data approaches: the framework approach. Nurs Res. 2011;18(2): 52–62.

Terry D, Ali M, Lê Q. Asian migrants' lived experience and acculturation to Western health care in rural Tasmania. Aust J Rural Health. 2011;19(6):318–23.

Terry G, Braun V. "I think gorilla-like back effusions of hair are rather a turn-off": 'excessive hair' and male body hair (removal) discourse. Body Image. 2016;17:14–24.

Terry G, Hayfield N, Clarke V, Braun V. Thematic analysis. In: Willig C, Stainton Rogers W, editors. The sage handbook of qualitative research in psychology. 2nd ed. London: Sage; 2017. p. 17–37.

Titlestad A, Pooley JA. Resilience in same-sex-parented families: the lived experience of adults with gay, lesbian, or bisexual parents. J GLBT Fam Stud. 2014;10(4):329–53.

Weatherhead S, Daiches A. Muslim views on mental health and psychotherapy. Psychology and Psychotherapy: Theory, Research and Practice. 2010;83(1):75–89.

Willig C. Introducing qualitative research in psychology: Adventures in theory and method. 3rd ed. Maidenhead, Berkshire: McGraw-Hill Education (UK); 2013.

Winder AE, Hersko M. A thematic analysis of an outpatient psychotherapy group. Int J Group Psychother. 1958;8(3):293–300.

Yardley L. Demonstrating validity in qualitative psychology. In: Smith JA, editor. Qualitative psychology: a practical guide to research methods. 3rd ed. London: Sage; 2015. p. 257–72.
Copyright information

© 2019 Springer Nature Singapore Pte Ltd.
About this entry
Cite this entry
Braun, V., Clarke, V., Hayfield, N., Terry, G. (2019). Thematic Analysis. In: Liamputtong, P. (eds) Handbook of Research Methods in Health Social Sciences. Springer, Singapore. https://doi.org/10.1007/978-981-10-5251-4_103