On System Arrangement of Governmental Social Media in Emergency Communication and Its Optimization
Living reference work entry
Abstract
After developing for more than 10 years, the function of governmental social media in emergency management has become increasingly more important with greatly increased scale effects, constellation effects, and rich media. This chapter presents a survey on the institutional management of governmental social media in emergencies, which is characterized by progressivity, conductivity, co-movement, and path dependence. With this in mind, we propose to establish a national system of governmental social media, implement a collaborative innovation strategy of information dissemination in crises, and institute a professionalization transformation assisted by third parties to achieve maximum efficiency in governmental social media for emergency management.
Keywords
Governmental social media 
Emergency 
Institutional arrangement 
Optimization 
Social media, also known as socialized media, includes forums, blogs, social networking services, and image sharing, among others. The U.S. Department of State (Foreign Affairs Manual: 5 FAM 790: Using Social Media, https://fam.state.gov/fam/05fam/05fam0790.html) defined social media as "a data technology and platform where individuals and organizations can issue, communicate, and cooperate." Social media is mainly characterized by high interactivity and independent production by users. Globally, 3.19 billion people used social media in 2018, which accounts for 42.0% of the total population and 77.5% of Internet users (Hootsuite and We are social, "Digital in 2018 IN OCEANIA", http://www.3mbang.com/p-327232.html). Since Sina launched a microblog in 2009, the amount of active users has reached 0.90 billion in WeChat ("WeChat Data Report in 2017" distributed by Tencent, http://www.sohu.com/a/203437993_667510, 9th November 2017) and 0.39 billion users on the microblog (The Sina annual finian report reported by People's Daily Online, http://media.people.com.cn/n1/2018/0214/c40606-29823387.html, 14th February, 2018).
Governmental social media – a special type of social media operated by governmental organizations and governmental officials – has also continued to develop over this time period. Governmental social media, particularly governmental microblogs (WeChat), is a platform for virtual networks and communities based on mutual interests between users and government agencies where government agencies can share, propagate, and obtain information. Such a platform allows for real-time interactions between citizens and governments and is a new method for governments to disseminate information (Xueyan and Qiang 2013).
In recent years, governmental social media has exploded, with greatly increased scale effects and constellation effects in information disclosure and public service. Through December 2017, the number of governmental microblogs verified by the Sina platform exceeded 160,000 (CNNIC 2018). Emergency information propagation and the management of governmental social media has started to develop institutional arrangements, which have attracted the attention of administrators and researchers. A report from the 19th National Congress of the Communist Party of China proposed that national security is the cornerstone of peace and stability in China, and safeguarding it is in the fundamental interests of Chinese people of all ethnic groups. According to the report, China should improve its national security strategy and policy, guarantee its political security, and take coordinated steps to ensure security in all areas (Xi Jinping's report). China should improve its national security system, strengthen rule-of-law measures to enhance national security, and enhance its capacity for forestalling and fending off security risks. China must rigorously protect against and take resolute measures to combat all acts of infiltration, subversion, and sabotage, as well as violent and terrorist activities, ethnic separatist activities, and religious extremist activities. China should strengthen efforts to raise awareness of national security among all Party members and all people, as well as create a strong synergy of the whole society to safeguard national security. The report also provides much inspiration to researchers.
Based on the view of system analysis, this chapter comprehensively reviews institutions for current governmental social media in emergency management, as well as reasons for the institutional arrangement of governmental social media in China in emergency management and its optimized path for the future by adopting document analysis method, using policy analysis and case studies.
Literature Review of Emergency Management and Governmental Social Media
At present, governmental social media mainly focuses on governmental microblogs. By searching keywords such as "governmental microblog" and "emergency" or "governmental microblog" and "crisis," results from HowNet indicate that research on our governmental social media and emergency information is just starting. Specifically, the research includes the following topics:
1.

Research on the functions of governmental social media in emergencies. Using case studies, scholars have carried out empirical research on functions such as public opinion guidance, emotion mobilization, and rumor mitigation using governmental social media in emergencies. Foreign scholars also have discussed functions of governmental microblogs in emergency management. For example, Craig Chavez indicated that the U.S. government uses microblogs as part of a governmental early warning system for public emergencies, whereas Adam Crowe considered social media (e.g., governmental microblogs) to be active and valuable tools that play important roles in emergency management and disaster response.

 

2.

Service specifications research on governmental social media in emergencies. Using a major fire explosion accident in Tianjin Port as an example, Chen Shiying et al. discussed research on information strategies for local governmental microblogs and proposed that there were an accelerated first response, a lack of guidance of on agenda setting, and interaction awareness and strategy.

 

3.

Research on the propagation effects of governmental social media in emergencies. Some scholars used the "prohibiting electric motor" in Zhuhai as an example to study the effects of governmental microblogs in government crisis management.

 

4.

Comparative studies based on different nationalities and propagation platforms (e.g., microblogs, WeChat). Zhang Zhian and Cao Yanhui et al. stated that governmental microblogs and WeChat may coordinate to make full use of "governmental double-micro" in the propagation of information. Xie Qihui compared crisis communication policies, practices, and effects of Chinese and American governmental microblogs, emphasizing that governmental microblogs can rely on social media and the public joining together for a functional path in the future.

 
Scholars seldom deeply explore the institutional arrangements of governmental social media in emergencies. Most of the research results – including what Li Guanchen proposed in "Research on 'Micro-Government Administration' Management: Take Governmental Microblog and WeChat as Examples" – mainly focus on issuing regulations on governmental microblogs and WeChat. However, this research does not address special laws and regulations for legal protection in the development of micro-government administrations in China. As governmental social media play an increasing important role in emergency management, research on the institutional arrangement of governmental social media is urgently needed.
Symbiotic Relationship of Emergency Management and Governmental Social Media
Emergency and governmental social media are naturally related to each other and have a symbiotic relationship. Emergency public information management experiences three stages of public sentiment: (1) public sentiment responses to emergency risk information management; (2) the development process of passive replies; and (3) public sentiment responses on premise of dialogue, where risk information management that respects propagation law reflects different public sentiments. A code of conduct for governmental social media in emergency management has gradually, scientifically, and systematically developed to official institutional arrangements and emergency information propagation. This reflects evidence of governmental social media and emergency response developing together.
First, there are risks of public sentiment due to the explosion of emergency response development on governmental social media. The first provincial governmental social media "Yunnan on Microblog" was set up to respond to the Kunming Roswell emergency. One of factors stimulating the development of government affairs on microblogs is that governments want to disseminate official information to the public in a timely manner via a network. By reporting progress and providing information on the event, the government can stop the spread of rumors that may occur on the internet then a government is silent (Miao and Yenan 2012). Studies have reported that reasons for governmental microblogs appearing and disappearing are related to emergencies; microblogs may originate with the onset of an emergency to find and solve problems, then disappear as the emergency resolves (Xin and Qingyun 2013).
Second, governmental social media enters into an orderliness stage with improved transmission efficiency during emergencies, However, as a whole, the government still needs to improve its preparation for emergencies. It is said that "for a thousand days the country nurtures its soldiers, and all for 1 day's battle." The transmission efficiency of emergency information can be checked using governmental social media. Liu Yunlai considered that microblogs are a new platform for governments to establish and improve their credibility when facing crises. The coping strategies and attitudes of governmental microblogs are important factors in testing crisis management (Yunlai 2012).
Highly developed social media has features of interactivity, openness, and "decentration," which profoundly change the generation and propagation of traditional public opinion. Governmental social media plays a critical role in skillfully deflecting information, controlling rumors, and mobilizing society. However, not all governmental social media perform the same in emergencies. There was a striking contrast between the propagation efficiency and development speed of Internet Hardware of governmental social media after the fire disaster in Tianjin and the Shanghai stampede accident, for example. This unbalance in software and hardware for governmental social media can cause a low spread of emergency information.
Background Analysis of the Emergency Management Institutional Arrangement of Governmental Social Media
Responding to the public sentiment in emergencies is one important function of governmental social media. The government is the largest user of information technology and also the holder of much information. In emergencies, government have an obligation to disseminate information, respond to the public sentiment, and collect additional information. "Government is both an important behavioral agent for dealing with public emergency and a behavioral agent for issuing information, and effectively issuing information about public emergency is in favor of defusing public crisis and stabilize the society." Emergencies have occurred frequently in recent years in China, which has attracted attention to the necessity of governmental social media.
Governmental Social Media for Propagating Public Opinion in Emergencies
Governmental social media is a special type of social media. Governmental social media has a built-in institutional framework, functional localization, content for issuing and auditing mechanisms, and discourse systems, which are all influenced by organizational structure and its features to some extent.
To ensure information is accurate, governmental social media is characterized by timeliness and thus can replace traditional media to some extent. In emergency crisis transmissions, governmental social media and traditional media have some similarities and differences. Their similarities are that they establish relatively complete information approval mechanisms, pursue accuracy and authority of information, position themselves as "rumor terminators," and positively guide the public opinion. Through sufficient interaction with the public and well-defined operation mechanisms, governmental social media can compensate for the lag in news reporting and the information gaps in traditional media due to its journalistic processes, thus becoming a platform for propagating emergency information.
In addition, good interactions on social media can diversify the methods of disseminating information about emergency situations. Governmental social media is is essentially organizational communication that integrates interpersonal communication. The transmission of information and the transmission process are like nuclear fission, with more frequent and flexible communication between audiences, although with government intervention. Furthermore, the function of emotion mobilization can satisfy a need of users after an emergency. After an emergency, beyond generally issuing information, social media can act like a window for humanistic care, a lifeline during crises, and good tool for emotion mobilization. In addition to timely and accurately disseminating information and guiding the public opinion, governmental social media can also show a caring spirit of the government and manage resource allocation during crisss.
Governmental Social Media Improves the Speed of Transmitting Responses on the Public Sentiment in Emergencies
Governmental social media in China has explosively increases in terms of the total quantity, coverage, and popularity. Initially, a four-level system of central, province, municipal, and county was formed. The scale of governmental social media at the basic level can considerably influence the competitiveness of governmental microblogs. Governmental microblogs fundamentally function by interacting with the local public and providing government services.
The Beijing government created a "microblog clustering" government service in 2012, which was the first governmental microblog group at the province level throughout the country. The governmental microblog group, "Shanghai Issue," was established later and included almost 100 organizations in Shanghai that could be classified into the following categories: (1) municipal, committee, office and bureau, and social organizations; (2) district/county governments, public security sub-bureaus; (3) street offices and local police stations; and (4) public service agencies.
As a governmental microblog matrix system is gradually established, cooperative links between accounts have been common in daily operation. Governmental microblogs continuously improve their awareness and capabilities of linking different departments at different levels across regions. In the matrix organization system, there is leadership guidance along a vertical administrative level and also special teams established across departments and functions for cooperative needs. In the matrix, they are united to issue information and mutually recommend accounts. In addition, related governmental departments are linked to break barriers between departments and administrative offices within the system so that they can solve practical problems together. Meanwhile, the matrix can break boundaries across social media and is aimed at diversified needs, unifying microblogs and WeChat, facilitating different channels of communication, and balancing business needs to enhance administrative efficiency.
In addition, governmental social media has gradually implemented features of rich media in emergency transmissions. Generally speaking, rich media includes video, audio, cartoons, and images, with the typical advantages of internet communication. Regarding the influence factors such as usage rate, application popularity, and political propagation effects, governmental social media is gradually adapting to the diversified transmission features of new media. Live video is also frequently incorporated into the microblogs of governmental social media. It can effectively promote equality between the government and citizens through social participation, mobilization, and mutual communication about public affairs (Fig.
1
).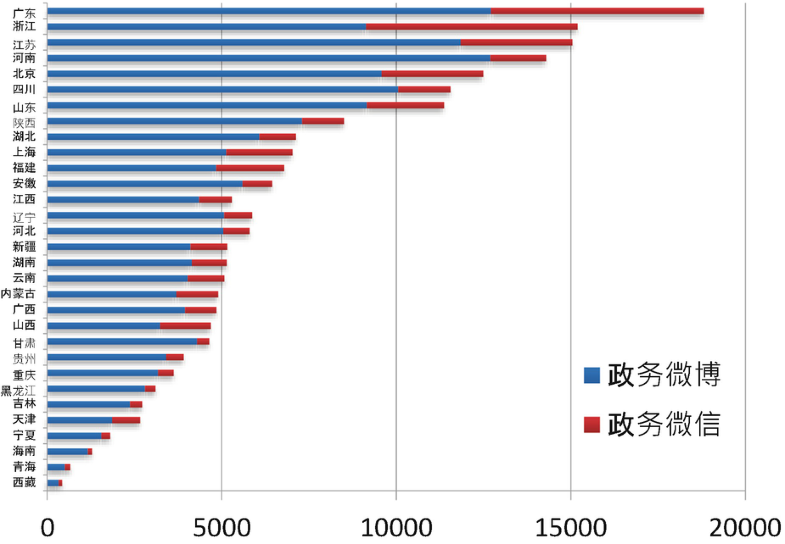 Since 2016, the response speed has been remarkably improved, as have the capabilities of early warning and intervention. The governmental response rate is up to 87%. For more than 57% of events, the government responded for the first time within 24 h after an emergency happened, with 73% of events being responded to for the first time within 48 h (New Media Think Tank of People's Daily Online, 2016 Chinese Government Affairs Public Sentiment Response Index Assessment Report). In 2016, governmental microblogs issued 70 million with a total of 260.5 billion readers throughout the country.
Evolution of the Governmental Social Media Emergency Management System
North, an economist, stated that an institution includes the institutional environment and the institutional arrangement. The institutional environment is the sum of a series of basic economic rules, political rules, and cultural rules to guide society and individual development. The institutional arrangement is an institutional structural style used to coordinate competition and cooperation between organizations. It is reflected in two aspects: one is the establishment of rules and regulations outside organizations and among organizations, whereas the other is the establishment of an organization's internal structure and elemental relationship. Based on a theoretical framework of institutional arrangements, this section investigates the future of institutional development in Zhenwu social media for emergency management by analyzing 26 management specifications for governmental social media in emergencies.
Progressivity of Institutional Arrangements
Governmental social media systematically and scientifically disseminates information in emergencies. This involves a complex relationship between the national and local governments, among local governments, among departments within local governments, between the media and the government, and between the public and the government. Information in an emergency can be characterized by the diversified subjects.
Progressivity of Subject from High-Level Departments to Local Departments
In China, the government has already systematically established social media accounts. However, the operation management has not yet developed to the level of systemization and strategy. In fact, the government has only established governmental social media management regulations in highly sensitive departments. Emergency happens in a certain manner in China – that is, the more closely related to the public's interest, the more easily social contradictions break out. In addition, the emergency administration office is responsible for emergency management plans for natural disasters and emergency management in any emergency. Therefore, the high-level departments prefer to establish governmental social media management regulations for local governments whose social media management is just beginning.
Departments that are responsible for people's welfare, public opinion management, and emergency management feel the most pressure from public sentiment about emergencies. Meanwhile, they also have the strictest requirements for usage specifications for governmental social media in emergency public sentiment management and take the lead in establishing governmental social media management specifications. Therefore, this is a driving force for developing an institution with the pressure on social management. Meanwhile, by analyzing local regulations, it can be seen that high-level departments tend to be specific and detailed in related regulations and have even defined emergency management regulations for governmental microblogs.
Progressivity of Path: Regulation to Legislation
After experiencing the force and development stages, governmental social media in China has entered into the orderliness stage. The main functions of governmental social media are to publish information daily, respond to public sentiment in emergencies, and be the first to publish information for the public after an emergency. In emergency management and information dissemination, most governmental social media institutional arrangements published by local governments are rigidly defined by a central institution. Therefore, it is urgent to establish central institutions and local regulations that are adapted to scale development and the cluster effect matrix of governmental social media. At present, the objectives, principles, and regulations for the use of governmental social media have been officially instituted, but they have not been legislated. They are only in the form of normative documents such as notices, opinions, and detailed rules and regulations; they have not been developed as a mature national guidance system. The related information is scattered in notices about openness in government affairs issued by government organizations, such as the General Office of the State Council, and in the emergency plans of several departments. This low level of institutional norms reduces the efficiency of governmental social media in issuing information and mobilizing resources in an emergency.
Conductivity of Institutional Arrangements: Speed of Local Governments
Public opinion should be the guiding function of governmental social media. The Chinese Central Government and local governments should not aim to provide a special zone for public opinion in governmental social media when managing emergencies. Because the risk of public sentiment about emergencies has a scale effect, governmental social media should pay more attention to public opinion guidance, and prevent social media from being a "special zone for public opinion" and prevent social media from being a "special zone for public opinion" or "enclave for public opinion" in an emergency. Local governments should also devote themselves to establishing a baseline by using authoritative information to guide public opinion. They should carry out speed competitions for responding to public opinion on governmental social media.
Because of a lack of guidelines for local governments in an emergency, the central government has defined principles for the speed of response to public sentiment on governmental social media. For any government affairs public sentiment related to an especially serious emergency, the government should hold a press conference within 24 h and respond to other government affairs public sentiment within 48 h. However, changing the time requirement from 24 to 5 h would show great respect for the transmission law of the "golden 4 hours" for response to public sentiment in this mobile new media era and respect the important functions of social media, such as governmental microblogs, in emergencies.
An opinion on further enhancing the establishment of governmental microblogs issued by the Nanjing government in 2011 stipulated that "it shall issue information on the microblog within 1 hour after a disaster or emergency happens or at the first time it receives information." Provisional regulations for governmental microblogs of the Chongqing Environmental Protection System also stipulate that the government shall issue authority information within 1 h for serious environmental events, emergencies, sensitive events, environmental crises, and difficult problems. A notice on further enhancing the establishment of governmental microblogs and WeChat in Anhui province also stipulated that "for any significant political information, important government affairs public sentiment and serious emergency related to the region or department, provincial microblog and WeChat shall issue information timely, and governmental microblogs of cities, counties and departments of provincial governments shall try their best to repost within 1 hour and WeChat subscription shall not be later than 1 work day."
Institutional arrangements by the central government are strict laws. What the central government emphasizes in a document will be what local government focuses on, in what is called a "pass of institutional arrangement focus." Relevant regulations of local governments emphasize the accuracy of response; most of them stipulate a "first-time" principle for responding to public sentiment on emergencies. There is a "speed competition" for response to the public sentiment on emergencies among local governments. The speed principle of emergencies for governmental social media meets the timeliness principle of emergency information management and is good for improving response effect. In the "speed competition," which lacks a scientific basis, supporting systems and related management resources may attend to one thing but miss another. Blindly emphasizing the timeliness principle in response to the public sentiment in an emergency may easily lead to mistakes from rushing to issue information without interactivity and may make it difficult to ensure accuracy.
Linkage of Institutional Arrangements
For establishing and perfecting supporting systems, principles of efficiency can be emphasized to improve the information arrival rate. Linkage mechanisms for the response to public sentiment and "leader responsibility" for serious public sentiments should also be promoted. The central government should establish a fault-tolerant mechanism for responding to the public sentiment. It should effectively provide mechanisms for personal responses to the public sentiment for those who dare to voice their opinion, reduce the pressure on the first responder, and also reduce the dilemma of timeliness and accuracy of social media when voicing their opinion. It should gradually set up a "leader responsibility system" to establish a priority configuration of resources. Furthermore, it should set up an emergency linkage mechanism to realize the links between the main body, resources, and flow.
A Chinese "leader responsibility system" has a special administrative efficacy, which means that such affairs can attract considerable attention and be provided with prior resources. Local governments should gradually establish a "leader responsibility system" in governmental social media management regulations. A branched department leader verification system has already been established to verify content for governmental social media. Local governments should set up an emergency linkage mechanism to realize the main body linkages, resource linkages, and flow linkage. For example, Guangxi stipulates that the department responding to an emergency is the first responsible subject to collect governmental public sentiment and respond to it; this department needs to cooperate with the propagating department to achieve the 1-h issue system for serious emergencies. Furthermore, governmental microblogs and government websites should share information and realize the best arrival rate during a crisis. Chengdu established a linkage system for the government website and governmental microblog issuing information so as to share information. Finally, the local government should realize the system linkage to deal with public sentiment and events.
Path Dependence of Institutional Arrangements
Depending on Traditional Knowledge
Local governmental social media developed into the institutional arrangement stage with the acceptance of innovation. However, due to knowledge structure and shortness of the subject, it depends on a path to institutional arrangements, with a resulting structure-function imbalance in emergency management of governmental social media.
Knowledge on the classification of management objects is outdated. Standards for the classification of emergencies are not the same as the four-level classification standard compiled by the national emergency office. Furthermore, there is no clear classification of a standard for response to the public sentiment on serious emergencies; therefore, disasters and emergencies are described together. Finally, there is no specific stipulation on responses to emergencies by governmental social media after an emergency happens; thus, it adopts fuzzy strategies and transferring strategies.
Dependence on the Original Organization Structure
Timely adjustments to an organizational structure for operational needs can enable governmental social media to issue information quickly and communicate with the public. Excessively relying on the original organizational structure may hinder its functions. At present, the operations of most governmental social media depend on the original propaganda department, and there are no scheduled training mechanisms. Thus, this can create an imbalance between functions and structure to some extent but cannot fundamentally solve the problem. Personnel in the Chinese propagation department are used to reporting policies to leadership and making them known to lower levels, collecting and summarizing internal information, and making contact with media. It lacks the ability to systematically coordinate information, professionally issue information during crises, and have a flexible discourse system. Without considering the laws of social media when issuing information, local governments still issue information simply and mechanically, as they did in the traditional media era. For example, the Tianjin government stipulates that two messages should be issued on the blog every day. The Wuxi government stipulates that a response to serious events should occur in 7 days. These rules reveal that a dependence on an old organization structure leads to structure-dysfunction in governmental social media.
System Optimization for Governmental Social Media in Emergency Management
It is important to strengthen the capacity of governmental social media from the angle of "overall national security" and modernization of national governance. On April 15, 2014, General Secretary Xi Jingping first put forward a statement on "overall national security" at the first plenary meeting of the Central Committee of State Security. The concept of overall national security stressed that people's security should be the purpose, political security should be the foundation, and economic security should be the basis. With military, cultural, and social security as the guarantee and the promotion of international security as the basis, the country should follow a national security road with Chinese characteristics. "Overall national security" means that the government should maintain the leadership and dominant position in the network society, and network security is an important part of national security. Xi Jingping pointed out that "network security and informatization are important strategic issues related to national security and national development and work and life of the broad masses of the people, and we should strive to build our country into a network power" (Report on "national security 'a matter of prime importance'". See http://www.china.org.cn/china/2014-04/16/content_32104039.htm, April 18, 2014). This emphasizes the role of governmental social media in the matter of network security. Therefore, the government should maintain the leadership and dominant position to highlight its ruling ability and management modernization level, in crises as the overall mobilization of the baton, to ensure the overall security of the country.
In addition, the role of governmental social media as an e-diplomacy tool in disaster response is becoming more and more important, which has become a global consensus. As a source of instant information, the government can use social media to provide more information to military commanders, diplomats, and aid workers in times of high tension and conflict. This requires improving the crisis management level of governmental social media as an e-diplomacy tool in disaster response.
However, fragmentization and path dependence of institutional arrangements for government social media in emergency management can lead to low efficiency. The ideas, national system, and functional structure must change to optimize its institution. Firstly, governmental social media should become a symbol of modernization and change to a self-innovation tool. Secondly, governmental social media management in an emergency is macroscopically universal, and the absence of the nation in such an area at present leads to fragmentization of the institutional innovation of local governments. Thirdly, the management of governmental social media has some trace of managing traditional media; administrative means replacing specialized guidance of the third party enables governmental social media to get half the results with twice the effort in emergencies. Therefore, a national system should be established, introducing cooperative innovation and professional power for the transformation to realize institutional optimization for governmental social media in emergencies.
National Actions About Emergency Management: Establishing a Macroscopic System of Social Media Crisis Transmission Management
At present, Chinese governmental social media are operating by department according to the principle of "divide and rule", which can effectively control what can be issued. However, crisis information management in emergencies is characterized by multidisciplinary, multiagent, multi-channel, and diverse efforts. A single propagating department that collects and issues information cannot meet requirements of the suddenly increased information in an emergency. Therefore, a national guidance system should be established for governmental social media and corresponding institutions should be compiled. First, a social media working team shall be established to be responsible for guiding governmental social media at different levels to deal with crises, collect cases, and assess performance. This team should develop a long-term strategy and stable regulations for emergency management on social media. It should also compile governmental social media operating guidance. It should stipulate what is to be issued, moral rules of the publisher, the process of publishing information, review policies, language specifications, and privacy and interlinkage resource management so as to provide operation specifications for government public departments using social media to deal with emergency effectively. In addition, it should compile a social media emergency draft, define an operating system during crises, and assign specialized persons from the department to operate social media. Finally, the team should pay close attention to network security during crises and enhance the safety supervision of social media to prevent hacking attacks.
Collaborative Innovation of Multiple Subjectivity: Establish a Crisis Information Union
Large amounts of information are assembled after an emergency. The primary information is scattered among public journalists, media journalists, emergency departments, and the propagation department. Therefore, collecting and assessing information is too difficult for any single department. Instead, it requires cooperation between information subjects, planning of information resources, and integration of an information platform. During an emergency crisis, governmental social media should cooperate, work positively as multiple subjects, break barriers among organizations for the mutual exchange of information, open their platforms to each other, and take advantage of collaborative technology to integrate multiple functions to establish a crisis information union. This approach includes the following:
1.

Data integration: It shall summarize data about the past crises to establish a database of crisis information to make a technical basis for an information flow system in future crisis.

 

2.

(Establishment of standards: It shall pay attention to the common nature of social media as media and to emergency management systems during crises, and it should establish a system to prevent internet fraud during crises.

 

3.

Collection of information: Besides being a window for issuing information during crises, social media is also a platform for society's communication.

 
Therefore, governmental social media shall make full use of organization communication to establish an opinion leader database and a circle of friends at the same time. It shall establish an emergency crisis management team and invite media counselors and citizens to participate in issuing information together. This will ensure various information antennas and diversified sources, reduce information collection costs, and promote information transmission efficiency during crises.
Professional Transformation with the Third Party
Emergency information on social media has multiple values. Besides the function of issuing information, social media also has functions of providing humanistic care, serving as lifeline during crises, and acting as a resource integration path and big data center. The discourse system and usage specifications of social media update very fast. Therefore, taking a simple position of issuing information and controlling rumors for governmental social media will end up behind the development course of social media. Emergency information management in governmental social media is a highly professional business area; therefore, an institutional arrangement that focuses only on timeliness cannot ensure its efficiency. Therefore, a highly objective and professional third party must be introduced to assess usage specifications and the transmission rate of information on social media at regular intervals. Enhancing interactivity with users and establishing authority is the only road to improve the efficiency of governmental social media in emergencies.
Copyright information
© Springer Nature Singapore Pte Ltd. 2019
Section editors and affiliations