Definition
The notion of the university public and social responsibility (UP/SR) is generally presented, on the one hand, as inherent to the reflection on the roles of higher education institutions (HEIs) (Derrida 1992), or, on the other hand, as a recent trend, either influenced by the developments surrounding corporate social responsibility (Larrán Jorge et al. 2011), or as corresponding to the implications of the social dimension of higher education that were voiced by the London Communiqué in 2007 during the so-called Bologna process (http://www.ehea.info/article-details.aspx?ArticleId=43). The definition is, therefore, dependent on the positioning of the concept in a continuum that ranges from a conservative-managerialist to a transformative-critical pole. The former views UP/SR mainly from the perspective of organizational governance and institutional reputation (e.g., Jongbloed et al. 2008...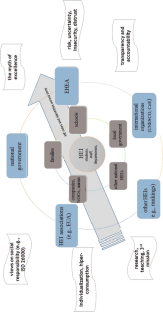 References
Aguinis, H., and A. Glavas. 2012. What we know and don't know about corporate social responsibility: A review and research. Agenda Journal of Management 38: 932–968.

Amorim, J. P. et al. 2015. University social responsibility: A common European reference framework. Final public report of the eu-usr project, 52709-LLP-2012-1-RO-ERASMUS-ESIN. http://www.eu-usr.eu/wp-content/uploads/2015/04/D1.4-Final-Report-Public-Part-EN.pdf. Accessed 16 July 2017.

Appe, S., N. Rubaii, S. Líppez-De Castro, and S. Capobianco. 2017. The concept and context of the engaged university in the Global South: Lessons from Latin America to guide a research agenda. Journal of Higher Education Outreach and Engagement 21 (2): 7–36.

Bronfenbrenner, U. 1979. The ecology of human development: Experiments by nature and design. Cambridge, MA: Harvard University Press.

Chase, H.W. 1923. The social responsibility of the state university. Journal of Social Forces 1: 517–521.

Council of Europe. 2006. Declaration on the responsibility of higher education for a democratic culture: Citizenship, human rights and sustainability. http://www.aic.lv/bolona/2005_07/sem05_07/z_coe_demcult/Declaration_EN.pdf. Accessed 3 July 2017.

Derrida, J. 1992. Mochlos; or the conflict of the faculties. http://la.utexas.edu/users/hcleaver/330T/350kPEEDerridaOnKantNarrow.pdf. Accessed 3 July 2017.

Garriga, E., and D. Melé. 2004. Corporate social responsibility theories: Mapping the territory. Journal of Business Ethics 53: 51–71.

International Organization for Standardization. 2015. ISO 26000 and the International integrated reporting <IR> framework briefing summary. https://www.iso.org/files/live/sites/isoorg/files/archive/pdf/en/iso_26000_and_ir_international_integrated_reporting.pdf. Accessed 20 July 2017.

Jongbloed, B., J. Enders, and C. Salerno. 2008. Higher education and its communities: Interconnections, interdependencies and a research agenda. Higher Education 56: 303–324.

Kelly, J.G. 1986. Context and process: An ecological view of the interdependence of practice and research. American Journal of Community Psychology 14: 581–589.

Keynan, I. 2014. Knowledge as responsibility: Universities and society. Journal of Higher Education Outreach and Engagement 18 (2): 179–206.

Larran Jorge, M., and F. Javier Andrades. 2017. Analysing the literature on university social responsibility: A review of selected higher education journals. Higher Education Quarterly. https://doi.org/10.1111/hequ.12122.

Larrán Jorge, M., A.Y. López Hernández, and C. Márquez Moreno. 2011. La comunidad universitaria andaluza ante la responsabilidad social: un estudio de opinión. Andalucía: Foro de los Consejos Sociales de las Universidades Públicas de Andalucía.

London Communiqué. 2007. Towards the European higher education area: Responding to challenges in a globalised world. http://www.ehea.info/article-details.aspx?ArticleId=43. Accessed 10 Dec 2012.

Martí-Noguera, J.J. 2016. Las universidades y el desarrollo humano: los retos de la educación superior. experiencias iberoamericanas. Humanismo y Trabajo Social 16: 41–51.

Readings, B. 1996. The university in ruins. Cambridge, MA: Harvard University Press.

Santos, B.S. 2004. A universidade no séc. XXI: para uma reforma democrática e emancipatória da universidade. São Paulo: Cortez Editora.

UNESCO. 1998. World declaration on higher education for the twenty first century. Paris: UNESCO.

UNESCO. 2009. Communique from the world conference on higher education: The new dynamics of higher education and research for societal change and development. Paris: UNESCO.

Vallaeys, F. 2014a. La responsabilidad social universitaria: un nuevo modelo universitario contra la mercantilización. Revista Iberoamericana de Educación Superior (ries) 12: 105–117.

Vallaeys, F. 2014b. University social responsibility: A mature and responsible definition. Higher Education in The World 5: 88–96.

Vallaeys, F., C. De La Cruz, and P. Sasia. 2009. Responsabilidad social universitaria: manual de primeros pasos. México: McGraw Hill.

Villa Sánchez, A. 2014. La innovación social en el ámbito universitario: una propuesta para su diagnóstico y desarrollo. Revista Argentina de Educación Superior 6: 188–218.

Votaw, D. 1972. Genius becomes rare: A comment on the doctrine of social responsibility Pt. I. California Management Review 15: 25–31.

Zgaga, P. 2009. Higher education and citizenship: 'The full range of purposes'. European Educational Research Journal 8: 175–188.
Acknowledgements
Márcia Coelho is supported by a scholarship of the CIIE/FPCEUP.
José Pedro Amorim is supported by the Fundação Para a Ciência e Tecnologia with a post-doctoral fellowship (reference number SFRH/BPD/96307/2013).
Copyright information
© 2018 Springer Science+Business Media Dordrecht
About this entry
Cite this entry
Menezes, I., Coelho, M., Amorim, J.P. (2018). Social and Public Responsibility, Universities. In: Encyclopedia of International Higher Education Systems and Institutions. Springer, Dordrecht. https://doi.org/10.1007/978-94-017-9553-1_361-1
DOI: https://doi.org/10.1007/978-94-017-9553-1_361-1

Received:

Accepted:

Published:

Publisher Name: Springer, Dordrecht

Print ISBN: 978-94-017-9553-1

Online ISBN: 978-94-017-9553-1

eBook Packages: Springer Reference EducationReference Module Humanities and Social Sciences