Definition
Glycerophospholipids are a class of lipids comprising several subclasses. Their basic building blocks (Fig.
1
) are:
Glycerol

A phosphate group, esterified to a terminal hydroxyl group of glycerol

One or two fatty acids, linked via either acyl-, alkyl-, or alkenyl-bonds to the remaining hydroxyl groups. Although the length and degree of unsaturation of the fatty acids vary, phospholipids typically contain a saturated fatty acid at the sn-1 position and an unsaturated or polyunsaturated fatty acid at the sn-2 position.

A head group, determining the subclass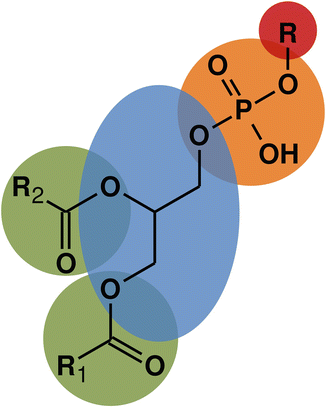 Keywords
Fatty Acid Composition 
Head Group 
Vinyl Ether 
Ethanolamine Plasmalogens 
Choline Phosphotransferase 
These keywords were added by machine and not by the authors. This process is experimental and the keywords may be updated as the learning algorithm improves.
Copyright information
© Springer Science+Business Media Dordrecht 2016