Abstract
Obesity is considered a major public health problem worldwide. Metabolic syndrome is a cluster of signs that increases the risk of developing cardiovascular disease and type 2 diabetes mellitus (T2DM). The main characteristics of metabolic syndrome are central obesity, dyslipidemia, hypertension, hyperinsulinemia, and insulin resistance. It is clear that the progression of metabolic syndrome to T2DM depends on the environment and the genetic traits of individuals.
Pancreatic beta cells are fundamental for nutrient homeostasis. They are the unique cells in the organisms that produce and secrete insulin. The actions of insulin are anabolic, stimulating glucose entry to adipose tissue and skeletal muscle, and promoting nutrient storage.
However, insulin receptors are present in every mammalian cell, and not all the physiological effects of this hormone are completely understood. Nutrients, other hormones, and neurotransmitters regulate insulin secretion, and the main ones will be discussed in this chapter. We will summarize how metabolic changes modify beta-cell physiology and the actions of insulin in metabolic syndrome, eventually leading to the development of T2DM.
Keywords
Beta-cell exhaustion

Insulin resistance

Obesity

Ion channels

Cytokines

Beta-cell dysfunction

Insulin hypersecretion

Hyperinsulinemia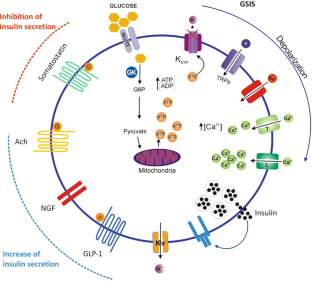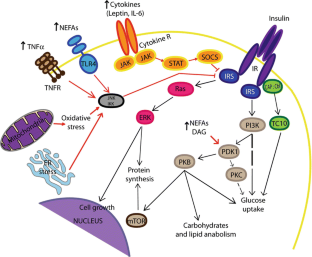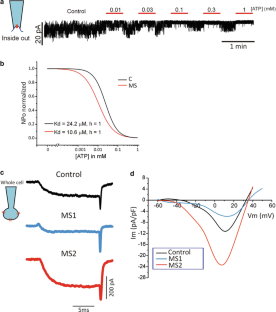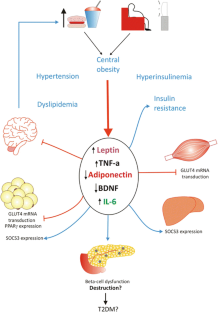 Abbreviations
ACh:

Acetylcholine

acyl-CoA:

Acyl coenzyme A

ADP:

Adenosine diphosphate

AMPK:

5′ adenosine monophosphate-activated protein kinase

AR:

Adrenoreceptor

ATP:

Adenosine triphosphate

BDNF:

Brain-derived neurotrophic factor

BMI:

Body mass index

cAMP:

Cyclic adenosine monophosphate

CAP:

Cbl-associated protein

Cbl:

Casitas B-lineage lymphoma proto-oncogene

Cytokine R:

R Cytokine receptor

DAG:

Diacylglycerol

DPP-4:

Enzyme dipeptidylpeptidase-4

ER:

Endoplasmic reticulum

ERK:

Extracellular signal-regulated kinase

GK:

Glucokinase

GLP-1:

Glucagon-like peptide-1

GLUT2:

Glucose transporters type 2

GSIS:

Glucose-stimulated insulin secretion

IGF1R:

Insulin-like growth factor 1 receptor

IKK:

Kinase of IKB (inhibitor of KB)

IL-6:

Interleukin-6

IR:

Insulin receptor

IRS:

Insulin receptor substrate

JAKs:

Kinases of the Janus family

JNK:

c-Jun N-terminal kinase

KATP:

ATP-sensitive potassium channel

MAPK:

Mitogen-activated protein kinase

MODY:

Maturity onset diabetes of the young

MS:

Metabolic syndrome

mTOR:

Mammalian target of rapamycin

NEFAs:

Nonesterified fatty acids

NGF:

Nerve growth factor

PDK:

Phosphoinositide-dependent kinase

PHHI:

Persistent hypoglycemic hyperinsulinemia of the infancy

PI3K:

Phosphoinositol-3 kinase

PKA:

Protein kinase A

PKB/Akt:

Protein kinase B

PKC:

Protein kinase C

PPAR gamma:

Peroxisome-proliferation-activated receptor gamma

PTPs:

Protein tyrosine phosphatases

Ras:

Rat sarcoma protein family

RBP4:

Retinol binding protein-4

ROS:

Reactive oxygen species

SNARE:

Soluble NSF attachment protein receptor

SOCS:

Suppressor of cytokine signaling

SREBP:

Sterol regulatory element-binding protein

T2DM:

Type 2 diabetes mellitus

TLR4:

Toll-like receptor 4

TNFa:

Tumor necrosis factor alpha

TNFR:

Tumor necrosis factor receptor

TrkA:

Tyrosine kinase receptor A

TRP:

Transient receptor channels

WAT:

White adipose tissue
References
Abedini A, Schmidt AM (2013) Mechanisms of islet amyloidosis toxicity in type 2 diabetes. FEBS Lett 587(8):1119–1127

Ahren B (2009) Islet G protein-coupled receptors as potential targets for treatment of type 2 diabetes. Nat Rev Drug Discov 8(5):369–385

Ahren B (2012) Islet nerves in focus – defining their neurobiological and clinical role. Diabetologia 55(12):3152–3154

Ahren B, Lundquist I (1981) Effects of selective and non-selective beta-adrenergic agents on insulin secretion in vivo. Eur J Pharmacol 71(1):93–104

Alberti KG, Eckel RH et al (2009) Harmonizing the metabolic syndrome: a joint interim statement of the International Diabetes Federation Task Force on Epidemiology and Prevention; National Heart, Lung, and Blood Institute; American Heart Association; World Heart Federation; International Atherosclerosis Society; and International Association for the Study of Obesity. Circulation 120(16):1640–1645

Aloe L (2011) Rita Levi-Montalcini and the discovery of NGF, the first nerve cell growth factor. Arch Ital Biol 149(2):175–181

Asante-Appiah E, Kennedy BP (2003) Protein tyrosine phosphatases: the quest for negative regulators of insulin action. Am J Physiol Endocrinol Metab 284(4):E663–E670

Bagger JI, Knop FK et al (2011) Glucagon antagonism as a potential therapeutic target in type 2 diabetes. Diabetes Obes Metab 13(11):965–971

Bays H, Mandarino L et al (2004) Role of the adipocyte, free fatty acids, and ectopic fat in pathogenesis of type 2 diabetes mellitus: peroxisomal proliferator-activated receptor agonists provide a rational therapeutic approach. J Clin Endocrinol Metab 89(2):463–478

Braun M, Ramracheya R et al (2010) Gamma-aminobutyric acid (GABA) is an autocrine excitatory transmitter in human pancreatic beta-cells. Diabetes 59(7):1694–1701

Braun M, Wendt A et al (2004) Regulated exocytosis of GABA-containing synaptic-like microvesicles in pancreatic beta-cells. J Gen Physiol 123(3):191–204

Byrne CD (2012) Dorothy Hodgkin Lecture 2012: non-alcoholic fatty liver disease, insulin resistance and ectopic fat: a new problem in diabetes management. Diabet Med 29(9):1098–1107

Cabrera O, Berman DM et al (2006) The unique cytoarchitecture of human pancreatic islets has implications for islet cell function. Proc Natl Acad Sci U S A 103(7):2334–2339

Cabrera-Vasquez S, Navarro-Tableros V et al (2009) Remodelling sympathetic innervation in rat pancreatic islets ontogeny. BMC Dev Biol 9:34

Cai K, Qi D et al (2011) TNF-alpha acutely upregulates amylin expression in murine pancreatic beta cells. Diabetologia 54(3):617–626

Chakraborty S, Mukherjee B et al (2013) Pinpointing proline substitution to be responsible for the loss of amyloidogenesis in IAPP. Chem Biol Drug Des 82(4):446–452

Chaldakov G (2011) The metabotrophic NGF and BDNF: an emerging concept. Arch Ital Biol 149(2):257–263

Chaldakov GN, Fiore M et al (2010) Neuroadipology: a novel component of neuroendocrinology. Cell Biol Int 34(10):1051–1053

Chaldakov GN, Tonchev AB et al (2009) NGF and BDNF: from nerves to adipose tissue, from neurokines to metabokines. Riv Psichiatr 44(2):79–87

Charlton B, Bacelj A et al (1989) Cyclophosphamide-induced diabetes in NOD/WEHI mice. Evidence for suppression in spontaneous autoimmune diabetes mellitus. Diabetes 38(4):441–447

Cheng Z, Tseng Y et al (2010) Insulin signaling meets mitochondria in metabolism. Trends Endocrinol Metab 21(10):589–598

Covey SD, Wideman RD et al (2006) The pancreatic beta cell is a key site for mediating the effects of leptin on glucose homeostasis. Cell Metab 4(4):291–302

DeFronzo RA, Okerson T et al (2008) Effects of exenatide versus sitagliptin on postprandial glucose, insulin and glucagon secretion, gastric emptying, and caloric intake: a randomized, cross-over study. Curr Med Res Opin 24(10):2943–2952

Denroche HC, Huynh FK et al (2012) The role of leptin in glucose homeostasis. Journal of Diabetes Investigation 3(2):115–129

Diaz-Garcia CM (2013) The TRPA1 channel and oral hypoglycemic agents: Is there complicity in beta-cell exhaustion? Channels (Austin) 7(6):420–422

Dong H, Kumar M et al (2006) Gamma-aminobutyric acid up- and downregulates insulin secretion from beta cells in concert with changes in glucose concentration. Diabetologia 49(4):697–705

Drews G, Krippeit-Drews P et al (2010) Electrophysiology of islet cells. Adv Exp Med Biol 654:115–163

Evans JL, Maddux BA et al (2005) The molecular basis for oxidative stress-induced insulin resistance. Antioxid Redox Signal 7(7–8):1040–1052

Expert Panel on Detection, E., and Treatment of High Blood Cholesterol in Adults (2002) Third report of the National Cholesterol Education Program (NCEP) expert panel on detection, evaluation, and treatment of high blood cholesterol in adults (Adult Treatment Panel III) final report. Circulation 106(25):3143–3421

Fadini GP, de Kreutzenberg SV et al (2011) The metabolic syndrome influences the response to incretin-based therapies. Acta Diabetol 48(3):219–225

Faradji V, Sotelo J (1990) Low serum levels of nerve growth factor in diabetic neuropathy. Acta Neurol Scand 81(5):402–406

Gautam D, Han SJ et al (2006) A critical role for beta cell M3 muscarinic acetylcholine receptors in regulating insulin release and blood glucose homeostasis in vivo. Cell Metab 3(6):449–461

Gebre-Medhin S, Olofsson C et al (2000) Islet amyloid polypeptide in the islets of Langerhans: friend or foe? Diabetologia 43(6):687–695

Gezginci-Oktayoglu S, Bolkent S (2009) Exendin-4 exerts its effects through the NGF/p75NTR system in diabetic mouse pancreas. Biochem Cell Biol 87(4):641–651

Gezginci-Oktayoglu S, Karatug A et al (2012) The relation among NGF, EGF and insulin is important for triggering pancreatic beta cell apoptosis. Diabetes Metab Res Rev 28(8):654–662

Graciano MF, Valle MM et al (2011) Regulation of insulin secretion and reactive oxygen species production by free fatty acids in pancreatic islets. Islets 3(5):213–223

Gromada J, Franklin I et al (2007) Alpha-cells of the endocrine pancreas: 35 years of research but the enigma remains. Endocr Rev 28(1):84–116

Harwood HJ Jr (2012) The adipocyte as an endocrine organ in the regulation of metabolic homeostasis. Neuropharmacology 63(1):57–75

Henquin JC (2000) Triggering and amplifying pathways of regulation of insulin secretion by glucose. Diabetes 49(11):1751–1760

Henquin JC (2011) The dual control of insulin secretion by glucose involves triggering and amplifying pathways in beta-cells. Diabetes Res Clin Pract 93(Suppl 1):S27–S31

Henquin JC, Meissner HP (1984) Significance of ionic fluxes and changes in membrane potential for stimulus-secretion coupling in pancreatic B-cells. Experientia 40(10):1043–1052

Hiriart M, Aguilar-Bryan L (2008) Channel regulation of glucose sensing in the pancreatic beta-cell. Am J Physiol Endocrinol Metab 295(6):E1298–E1306

Hiriart M, Vidaltamayo R et al (2001) Nerve and fibroblast growth factors as modulators of pancreatic beta cell plasticity and insulin secretion. Isr Med Assoc J 3(2):114–116

Hotamisligil GS (2006) Inflammation and metabolic disorders. Nature 444(7121):860–807

Hotamisligil GS, Arner P et al (1995) Increased adipose tissue expression of tumor necrosis factor-alpha in human obesity and insulin resistance. J Clin Invest 95(5):2409–2415

Howard JK, Flier JS (2006) Attenuation of leptin and insulin signaling by SOCS proteins. Trends Endocrinol Metab 17(9):365–371

Hristova M, Aloe L (2006) Metabolic syndrome – neurotrophic hypothesis. Med Hypotheses 66(3):545–549

Hunt KJ, Resendez RG et al (2004) National Cholesterol Education Program versus World Health Organization metabolic syndrome in relation to all-cause and cardiovascular mortality in the San Antonio Heart Study. Circulation 110(10):1251–1257

Huypens PR, Huang M et al (2012) Overcoming the spatial barriers of the stimulus secretion cascade in pancreatic beta-cells. Islets 4(1):1–9

Imai Y, Dobrian AD et al (2013) Islet inflammation: a unifying target for diabetes treatment? Trends Endocrinol Metab 24(7):351–360

Jensen MV, Joseph JW et al (2008) Metabolic cycling in control of glucose-stimulated insulin secretion. Am J Physiol Endocrinol Metab 295(6):E1287–E1297

Jewell JL, Oh E et al (2010) Exocytosis mechanisms underlying insulin release and glucose uptake: conserved roles for Munc18c and syntaxin 4. Am J Physiol Regul Integr Comp Physiol 298(3):R517–R531

Jezek P, Dlaskova A et al (2012) Redox homeostasis in pancreatic beta cells. Oxid Med Cell Longev 2012:932838

Kim SJ, Nian C et al (2012) GIP-overexpressing mice demonstrate reduced diet-induced obesity and steatosis, and improved glucose homeostasis. PLoS One 7(7):e40156

Koh DS, Cho JH et al (2012) Paracrine interactions within islets of Langerhans. J Mol Neurosci 48(2):429–440

Krabbe KS, Nielsen AR et al (2007) Brain-derived neurotrophic factor (BDNF) and type 2 diabetes. Diabetologia 50(2):431–438

Kristiansen OP, Mandrup-Poulsen T (2005) Interleukin-6 and diabetes: the good, the bad, or the indifferent? Diabetes 54(Suppl 2):S114–S124

Larqué C, Velasco M et al (2011) Early endocrine and molecular changes in metabolic syndrome models. IUBMB Life 63(10):831–839

Larrieta ME, Vital P et al (2006) Nerve growth factor increases in pancreatic beta cells after streptozotocin-induced damage in rats. Exp Biol Med (Maywood) 231(4):396–402

Leavens KF, Birnbaum MJ (2011) Insulin signaling to hepatic lipid metabolism in health and disease. Crit Rev Biochem Mol Biol 46(3):200–215

Lee YH, Magkos F et al (2011) Effects of leptin and adiponectin on pancreatic beta-cell function. Metabolism 60(12):1664–1672

Leibiger IB, Leibiger B et al (2008) Insulin signaling in the pancreatic beta-cell. Annu Rev Nutr 28:233–251

Li C, Matschinsky FM et al (2012) Amino acid-stimulated insulin secretion: the role of the glutamine-glutamate-alpha-ketoglutarate axis. Monogenic hyperinsulinemic hypoglycemia disorders. S. C. A. and D. L. D. D., Philadelphia, p 21

Lorenzo A, Razzaboni B et al (1994) Pancreatic islet cell toxicity of amylin associated with type-2 diabetes mellitus. Nature 368(6473):756–760

MacDonald PE, Wheeler MB (2003) Voltage-dependent K(+) channels in pancreatic beta cells: role, regulation and potential as therapeutic targets. Diabetologia 46(8):1046–1062

Maffei M, Halaas J et al (1995) Leptin levels in human and rodent: measurement of plasma leptin and ob RNA in obese and weight-reduced subjects. Nat Med 1(11):1155–1161

Matthews DR, Cull CA et al (1998) UKPDS 26: sulphonylurea failure in non-insulin-dependent diabetic patients over six years. UK Prospective Diabetes Study (UKPDS) Group. Diabet Med 15(4):297–303

Mlinar B, Marc J et al (2007) Molecular mechanisms of insulin resistance and associated diseases. Clin Chim Acta 375(1–2):20–35

Navarro-Tableros V, Fiordelisio T et al (2007) Nerve growth factor promotes development of glucose-induced insulin secretion in rat neonate pancreatic beta cells by modulating calcium channels. Channels (Austin) 1(6):408–416

Newsholme P, Bender K et al (2007) Amino acid metabolism, insulin secretion and diabetes. Biochem Soc Trans 35(Pt 5):1180–1186

Nishizawa M, Nakabayashi H et al (2013) Intraportal GLP-1 stimulates insulin secretion predominantly through the hepatoportal-pancreatic vagal reflex pathways. Am J Physiol Endocrinol Metab 305(3):E376–E387

Nolan CJ, Leahy JL et al (2006) Beta cell compensation for insulin resistance in Zucker fatty rats: increased lipolysis and fatty acid signalling. Diabetologia 49(9):2120–2130

Nolan CJ, Prentki M (2008) The islet beta-cell: fuel responsive and vulnerable. Trends Endocrinol Metab 19(8):285–291

Nyman LR, Wells KS et al (2008) Real-time, multidimensional in vivo imaging used to investigate blood flow in mouse pancreatic islets. J Clin Invest 118(11):3790–3797

Ohara-Imaizumi M, Fujiwara T et al (2007) Imaging analysis reveals mechanistic differences between first- and second-phase insulin exocytosis. J Cell Biol 177(4):695–705

Osundiji MA, Evans ML (2013) Brain control of insulin and glucagon secretion. Endocrinol Metab Clin North Am 42(1):1–14

Phillips LK, Prins JB (2011) Update on incretin hormones. Ann N Y Acad Sci 1243:E55–E74

Pillay K, Govender P (2013) Amylin uncovered: a review on the polypeptide responsible for type II diabetes. Biomed Res Int 2013:826706

Polak M, Scharfmann R et al (1993) Nerve growth factor induces neuron-like differentiation of an insulin-secreting pancreatic beta cell line. Proc Natl Acad Sci U S A 90(12):5781–5785

Prentki M, Matschinsky FM (1987) Ca2+, cAMP, and phospholipid-derived messengers in coupling mechanisms of insulin secretion. Physiol Rev 67(4):1185–248

Prentki M, Matschinsky FM et al (2013) Metabolic signaling in fuel-induced insulin secretion. Cell Metab 18(2):162–85

Rask-Madsen C, Kahn CR (2012) Tissue-specific insulin signaling, metabolic syndrome, and cardiovascular disease. Arterioscler Thromb Vasc Biol 32(9):2052–2059

Reetz A, Solimena M et al (1991) GABA and pancreatic beta-cells: colocalization of glutamic acid decarboxylase (GAD) and GABA with synaptic-like microvesicles suggests their role in GABA storage and secretion. EMBO J 10(5):1275–1284

Rhodes CJ, White MF et al (2013) Direct autocrine action of insulin on beta-cells: does it make physiological sense? Diabetes 62(7):2157–2163

Rodriguez-Diaz R, Caicedo A (2013) Novel approaches to studying the role of innervation in the biology of pancreatic islets. Endocrinol Metab Clin North Am 42(1):39–56

Rodriguez-Diaz R, Dando R et al (2011) Alpha cells secrete acetylcholine as a non-neuronal paracrine signal priming beta cell function in humans. Nat Med 17(7):888–8892

Romanatto T, Roman EA et al (2009) Deletion of tumor necrosis factor-alpha receptor 1 (TNFR1) protects against diet-induced obesity by means of increased thermogenesis. J Biol Chem 284(52):36213–36222

Rorsman P, Renstrom E (2003) Insulin granule dynamics in pancreatic beta cells. Diabetologia 46(8):1029–1045

Rosas-Vargas H, Martinez-Ezquerro JD et al (2011) Brain-derived neurotrophic factor, food intake regulation, and obesity. Arch Med Res 42(6):482–494

Rosenbaum T, Castanares DT et al (2002) Nerve growth factor increases L-type calcium current in pancreatic beta cells in culture. J Membr Biol 186(3):177–184

Rosenbaum T, Sanchez-Soto MC et al (2001) Nerve growth factor increases insulin secretion and barium current in pancreatic beta-cells. Diabetes 50(8):1755–1762

Rosenbaum T, Vidaltamayo R et al (1998) Pancreatic beta cells synthesize and secrete nerve growth factor. Proc Natl Acad Sci U S A 95(13):7784–7788

Rosengren AH, Jokubka R et al (2010) Overexpression of alpha2A-adrenergic receptors contributes to type 2 diabetes. Science 327(5962):217–220

Ruiz de Azua I, Gautam D et al (2012) Critical metabolic roles of beta-cell M3 muscarinic acetylcholine receptors. Life Sci 91(21–22):986–991

Ruohonen ST, Ruohonen S et al (2012) Involvement of alpha2-adrenoceptor subtypes A and C in glucose homeostasis and adrenaline-induced hyperglycaemia. Neuroendocrinology 96(1):51–59

Saltiel AR, Kahn CR (2001) Insulin signalling and the regulation of glucose and lipid metabolism. Nature 414(6865):799–806

Sawada F, Inoguchi T et al (2008) Differential effect of sulfonylureas on production of reactive oxygen species and apoptosis in cultured pancreatic beta-cell line, MIN6. Metabolism 57(8):1038–1045

Smismans A, Schuit F et al (1997) Nutrient regulation of gamma-aminobutyric acid release from islet beta cells. Diabetologia 40(12):1411–1415

Somesh BP, Verma MK et al (2013) Chronic glucolipotoxic conditions in pancreatic islets impair insulin secretion due to dysregulated calcium dynamics, glucose responsiveness and mitochondrial activity. BMC Cell Biol 14:31

Sornelli F, Fiore M et al (2009) Adipose tissue-derived nerve growth factor and brain-derived neurotrophic factor: results from experimental stress and diabetes. Gen Physiol Biophys 28 Spec No:179–183

Stein DT, Stevenson BE et al (1997) The insulinotropic potency of fatty acids is influenced profoundly by their chain length and degree of saturation. J Clin Invest 100(2):398–403

Straub SG, Shanmugam G et al (2004) Stimulation of insulin release by glucose is associated with an increase in the number of docked granules in the beta-cells of rat pancreatic islets. Diabetes 53(12):3179–3183

Straub SG, Sharp GW (2012) Evolving insights regarding mechanisms for the inhibition of insulin release by norepinephrine and heterotrimeric G proteins. Am J Physiol Cell Physiol 302(12):C1687–C1698

Sumara G, Formentini I et al (2009) Regulation of PKD by the MAPK p38delta in insulin secretion and glucose homeostasis. Cell 136(2):235–248

Taborsky GJ Jr, Ahren B et al (2002) Autonomic mechanism and defects in the glucagon response to insulin-induced hypoglycaemia. Diabetes Nutr Metab 15(5):318–322, discussion 322–323

Taniguchi CM, Emanuelli B et al (2006) Critical nodes in signalling pathways: insights into insulin action. Nat Rev Mol Cell Biol 7(2):85–96

Togashi K, Hara Y et al (2006) TRPM2 activation by cyclic ADP-ribose at body temperature is involved in insulin secretion. EMBO J 25(9):1804–1815

Tomas E, Wood JA et al (2011) Glucagon-like peptide-1(9–36)amide metabolite inhibits weight gain and attenuates diabetes and hepatic steatosis in diet-induced obese mice. Diabetes Obes Metab 13(1):26–33

Tuduri E, Bruin JE et al (2013) Impaired Ca(2+) Signaling in beta-Cells Lacking Leptin Receptors by Cre-loxP Recombination. PLoS One 8(8):e71075

Ullrich S, Wollheim CB (1985) Expression of both alpha 1- and alpha 2-adrenoceptors in an insulin-secreting cell line. Parallel studies of cytosolic free Ca2+ and insulin release. Mol Pharmacol 28(2):100–106

Velasco M, Larque C et al (2012) Metabolic syndrome induces changes in KATP-channels and calcium currents in pancreatic beta-cells. Islets 4(4):302–311

Vidaltamayo R, Sanchez-Soto MC et al (2002) Nerve growth factor increases sodium channel expression in pancreatic beta cells: implications for insulin secretion. FASEB J 16(8):891–892

Vollenweider P (2003) Insulin resistant states and insulin signaling. Clin Chem Lab Med 41(9):1107–1119

Wang Q, Jin T (2009) The role of insulin signaling in the development of beta-cell dysfunction and diabetes. Islets 1(2):95–101

Westermark P, Andersson A et al (2011) Islet amyloid polypeptide, islet amyloid, and diabetes mellitus. Physiol Rev 91(3):795–826

White MF (2003) Insulin signaling in health and disease. Science 302(5651):1710–1711

Xu XJ, Gauthier MS et al (2012) Insulin sensitive and resistant obesity in humans: AMPK activity, oxidative stress, and depot-specific changes in gene expression in adipose tissue. J Lipid Res 53(4):792–801

Yamanaka M, Itakura Y et al (2006) Protective effect of brain-derived neurotrophic factor on pancreatic islets in obese diabetic mice. Metabolism 55(10):1286–1292

Yi P, Park JS et al (2013) Betatrophin: a hormone that controls pancreatic beta cell proliferation. Cell 153(4):747–758

Youos JG (2011) The role of alpha-, delta- and F cells in insulin secretion and action. Diabetes Res Clin Pract 93(Suppl 1):S25–S26

Zhang T, Li C (2013) Mechanisms of amino acid-stimulated insulin secretion in congenital hyperinsulinism. Acta Biochim Biophys Sin (Shanghai) 45(1):36–43
Copyright information
© 2014 Springer Science+Business Media Dordrecht
About this entry
Cite this entry
Hiriart, M. et al. (2014). Pancreatic Beta Cells in Metabolic Syndrome. In: Islam, M. (eds) Islets of Langerhans, 2. ed.. Springer, Dordrecht. https://doi.org/10.1007/978-94-007-6884-0_27-2
DOI: https://doi.org/10.1007/978-94-007-6884-0_27-2

Received:

Accepted:

Published:

Publisher Name: Springer, Dordrecht

Online ISBN: 978-94-007-6884-0

eBook Packages: Springer Reference Biomedicine & Life SciencesReference Module Biomedical and Life Sciences