Marine Sedimentary Basins
Living reference work entry
Latest version View entry history
DOI:
https://doi.org/
10.1007/978-94-007-6644-0_99-2
Definition
Marine sedimentary basins are any modern basin that is currently below sea level and influenced by marine sedimentary processes and sedimentation. Many ancient marine sedimentary basins are now deformed and uplifted into modern, mountain chains as part of ongoing or ancient orogenic – or mountain-building – processes.
The modern marine sedimentary basins of the world's ocean basins can be subdivided into continental shelves, slopes, rises, abyssal plains, and oceanic trenches in passive margin settings (Fig.
1
). As these topics have been defined and discussed by other authors of the encyclopedia, I will focus on the origin of the main tectonic classes of marine sedimentary basins in active margin settings that include those produced in rift, collisional, subduction, and strike-slip environments, along with bolide impacts into marine environments (Fig.
1
).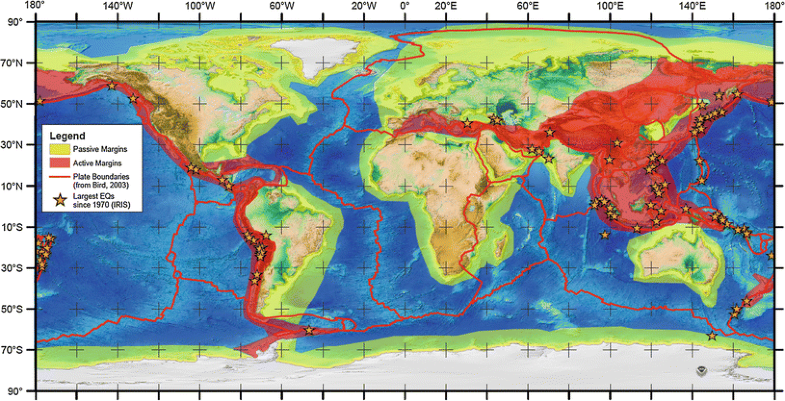 Keywords
Foreland Basin 
East African Rift 
Forearc Basin 
Thermal Subsidence 
South American Plate 
These keywords were added by machine and not by the authors. This process is experimental and the keywords may be updated as the learning algorithm improves.
Copyright information
© Springer Science+Business Media Dordrecht 2015