The Geologic Time Scale: Marine Geosciences
Living reference work entry
DOI:
https://doi.org/
10.1007/978-94-007-6644-0_199-1
Introduction
The geologic time scale (GTS) is the principal tool for deciphering and understanding the long and complex history of our planet, Earth. As Arthur Holmes, the father of the geologic time scale, once wrote (Holmes, 1965, p. 148): "To place all the scattered pages of earth history in their proper chronological order is by no means an easy task." Ordering these scattered and torn pages and understanding the physical, chemical, and biological processes that acted on them since Earth appeared and solidified require a detailed and accurate time scale.
This calibration to linear time of the succession of events recorded in the rocks on Earth has three components (Fig.
1
):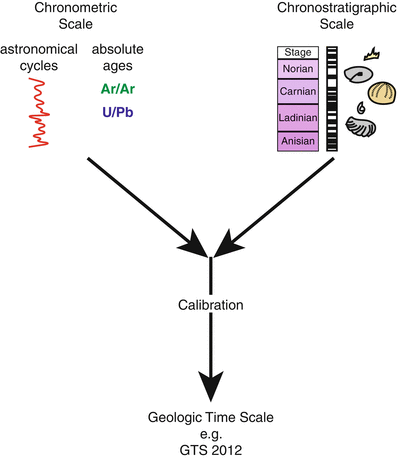 Keywords
Radiogenic Isotope 
Scalable Vector Graphic 
Rock Record 
Ammonite Zone 
Stage Boundary 
These keywords were added by machine and not by the authors. This process is experimental and the keywords may be updated as the learning algorithm improves.
Copyright information
© Springer Science+Business Media Dordrecht 2015