Definition
Ice-rafted debris (IRD) is a terrigenous material transported within a matrix of ice and deposited in marine or lake sediments when the ice matrix melts (US National Climatic Data Center).
History of Observations
Coarse-grained clasts interpreted as ice-rafted debris were first recognized in seabed samples collected during a 1928 expedition of the US Coast Guard vessel "Marion" in the northern Labrador Sea and Baffin Bay (Ricketts and Trask, 1932). A decade later, Bramlette and Bradley (1940) described glacially transported striated clasts and erratics from North Atlantic seabed sediments. The more common use of IRD as a proxy of glacial variability commenced with the systematic sampling of deep-sea sediments in the early 1970s, notably by the international Deep Sea Drilling Programme (DSDP) and the "Vema" cruises operated from Lamont-Doherty Earth Observatory in the USA. Initially, IRD analyses were mainly applied to understand the long-term Cenozoic evolution of ice...
Keywords
Ocean Heat Transport

Planktic Foraminifera

Rafting Process

Iceberg Calve

Greenland Fjord
These keywords were added by machine and not by the authors. This process is experimental and the keywords may be updated as the learning algorithm improves.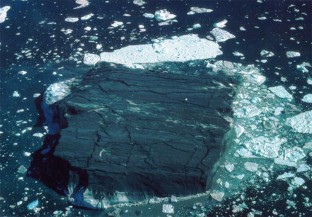 Bibliography
Alley, R. B., and Clark, P. U., 1999. The deglaciation of the Northern Hemisphere: a global perspective. Annual Review of Earth and Planetary Sciences, 27, 149–182.

Alvares-Solas, J., Charbit, S., Ritz, C., Paillard, D., Ramstein, G., and Dumas, C., 2010. Links between ocean temperature and iceberg discharge during Heinrich events. Nature Geoscience, 3, 122–126.

Andresen, C. S., Straneo, F., Ribergaard, M. H., Bjørk, A. A., Andersen, T. J., Kuijpers, A., Nørgaard-Pedersen, N., Kjær, K., Schjøth, F., Weckström, K., and Ahlstrøm, A. P., 2012. Rapid response of Helheim Glacier in Greenland to climate variability over the past century. Nature Geoscience, 5, 37–41.

Andrews, J. T., 2000. Icebergs and iceberg rafted detritus (IRD) in the North Atlantic: facts and assumptions. Oceanography, 13(3), 100–108.

Andrews, J. T., and Tedesco, K., 1992. Detrital carbonate-rich sediments, northwest Labrador Sea: implications for ice-sheet dynamics and iceberg rafting (Heinrich) events in the North Atlantic. Geology, 20, 1087–1090.

Berggren, W. A., 1972. Late Pliocene-Pleistocene glaciation. In Laughton, A. S., Berggren, W. A., et al. (eds.), Initial Reports of the Deep-Sea Drilling Programme. Washington, DC: US Government Printing Office, Vol. 12, pp. 953–963.

Bond, G. C., and Lotti, R., 1995. Iceberg discharges into the North Atlantic on millennial time scales during the Last Glaciation. Science, 267, 1005–1009.

Bond, G., Showers, W., Cheseby, M., Lotti, R., Almasi, P., deMenocal, P., Priore, P., Cullen, H., Hajdas, I., and Bonani, G., 1997. A pervasive millennial-scale cycle in North Atlantic Holocene and glacial climates. Science, 278, 1257–1266.

Bond, G., Showers, W., Elliot, M., Evans, M., Lotti, R., Hadjas, I., Bonani, G., and Johnson, S., 1999. The North Atlantic's 1–2 kyr climate rhythm: relation to Heinrich events, Dansgaard/Oeschger and the Little Ice Age. In Clark, P. U., et al. (eds.), Mechanisms of Global Climate Changes at Millennial Timescales. Washington, DC: AGU. Geophysical Monograph Series, 112, pp. 35–58.

Bramlette, M. N., and Bradley, W. H., 1940. Geology and biology of North Atlantic deep-sea cores between Newfoundland and Ireland. Part I. Lithology and geological interpretations. United States Geological Survey, Professional Paper 196A: 1–34.

Broecker, W. S., 1994. Massive iceberg discharges as triggers for global climate change. Nature, 372, 421–424.

Broecker, W. S., Bond, G., McManus, J., Klas, M., and Clark, M., 1992. Origin of the Northern Atlantic's Heinrich events. Climate Dynamics, 6, 265–273.

Dowdeswell, J. A., Maslin, M. A., Andrews, J. T., and McCave, I. N., 1995. Iceberg production, debris rafting, and the extent and thickness of Heinrich layers (H-1, H-2) in North Atlantic sediments. Geology, 23, 301–304.

Dowdeswell, J. A., Elverhøj, A., Andrews, J. T., and Hebbeln, D., 1999. Asynchronous deposition of ice-rafted layers in the Nordic seas and North Atlantic Ocean. Nature, 400, 348–351.

Drewry, D., 1986. Glacial Geologic Processes. London: Edward Arnold.

Gilbert, R., 1990. Rafting in glacimarine environments. In Dowdeswell, J. A., and Scource, J. D. (eds.), Glacimarine Environments: Processes and Sediments. London: Geological Society. Special Publications of the Geological Society of London, Vol. 53, pp. 105–120.

Grousset, F. E., Cortijo, E., Huon, S., Herve, L., Richter, T., Burdloff, D., Duprat, J., and Weber, O., 2001. Zooming in on Heinrich layers. Paleoceanography, 16, 240–259.

Gwiazda, R. H., Hemming, S. R., and Broecker, W. S., 1996. Provenance of icebergs during Heinrich event 3 and their contrast to their sources during other Heinrich episodes. Paleoceanography, 11, 371–378.

Heinrich, H., 1988. Origin and consequences of cyclic ice rafting in the Northeast Atlantic Ocean during the past 130,000 years. Quaternary Research, 29(2), 143–152.

Hemming, S. R., Broecker, W. S., Sharp, W. D., Bond, G. C., Gwiadzda, R. H., McManus, J. F., Klas, M., and Hajdas, I., 1998. Provenance of Heinrich layers in core V28-82, northwestern Atlantic: 40Ar/39Ar ages of ice-rafted hornblende, Pb isotopes in feldspar grains, and Nd-Sr-Pb isotopes in the fine sediment fraction. Earth and Planetary Science Letters, 164, 317–333.

Holland, D., Thomas, R. H., de Young, B., Ribergaard, M. H., and Lyberth, B., 2008. Acceleration of Jakobshavn Isbrae triggered by warm subsurface ocean waters. Nature Geoscience, 1, 659–664.

Hulbe, C. L., MacAyeal, D. R., Denton, G. H., Kleman, J., and Lowell, T. V., 2004. Catastrophic ice shelf breakup as the source of Heinrich event icebergs. Paleoceanography, 19, PA1004, doi:10.1029/2003PA000890.

Knutz, P. C., Hall, I. R., Zahn, R., Rasmussen, T. L., Kuijpers, A., Moros, M., and Shackleton, N. J., 2002. Multidecadal ocean variability and NW European ice sheet surges during the last deglaciation. Geochemistry, Geophysics, Geosystems, 3(12), 1–9.

Knutz, P. C., Ebbesen, H., Christiansen, S., Sicre, M.-A., and Kuijpers, A., 2011. A triple stage deglacial retreat of the southern Greenland Ice Sheet driven by vigorous Irminger Current. Paleoceanography, 26, PA3204, doi:10.1029/2010PA002053.

Kuijpers, A., Heinrich, H., and Moros, M., 2005. Climatic warming: a trigger for glacial iceberg surges ("Heinrich events") in the North Atlantic? Review of Survey Activities. Geological Survey of Denmark and Greenland Bulletin, 7, 53–56.

Linthout, K., Troelstra, S. R., and Kuijpers, A., 2000. Provenance of coarse Ice Rafted Detritus near the SE Greenland Margin. Netherlands Journal of Geosciences, 79(1), 109–121.

Lloyd, J. M., Moros, M., Perner, K., Telford, R., Kuijpers, A., Jansen, E., and McCarthy, D., 2011. A 100 year record of ocean temperature control on the stability of Jakobshavn Isbrae, West Greenland. Geology, doi:10.1130/G32076.1.

MacAyeal, D. R., 1993. Binge/purge oscillations of the Laurentide ice sheet as a cause of the North Atlantic's Heinrich events. Paleoceanography, 8, 775–784.

Moros, M., Kuijpers, A., Snowball, I., Lassen, S., Bäckström, D., Gingele, F., and McManus, J., 2002. Were glacial iceberg surges in the North Atlantic triggered by climatic warming? Marine Geology, 192, 393–417.

Reeh, N., Mayer, C., Miller, H., Højmark-Thomsen, H., and Weidick, A., 1999. Present and past climate control on fjord glaciations in Greenland: implications for IRD deposition in the sea. Geophysical Research Letters, 26, 1039–1042.

Ricketts, N. G., and Trask, P. D., 1932. The "Marion" expedition to Davis Strait and Baffin Bay, 1928 – Scientific Results, Part 1, The Bathymetry and Sediments of Davis Strait. Washington, DC: United States Government Printing Office. U.S. Treasury Department, Coast Guard Bulletin, Vol. 19, pp. 1–81.

Ruddiman, W. F., 1977. Late Quaternary deposition of ice-rafted sand in the sub-polar North Atlantic (40–60o N). Geological Society of America Bulletin, 88, 1813–1827.

Scourse, J. D., Hall, I. R., McCave, I. N., Young, J. R., and Sudgon, C., 2000. The origin of Heinrich layers: evidence from H2 for European precursor events. Earth and Planetary Science Letters, 181, 187–195.

Shackleton, N. J., Backman, J., Zimmerman, H., Kent, D. V., Hall, M. A., Roberts, D. G., Schnitker, D., Baldauf, J. G., Desprairies, A., Homrighausen, R., Huddlestun, P., Keene, J. B., Kaltenback, A. J., Krumsiek, K. A. O., Morton, A. C., Murray, J. W., and Westberg-Smith, J., 1984. Oxygen isotope calibration of the onset of ice rafting and history of glaciation in the North Atlantic region. Nature, 307, 620–623.

Stein, R., Nam, S.-I., Grobe, H., and Hubberten, H., 1996. Late Quaternary glacial history and short-term ice-rafted debris fluctuations along the East Greenland continental margin. In Andrews, J. T., Austin, W. E. N., Bergsten, H., and Jennings, A. E. (eds.), Late Quaternary Palaeoceanography of the North Atlantic Margins. London: Geological Society. Geological Society Special Publication, Vol. 111, pp. 135–151.

Tantillo, B., St. John, K., Passchier, S., and Kearns, L., 2012. Can sea ice-rafted debris be distinguished from iceberg-rafted debris based on grain surface features? Analysis of quartz grains from modern Arctic Ocean sea ice floes. In GSA Annual Meeting Abstracts.

Vidal, L., Labeyrie, L., Cortijo, E., Arnold, M., Duplessy, J. C., Michel, E., and Becqué, S., 1997. Evidence for changes in the North Atlantic Deep Water linked to meltwater surges during the Heinrich events. Earth and Planetary Science Letters, 146, 13–27.
Copyright information
© 2014 Springer Science+Business Media Dordrecht
About this entry
Cite this entry
Kuijpers, A., Knutz, P., Moros, M. (2014). Ice-Rafted Debris (IRD). In: Harff, J., Meschede, M., Petersen, S., Thiede, J. (eds) Encyclopedia of Marine Geosciences. Springer, Dordrecht. https://doi.org/10.1007/978-94-007-6644-0_182-1
DOI: https://doi.org/10.1007/978-94-007-6644-0_182-1

Received:

Accepted:

Published:

Publisher Name: Springer, Dordrecht

Online ISBN: 978-94-007-6644-0

eBook Packages: Springer Reference Earth & Environm. ScienceReference Module Physical and Materials Science