Magnetostratigraphic Dating
Living reference work entry
DOI:
https://doi.org/
10.1007/978-94-007-6326-5_115-1
Definition
Magnetostratigraphy relies on the ability of sedimentary rocks to acquire a remanent magnetization when they form, which parallels the direction of the Earth's ambient magnetic field. Since the geomagnetic field has undergone multiple nonperiodic reversals through Earth history, a magnetic zonation of sedimentary sequences is feasible according to the polarity of the rock magnetization. A magnetostratigraphic zonation allows dividing the stratigraphic record into time slices which can be correlated worldwide. Magnetostratigraphic dating refers to the identification in the stratigraphic record of magnetozones, which can be correlated to age-equivalent geomagnetic chrons. The compiled absolute ages of geomagnetic chrons form the basis for the geomagnetic polarity time scale (GPTS), which is routinely revised with new radiometric or astronomic calibrations (Fig.
1
).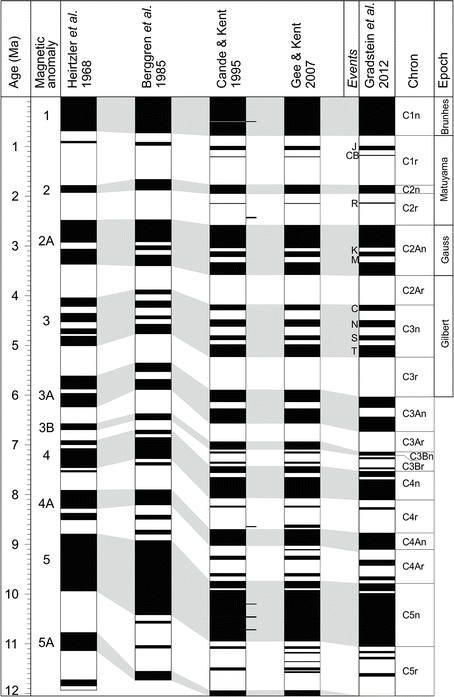 Keywords
Magnetic Mineral 
Natural Remanent Magnetization 
Reversal Test 
Paleomagnetic Direction 
Geomagnetic Reversal 
These keywords were added by machine and not by the authors. This process is experimental and the keywords may be updated as the learning algorithm improves.
Copyright information
© Springer Science+Business Media Dordrecht 2014