Alpine Terranes (K–Ar/Ar–Ar)
Reference work entry
DOI:
https://doi.org/
10.1007/978-94-007-6304-3_43
Synonyms
Tertiary metamorphic terranes; Young metamorphic terranes
Definition
Alpine terranes in the strictest sense can be defined geographically as terranes belonging to the region in south–central Europe from the Maritime Alps and Ligurian Alps along the Mediterranean coast between Genova and Marseille in the west and the Vienna basin in the east where the Tauern window ends in the northern belt and the Julian Alps of Slovenia in the southern belt.
In a geological sense, much of southern Europe from the Betics in southern Spain and the Rif in northern Morocco to the Hellenides in Greece much of southern Europe forms part of the Alpine orogeny. In fact, when viewed as resulting from the collision of the Arabian–African continent in the south and Eurasia in the north, the Alpine orogeny can be traced much further to the southeast to include Turkey and metamorphic complexes along the Persian Gulf to end in Oman in the far southeast (Figure
1
).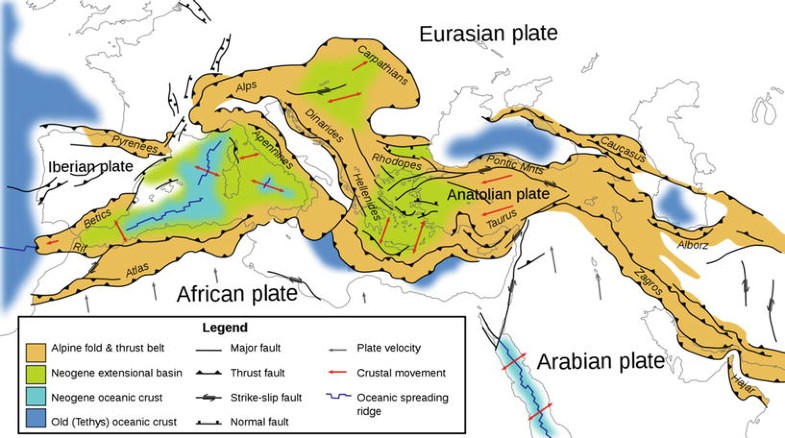 Copyright information
© Springer Science+Business Media Dordrecht 2015