Apatite
Reference work entry
DOI:
https://doi.org/
10.1007/978-94-007-6304-3_205
Synonyms
Chlorapatite (chlorine-rich variety); Dahllite (carbonate-bearing hydroxyapatite); Fluorapatite (fluorine-rich variety); Francolite (carbonate-rich variety); Hydroxyapatite (hydroxyl-rich variety)
Definition
Apatite is described herein and as a biomineral (biological apatite). The mineral apatite has the formula Ca
5
(PO
4
)
3
(F, Cl, OH) and is characterized (Figure
1
) by phosphorus tetrahedrons which share oxygen with nine-coordinated calcium sites and singly charged anion lattice sites hosting F, Cl, or OH that are surrounded by a planar arrangement of three calcium atoms (Beevers and McIntryre,
1946
). It occurs widely as an accessory mineral in all classes of rocks: igneous, metamorphic, and sedimentary (Klein and Hurlbut,
1999
). It is also found in pegmatites and other veins, probably of hydrothermal origin. The source of its datability is the radioactive trace element uranium that substitutes for calcium.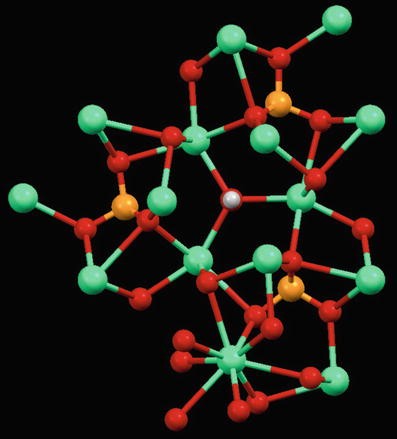 Copyright information
© Springer Science+Business Media Dordrecht 2015