Definition
Graphene
(or monolayer graphene or single-layer graphene) is a single-atom-thick, quasi-infinite, sp
2
-hybridized allotrope of carbon in which the atoms are packed in a planar honeycomb crystal lattice (see Fig.
1
). It can be visualized as a single sheet of graphite and its lattice structure is related to those of
fullerenes for drug delivery
and
carbon nanotubes
. Few-layered graphene, multilayered graphene, or multigraphene refers to a few layers of graphene stacked (with weak interlayer attraction) in a manner similar to graphite. Figure
1a
,
b
is a schematic representation of a sheet of single-layer graphene.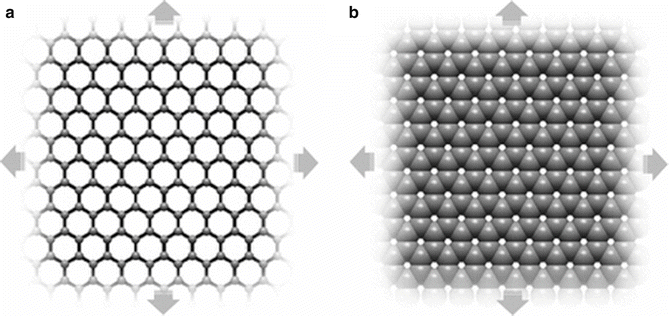 Keywords
Graphene Oxide 
Graphene Sheet 
Reduce Graphene Oxide 
Graphite Oxide 
Expandable Graphite 
These keywords were added by machine and not by the authors. This process is experimental and the keywords may be updated as the learning algorithm improves.
Copyright information
© Springer Science+Business Media Dordrecht 2015