Indigenous Knowledge
Living reference work entry
DOI:
https://doi.org/
10.1007/978-94-007-6165-0_309-2
Keywords
Primary Health Care 
Indigenous People 
Local Knowledge 
Indigenous Knowledge 
Psychosocial Care 
These keywords were added by machine and not by the authors. This process is experimental and the keywords may be updated as the learning algorithm improves.
Synonyms
As indicated by the topic, this piece of work is based on indigenous knowledge (IK). In an attempt to explain or define it, some related concepts such as indigenous and indigenous people are explained. It is important to define these concepts separately before combining them. To make indigenous knowledge more explicit, an example in the form of a picture from a real life situation is provided.
There are various definitions of the concept indigenous. The term refers to plants, animals, or people that naturally belong to a particular place. One can further define it as native – not introduced directly or indirectly according to historical record or scientific analysis into a particular land or region or environment from the outside but indigenous or natural to a region or place. When applied to denote human beings, the term indigenous is associated with people originating or developing naturally in a particular land or region or environment. It is thus the term used to describe people who are the original inhabitants of a particular geographical area.
In keeping with the meaning of indigenous above, it can be deduced that indigenous people are the custodians of indigenous knowledge. However, it should be noted that the definition of indigenous people is not always clear. This definition is complicated by the fact that this term includes culture, identity, language, tradition, faith, and belief. In this case the term indigenous people refers to people naturally originating in a particular country/region/place (or aboriginal to a place), namely, natives or simply Blacks in the case of South Africa. Some people have been born in South Africa and/or their grand-grandparents were also born in this country. Unfortunately, no matter how patriotic and loyal they may be, they cannot be referred to as the indigenous people of South Africa, but they do qualify to be the citizens of South Africa. The principles of Ubuntu (caring, tolerance, respect, communal, etc.) by which indigenous Africans live allow them space to be part of the South African community. This also means that all Africans (Blacks) who found themselves in India cannot claim to be indigenous people of India even though some of them have been born in that country. This is due to the origin of their forefathers being (South) Africa from a diasporan perspective.
The term "indigenous people" is closely related to indigenous knowledge. Indigenous knowledge implies knowledge that originates and is exclusive to an area without borrowing from or being influenced by knowledge from outside it. The literature regarding indigenous knowledge systems does not lead to one single definition of the term but rather to a description thereof, which in itself must indicate the problem with understanding what the term really means. The concept is referred to in different forms that could include terms like indigenous knowledge, indigenous technical knowledge, local knowledge, folk knowledge, traditional knowledge, traditional environmental (or ecological) knowledge, people's science, and more.
Indigenous knowledge can be broadly defined as the knowledge that an indigenous (local) community accumulates over generations of living in a particular environment. This definition encompasses all forms of knowledge – technologies, know-how skills, practices, and beliefs – that enable the community to achieve stable livelihoods in their environment. Indigenous knowledge is the homegrown and local knowledge – knowledge that is unique to a given culture or society. It is the basis for local-level decision making in agriculture, health care, food preparation, education, natural-resource management, and a host of other activities, and it is more evident in rural communities which have not adopted more of the urban lifestyles typical of the western culture.
Indigenous knowledge is the information base for a society, which facilitates communication and decision making. Indigenous information systems are dynamic and are continually influenced by internal creativity and experimentation as well as by contact with external systems. It forms livelihoods of indigenous people who depend almost entirely on specific skills and knowledge essential for their survival. Accordingly, for the development process, as indicated above, indigenous knowledge is of particular relevance for the following sectors and strategies: agriculture, animal husbandry, and ethnic veterinary medicine (refer to the picture below), use and management of natural resources, primary health care, preventive medicine and psychosocial care, saving and lending, community development, and poverty alleviation.
Indigenous knowledge is relevant on three levels for the development process. Firstly, it is most important for the local community in which the bearers of such knowledge live and produce. Secondly, development agents (CBOs, NGOs, governments, donors, local leaders, and private sector initiatives) need to recognize, value, and appreciate it in their interaction with the local communities. Before incorporating it in their approaches, they need to understand it – and critically validate it against the usefulness for their intended objectives. Lastly, indigenous knowledge forms part of the global knowledge. In this context, it has a value and relevance in itself. Indigenous knowledge can be preserved, transferred, or adopted and adapted elsewhere.
Indigenous knowledge is not a system of knowledge that is in opposition to a general so-called western scientific knowledge system and should not be compared to such, but evaluated on its own merit. At the same time indigenous knowledge systems cannot be interpreted or evaluated from a Eurocentric view alone. They have to be seen and understood within their own cultural contexts. Indigenous knowledge systems are also not static and place bound; they are systems of local knowledge that warrant integration into the mainstream of knowledge.
Indigenous knowledge systems are a key element in the development of poor communities and provide "culture-fit" problem-solving strategies for a diversity of situations, for instance, in primary health care, preventive medicine, and veterinary medicine. Traditional herbs, such as displayed in Fig.
1
above, play an important role in formal and informal medical systems in South Africa.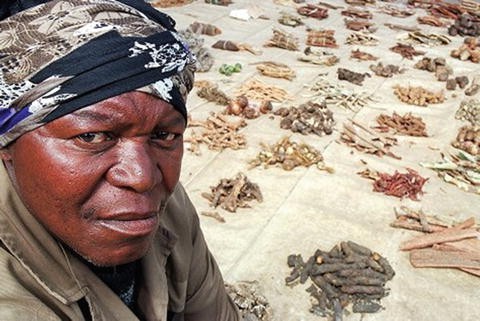 Copyright information
© Springer Science+Business Media Dordrecht 2014