Definition
The degree to which happiness tends to remain at the same level over time.
Description
Presumed Stability of Happiness
One of the ideological foundations of the modern welfare states is the belief that people can be made happier by providing them with better living conditions. This belief is challenged by the idea that happiness tends to remain at the same level and will therefore hardly change when living conditions improve. This counter intuitive thought draws to two theories of happiness.
One theory holds that happinessis a fixed "trait," rather than a variable "state." This theory figures both at the individual level and at the societal level. The individual level variant depicts happiness as an aspect of personal character, rooted in inborn temperament or acquired disposition and is commonly referred to as the "set point" theory of happiness. The societal variant sees happiness as a matter of national character,...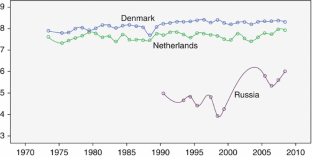 References
Brickman, P., & Campbell, D. T. (1971). Hedonic relativism and planning the good society. In M. H. Appley (Ed.), Adaptation level theory (pp. 287–302). New York: Academic.

Clark, A. E., Diener, E., Georgellis, Y., & Lucas, R. E. (2008). Lags and leads in life satisfaction: A test of the baseline hypothesis. The Economic Journal, 118, 222–243.

Easterlin, R. A. (1974). Does economic growth improve the human lot? In P. A. David & W. R. Melvin (Eds.), Nations and households in economic growth (pp. 89–125). New York: Academic.

Ehrhardt, J., Saris, W., & Veenhoven, R. (2000). Stability of life-satisfaction over time. Analysis of change in ranks in a national population. Journal of Happiness Studies, 1, 177–205.

Gardner, J., & Oswald, A. J. (2001). Does money buy happiness? A longitudinal study using data on windfalls. Warwick, UK: Paper University of Warwick.

Gerstorf, D., & Wagner, G. G. (2010). Lebenszufriedenheit am Ende desLebens in Ost-und Westdeutschland: Die DDR wirft noch einen langen Schatten. (Life satisfaction at the end of life in East and West Germany). In P. Krause & I. Ostner (Eds.), Leben in Ost-und Westdeutschland (pp. 429–439). Frankfurt, Germany: Campus Verlag.

Michalos, A. C. (1985). Multiple discrepancies. Theory Social Indicators Research, 16, 347–413.

Veenhoven, R. (2012a). World Database of Happiness: Archive of research findings on subjective enjoyment of life. Netherlands: Erasmus University Rotterdam. http://worlddatabaseofhappiness.eur.nl

Veenhoven, R. (2012b). Bibliography of happiness. Rotterdam: World Database of Happiness, Erasmus University. http://worlddatabaseofhappiness.eur.nl/ha-_bib/bib_fp.php

Veenhoven, R. (2012c). Happiness in nations. Rotterdam: World Database of Happiness, Erasmus University. http://worlddatabaseofhappiness.eur.nl/hap_nat/nat_fp.php

Veenhoven, R., & Vergunst, F. (2013). The Easterlin Illusion (Working paper 2013/1). Rotterdam: Erasmus Happiness Economics Research Organisation EHERO Erasmus University. http://www.eur.nl/ehero/
Copyright information
© 2014 Springer Science+Business Media Dordrecht
About this entry
Cite this entry
Veenhoven, R. (2014). Happiness Levels Stability. In: Michalos, A.C. (eds) Encyclopedia of Quality of Life and Well-Being Research. Springer, Dordrecht. https://doi.org/10.1007/978-94-007-0753-5_2844
DOI: https://doi.org/10.1007/978-94-007-0753-5_2844

Publisher Name: Springer, Dordrecht

Print ISBN: 978-94-007-0752-8

Online ISBN: 978-94-007-0753-5