Nanoencapsulation
Reference work entry
DOI:
https://doi.org/
10.1007/978-90-481-9751-4_50
Definition
Nanoencapsulation is defined as the entrapping of active ingredients in nanometer-sized capsules.
Overview
Nanoencapsulation is defined as the technology of packaging nanoparticles of solid, liquid, or gas, also known as the core or active, within a secondary material, named as the matrix or shell, to form nanocapsules (see Fig.
1
) [
1
]. The core contains the active ingredient (e.g., drugs, perfumes, biocides, vitamins, etc., see Table
1
), while the shell isolates and protects the core from the surrounding environment. This protection can be permanent or temporal, in which case the core is generally released by diffusion or in response to a trigger, such as shear, pH, or enzyme action, thus enabling their controlled and timed delivery to a targeted site [
2
,
3
].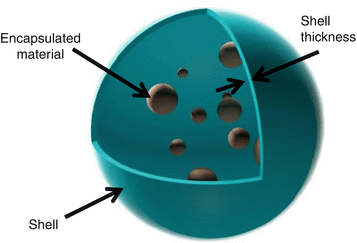 Copyright information
© Springer Science+Business Media B.V. 2012