Fullerene Dendrimers
Living reference work entry
DOI:
https://doi.org/
10.1007/978-3-642-36199-9_364-1
Definition
Fullerene dendrimers refer to regularly branched structures containing at least one fullerene molecule. In general, it can be differentiated between several positions where the spherical C
60
cage can be incorporated, i.e., at the center, within the branches, or at the surface of the dendrimer. As valid for dendrimers in general, an important feature that distinguishes fullerodendrimers from fullerene-containing polymers is the monodispersity of this aesthetically pleasing class of molecules (Fig.
1
).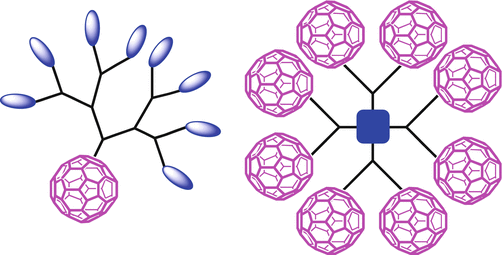 Keywords
Crown Ether 
Carbon Allotrope 
Fullerene Sphere 
Dendritic Architecture 
Increase Generation Number 
These keywords were added by machine and not by the authors. This process is experimental and the keywords may be updated as the learning algorithm improves.
Copyright information
© Springer-Verlag Berlin Heidelberg 2014