Definition
The most common zygomatico-maxillary complex (ZMC) fracture pattern involves fracture of the frontozygomatic suture (lateral orbital rim), the zygomatic arch, the lateral buttress (zygomatico-maxillary buttress), and the inferior orbital rim (Cummings 2005). The fractures through the lateral buttress and the inferior orbital rim are commonly connected by an anterior maxillary wall fracture. Although this represents the most common fracture pattern, significant variation exists. For example, the zygoma itself may be fractured into pieces and partial ZMC fractures, involving some, but not all of the fractures listed above, may occur (Figs. 1 and 2).
Keywords
Complex Fracture

Zygomatic Arch

Orbital Floor

Orbital Floor Fracture

Zygomatic Complex
These keywords were added by machine and not by the authors. This process is experimental and the keywords may be updated as the learning algorithm improves.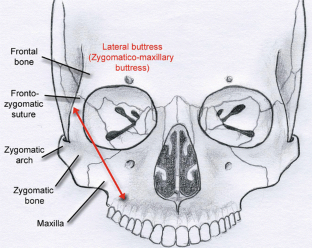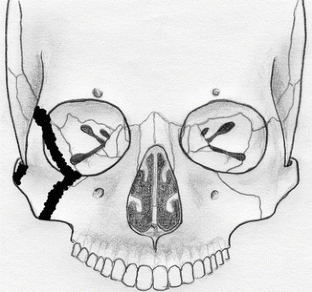 References
Cummings C (2005) Otolaryngology, head & neck surgery, 4th edn. Mosby, Philadelphia, pp 602–638

Della Rocca RC, Bedrossian EH, Arthurs BP (2002) Ophthalmic plastic surgery. Decision making and techniques. McGraw-Hill, New York

Holck DE, Ng JD (2006) Evaluation and treatment of orbital fractures. Elsevier Saunders, Philadelphia

Kelly P, Hopper R, Gruss J (2007) Evaluation and treatment of zygomatic fractures. Plast Reconstr Surg 120:5s–15s

Stewart M (2005) Head, face and neck trauma, comprehensive management. Thieme, New York, pp 68–76
Copyright information
© 2014 Springer-Verlag Berlin Heidelberg
About this entry
Cite this entry
Lelli, G.J., Liotta, D., Levine, B., Kacker, A. (2014). Zygomatic-Maxillary Complex Fractures. In: Schmidt-Erfurth, U., Kohnen, T. (eds) Encyclopedia of Ophthalmology. Springer, Berlin, Heidelberg. https://doi.org/10.1007/978-3-642-35951-4_222-3
DOI: https://doi.org/10.1007/978-3-642-35951-4_222-3

Received:

Accepted:

Published:

Publisher Name: Springer, Berlin, Heidelberg

Online ISBN: 978-3-642-35951-4

eBook Packages: Springer Reference MedicineReference Module Medicine