Atomic Force Microscopy (AFM) for Topography and Recognition Imaging at Single-Molecule Level
Living reference work entry
DOI:
https://doi.org/
10.1007/978-3-642-35943-9_496-1
Definition
High-resolution atomic force microscopy (AFM) topography has become a powerful bioanalytical tool when utilized for single-molecule force spectroscopy or simultaneous "topography and recognition imaging" (TREC). These modes allow for mapping of specific ligand-binding sites on biological samples under physiological conditions with nanometer resolution.
Introduction
Atomic force microcopy (AFM) is a version of scanning probe microscopy (SPM) that is extensively used in life sciences because it can be operated in physiological salt solution. In AFM imaging, a sharp probe tip mounted on a microcantilever scans over the specimen line by line, whereby the topographic image of the sample surface is generated by "feeling" rather than "looking." Tips with high sharpness provide high resolution, and cantilevers with low spring constants allow precise control of the forces between tip and sample. These forces cause the cantilever to bend or deflect. The deflection is monitored by a laser that is focused on the backside of the very end of the cantilever, and from there, it is reflected onto a split photodiode. The movement of the laser spot on the photodiode causes an electric signal change that is fed into a feedback loop for keeping the exerted force on the AFM tip constant. Within the feedback loop, voltage is applied to a piezoelectric scanner, which moves the tip or the sample up and down. The vertical movements of the piezo allow a computer to generate a map of surface topography (Fig.
1a
).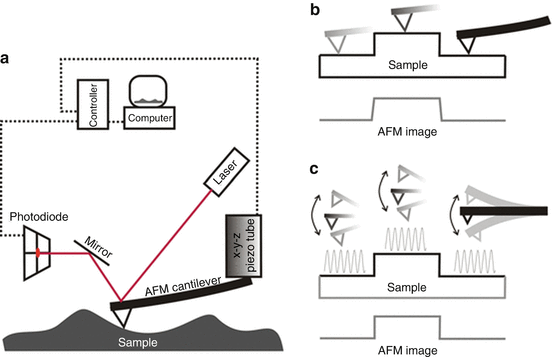 In the last decade, AFM has been widely applied to biological samples ranging from single molecules, such as proteins and nucleic acids, to macromolecular assemblies and whole cells, due to the fact that sub-nanometer resolution is achieved under physiological conditions without extensive sample preparation or labeling (Horber and Miles 2003; Francis et al. 2009; Muller 2008). Topographical imaging of these samples can be done in various modes in accordance with the experimental requirements, which can be divided into contact and dynamic mode AFM imaging.
Contact Mode Imaging
In contact mode imaging, the tip is in permanent physical contact with the sample surface (Fig. 1b). The scanner traces the tip over the surface, and the contact forces cause the cantilever to bend upon changes in topography. The deflection signal is held at a constant value by the feedback loop; thus, constant force is exerted on the specimen. With an AFM operated in the contact mode, topographic images with a vertical resolution of less than 0.1 nm and a lateral resolution of about 0.2 nm have been obtained (Bhushan and Marti 2010). Contact mode AFM imaging of soft biological samples requires delicate adjustment of the force set point, so as to optimize image contrast and reduce damage to the sample.
Dynamic Mode Imaging
Force-sensitive samples such as weakly attached cells can be pushed away by contact mode imaging, and continuous contact with the tip might damage living cells (You et al. 2000). Therefore, dynamic force microscopy (DFM) imaging methods like tapping mode (Putman et al. 1994) and magnetic AC mode (MAC mode) AFM (Han et al. 1997) imaging are more preferable for imaging weakly attached and/or soft cell samples.
In tapping mode, the AFM tip is oscillated near its resonance frequency. While it scans over the surface, it touches the sample only intermittently at the end of its downward movements, which result in an amplitude reduction upon sample contact (Fig. 1c). In order to apply a constant force on the sample, the amplitude reduction upon intermittent tip–surface contact is held constant in the feedback loop. Since the tip touches the sample surface at the very end of its downward movement only, the lateral forces acting on the sample are greatly reduced and result in less sample damage.
In magnetic AC mode (MAC mode) AFM, the oscillation of the magnetically coated cantilever is caused by an alternating magnetic field generated in a coil beneath the sample stage (Han et al. 1996). This allows for a sensitive adjustment of oscillation frequency and of the related phase response, a prerequisite for high-resolution imaging (Raab et al. 1999). MAC mode AFM is a powerful imaging technique to reveal membrane features such as lamellipodia, cytoskeleton fibers, F-actin filaments, and small globular structures on soft and weakly attached cells with a resolution of 5 nm on fixed and 20 nm on living cells under physiological conditions.
Force Spectroscopy
In live cells, molecular recognition events between receptors and their cognate ligands initiate many important biological processes, including genome replication, gene expression, enzymatic activity, immune responses, and other cellular processes. A number of techniques are presently available to investigate inter- and intramolecular interaction forces of biomolecules at the single-molecule level. These techniques span a measurable force window ranging from entropic forces at several femto Newtons (1 fN = 10−15 N) up to the rupture of covalent bonds at several nano Newtons (1 nN = 10−9 N) (Florin et al. 1994; Lee et al. 1994; Hinterdorfer et al. 1996). Since AFM offers one of the smallest force sensors, it is currently the only technique that allows for mapping and analysis of single receptor molecules with a lateral resolution at the nanometer (nm) scale.
In contrast to conventional AFM imaging modes, single-molecule force spectroscopy (SMFS) requires an upgraded sensor design. Here, a single biological ligand molecule has to be bound to the outer apex of the AFM tip by using a flexible linker in order to study and quantify binding interactions to surface-bound receptors (Ebner et al. 2008).
This study revealed that curliated E. coli and fibronectin form dense quantized and multiple specific bonds (approximately 10 bonds) with high tensile strength as a first step in bacterial infection, which allow bacteria to resist detachment from host cells. Single molecule and microbial cell force spectroscopy are powerful tools for unraveling the quantitative mechanisms that govern bacteria–host cell interaction.
Experimental probability density functions (PDFs) of forces were generated from many unbinding forces (>200). Two distinct populations of unbinding forces were observed for both S- and R-CIT-modified tips (Fig. 5b, c). In order to reveal whether the measured interactions were specific, the same experimental procedure was applied to CHOK1 cell lacking SERT and binding activity was largely reduced (Fig. 5b, c, black lines).
The fitted curves in the specific unbinding force versus force loading rate graph show similar binding strength and dissociation rates for the weaker binding site of both enantiomers. However, much higher binding forces for S-CIT were observed for the stronger binding site (Fig. 5d). Further, force spectroscopy experiments showed other important characteristics of SERT. While there were two distinct populations of characteristic binding strengths of citalopram for SERT in Na+-containing buffer, in Li+-containing buffer, SERT showed only a single peak in the PDF (Fig. 5e). The absence of the second peak points out that the central S1 site is Na+ dependent. Moreover, the vestibular mutant SERT-G402H merely displayed the higher force population, which confirmed that the weaker unbinding events of the wild type SERT originate from the vestibule S2 site (Fig. 5f).
This nanopharmacological approach of single molecule force spectroscopy has the potential for exploring transient binding sites in clinically relevant membrane transporters.
Simultaneous Topography and Recognition Imaging
Identification and localization of specific binding sites of biological sample surfaces with high spatial accuracy is an important objective in life science. Microscopy techniques, such as epifluorescence microcopy, photo-activated localization microscopy (PALM), stimulated emission depletion microscopy (STED), single particle tracking, single dye tracing, or scanning electron microscopy, have the drawbacks of limited resolution, lack of topographic information, and/or inapplicability under physiological conditions. AFM renders possible high-resolution topographical images at the nanometer scale, combined with single-molecule recognition under ambient conditions. The fastest and most straightforward method in this respect is the so-called TREC mode. The name stands for simultaneous acquisition of "Topography and RECognition." In this AFM mode, the surface of a biological specimen is scanned with a biofunctionalized tip at regular imaging speed, yielding a map of specific ligand-binding sites together with a topographic image (Stroh et al. 2004a, b; Hinterdorfer and Dufrene 2006).
By using a cantilever with a low Q-factor (the Q-factor divided by its resonance frequency represents the "memory" (characteristic time constant) of the cantilever), the amplitude reduction in the lower part of the oscillation (originating from a change in the topography) is sufficiently separated in time from amplitude reductions in the upper part of the oscillation (originating from the linker stretching, which only occurs during molecular recognition between the ligand and the receptor). Consequently, only the lower part of the sinusoidal oscillation is fed into the feedback loop and is thereby held constant to obtain the unbiased surface topography. The upper part of the oscillation, solely containing information on recognition between ligand and receptor, is recorded to generate a recognition image simultaneously to the topography image.
To prove the electrostatic nature of interaction, molecular recognition force spectroscopy experiments were initially performed and demonstrated that the avidin-functionalized AFM tips can be used as electrostatic sensors for recognition imaging. TREC mode of AFM imaging was applied to three different SMIL coatings (Fig. 7b). While the topography of the terminal 55% PAMAMPS layer appeared rather flat with an Root Mean Square (RMS) average of the roughness 1.43 ± 007 nm (Fig. 7c), NaOH rinsing of this layer increased the roughness slightly to 1.56 ± 008 nm (Fig. 7d). However, the highest surface roughness (2.1 ± 0.2 nm) was measured on the terminal DS layer (Fig. 7e), which can be explained by the branched structure of DS.
In TREC measurements, 55% PAMAMPS layer showed the homogeneously distributed adhesion (red and yellow areas in Fig. 7a, lower image), but the surface appeared more heterogeneous after NaOH treatment (Fig. 7b, lower image). Thus, it is evident that the adhesive properties can be altered by the NaOH treatment. Moreover, different charge distribution pattern was observed for the PDADMAC-DS-PDADMAC-DS layer (Fig. 7e, lower images). The high adhesion areas were from nano-domains and distributed heterogeneously on the surface.
These results show that recognition imaging offers a promising tool for the functional investigation yielding in parallel information about the morphology and the adhesive properties of the coating layer of electrophoresis capillaries.
TREC were experiments applied to map the distribution of PTK7 at the nanometer scale under physiological conditions. During TREC experiments, the modified AFM cantilever was oscillated close to its resonance frequency at a lateral scan rate of 0.5–1.0 Hz. Aptamer can bind to PTK7 receptor in downward swing of the oscillation, which causes a linker stretching and reduction of the oscillation amplitude in the upward direction (Fig. 8b). In topography images, the Jurkat cell showed a rather smooth surface. A high number of unique dark spots (recognition sites) were observed in the recognition image, indicating the position of aptamer-binding sites (Fig. 8c, d).
To prove that the detected recognition spots were the result of the interactions between sgc8c aptamer and PTK7 receptor, free sgc8c aptamers were injected into the sample solution to saturate the cells with sgc8c molecules (Fig. 8e). After scanning the saturated cells using the same tips with the same imaging parameters, the dark spots in the recognition image (Fig. 8g) were completely abolished due to blockage of the PTK7 receptors, while the topography image (Fig. 8f) remained unchanged. TREC imaging revealed that the PTK7 receptors were homogeneously distributed on the Jurkat cells. Statistical analysis showed that the PTK7 molecules form small receptor clusters with a surface density of 325 ± 12 PTK7 receptors per μm2.
In conclusion, simultaneous topography and recognition imaging may provide new insights into the detection of cancer markers and reveals potential for future clinical diagnostics.
Fluorescence microscopy was also used prior to TREC imaging to select proper THP1 cells according to its CD1d expression (Fig. 9b). Topography images showed cellular globular membrane features with heights ranging from ~20 to ~70 nm (Fig. 9c–f). Different sizes of microdomains were observed as recognition spots, detected from the amplitude reduction arising from interactions between iNKT TCR and CD1d–glycolipid complex. When the THP1 cells were pulsed with a-GalCer and C20:2, the analyzed recognition images (Fig. 9c, d) revealed that the CD1d–a-GalCer and CD1d–C20:2 complexes formed microdomains with dimensions (area) from ~250 to ~10,000 nm2 (mean ± SD, 2219 ± 989, n = 523) and were distributed nonuniformly. However, the distribution and the area size of the CD1d–glycolipid complexes clearly changed when the cells were incubated with OCH12. The area of the recognition spots was increased up to 30,000 nm2 (mean ± SD, 8197 ± 6925, n = 455), and the distribution of the spots changed and appeared as they were connected to each other (Fig. 9e). When the control group of cells, not pulsed with any glycolipids, were used, no recognition spots were observed (Fig. 9f). It means that the iNKT TCR-functionalized AFM tips select the CD1d–glycolipid complexes specifically.
The specificity of these measurements was also confirmed by applying blocking experiments in which free anti-CD1d antibody was added into the liquid cell while acquiring topography and recognition images. Addition of free antibody leads to the disappearance of almost all binding events in the recognition image, whereas no change in the topography image was detected.
Overall, TREC successfully revealed the distribution and localization of CD1d–glycolipid complexes on THP1 cell with single-molecule resolution which is the smallest size of recognition spots (about 25 nm, corresponding to a single CD1d-binding site) under physiological conditions.
Summary
Simultaneous topography and recognition (TREC) imaging is a combination of high-resolution AFM topography imaging with single-molecule force microscopy. This powerful AFM technique not only yields fine structural details about topography but also senses biochemical composition of native biological samples under physiological conditions. TREC shows single molecular interactions and thus allows one to visualize, identify, and quantify local receptor-binding sites and assign their locations to topographical features of a cell surface. For these reasons, TREC is a promising tool for the identification and location of receptor-binding sites on cells, organelles, and other subcellular structures.
Copyright information
© European Biophysical Societies' Association (EBSA) 2018
Section editors and affiliations