Definition
Psychological factors and interventions can sometimes powerfully modulate pain, and there is an emerging neurobiology of pain-modulatory mechanisms. Central neural mechanisms associated with such phenomena as placebo/nocebo, hypnotic suggestion (see Post-Hypnotic Suggestion), attention, distraction, and even ongoing emotions are now thought to modulate pain by decreasing or increasing neural activity within many of the brain structures shown in Fig. 1 (Rainville 2002). This modulation includes endogenous pain-inhibitory and pain-facilitation pathways that descend to spinal dorsal horn, the origin of ascending spinal pathways for pain as well as modulation, which takes place within cortico-limbic circuits once nociceptive information has reached cortical levels (De Pascalis et al. 2001; Fields and Price 1997; Hofbauer et al. 2001; Porro et al. 2002; Rainville 2002). Hypnotically induced reduction in pain is based on changes in pain induced by suggestions and facilitated by...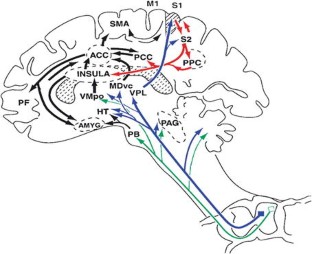 References
Barber, J., & Mayer, D. (1977). Evaluation of the efficacy and neural mechanism of a hypnoticanalgesia procedure in experimental and clinical dental pain. Pain, 4, 41–48.

De Pascalis, V., Magurano, M. R., & Bellusci, A. (1999). Pain perception, somatosensory event-related potentials and skin conductance responses to painful stimuli in high, mid, and low hypnotizable subjects: Effects of differential pain reduction strategies. Pain, 83, 499–508.

De Pascalis, V., Magurano, M. R., Bellusci, A., et al. (2001). Somatosensory event-related potential and autonomic activity to varying pain reduction cognitive strategies in hypnosis. Clinical Neurophysiology, 112, 1475–1485.

Fields, H. L., & Price, D. (1997). Toward a neurobiology of placebo analgesia. In A. Harrington (Ed.), The placebo effect (pp. 93–115). Cambridge: Harvard University Press.

Goldstein, A., & Hilgard, E. R. (1975). Lack of influence of the morphine antagonist naloxone on hypnotic analgesia. Proceedings of the National Academy of Science of the United States of America, 72, 2041–2043.

Hilgard, E. R., & Hilgard, J. R. (1983). Hypnosis in the relief of pain (p. 294). Los Altos: William Kaufmann.

Hofbauer, R. K., Rainville, P., Duncan, G. H., et al. (2001). Cortical representation of the sensory dimension of pain. Journal of Neurophysiology, 86, 402–411.

Porro, C. A., Balraldi, P., Pagnoni, G., et al. (2002). Does anticipation of pain affect cortical nociceptive systems? Journal of Neuroscience, 22, 3206–3214.

Price, D. D., & Barber, J. (1987). An analysis of factors that contribute to the efficacy of hypnotic analgesia. Journal of Abnormal Psychology, 96, 46–51.

Price, D. D., & Barrell, J. J. (1990). The structure of the hypnotic state: A self-directed experiential study. In J. J. Barrell (Ed.), The experiential method: Exploring the human experience (pp. 85–97). Massachusetts: Copely Publishing Group.

Rainville, P. (2002). Brain mechanisms of pain affect and pain modulation. Current Opinion in Neurobiology, 12, 195–204.

Rainville, P., & Price, D. D. (2003). Hypnosis phenomenology and the neurobiology of consciousness. International Journal of Clinical and Experimental Hypnosis, 51, 105–129.

Rainville, P., Carrier, B., Hofbauer, R. K., et al. (1999). Dissociation of sensory and affective dimensions of pain using hypnotic modulation. Pain, 82, 159–171.
Copyright information
© 2013 Springer-Verlag Berlin Heidelberg
About this entry
Cite this entry
Price, D.D., Rainville, P. (2013). Hypnotic Analgesia. In: Gebhart, G.F., Schmidt, R.F. (eds) Encyclopedia of Pain. Springer, Berlin, Heidelberg. https://doi.org/10.1007/978-3-642-28753-4_1831
DOI: https://doi.org/10.1007/978-3-642-28753-4_1831

Publisher Name: Springer, Berlin, Heidelberg

Print ISBN: 978-3-642-28752-7

Online ISBN: 978-3-642-28753-4