Munsell, Albert Henry
Living reference work entry
DOI:
https://doi.org/
10.1007/978-3-642-27851-8_307-1
Biography
Munsell was born on January 6, 1858, in Boston, MA, where his father was in the piano business. After high school he attended the Massachusetts Normal Art School in Boston. In 1879 he studied Ogden Nicholas Rood's influential book
Modern Chromatics
. In 1881 he was named an instructor and later a lecturer at this school, positions he held for 25 years. He was awarded a scholarship that made it possible for him to study from 1885 to 1888 at the Académie Julian and the École nationale superieure des Beaux-Arts in Paris and 1 year in Rome. After he returned he was an active painter of portraits and seascapes. In 1889 he received a patent for an adjustable artist's easel. In 1894 he married Julia Orr, the daughter of a New York financier, with whom he had a son, Albert Ector Orr Munsell, and three daughters. Munsell died on July 28, 1918, in Brookline, MA [
1
].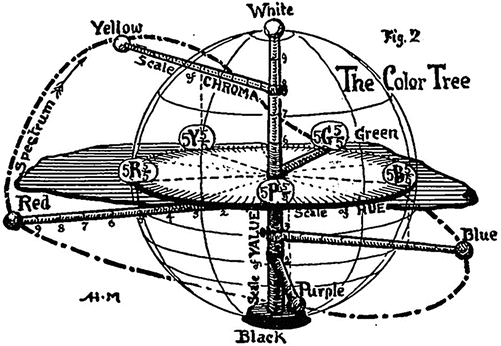 Keywords
Modern System 
Munsell Color 
Decimal System 
Color Notation 
Color Atlas 
These keywords were added by machine and not by the authors. This process is experimental and the keywords may be updated as the learning algorithm improves.
References
Further Reading
Kuehni, R.G.: The early development of the Munsell system. Color Res. Appl.

27

, 20–27 (2002)

CrossRef

Google Scholar

Nickerson, D.: History of the Munsell color system and its scientific application. J. Opt. Soc. Am.

30

, 575–585 (1940)

CrossRef

ADS

Google Scholar
Copyright information
© Springer Science+Business Media New York 2014