Dye, Metal Complex
Living reference work entry
DOI:
https://doi.org/
10.1007/978-3-642-27851-8_197-1
Definition
Metal-complex dyes and pigments are the coordination complexes of bi- or polyvalent transition metal ions with various dyes and have versatile application in various fields, which include the dyeing of nylon and protein fibers, paint, toners for photocopiers, laser and ink-jet printers, photoconductors for laser printers, nonlinear optics, singlet oxygen generators, dark oxidation catalysts, and high-density memory storage devices.
Chemistry and Application
Coloration of Textiles
The most prevalent examples are monoazo (C.I. Reactive Violet 1, Fig.
1
) and disazo (C.I. Reactive Blue 82, Fig.
2
) dyes. While formazan dyes are bi-, tri-, and tetradentate complexes, only tetradentate copper complex formazan dyes (e.g., C.I. Reactive Blue 160, Fig.
3
) have found commercial use owing to their intense colors [
1
].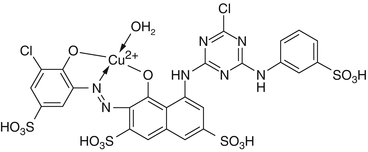 Keywords
Laser Printer 
Copper Phthalocyanine 
Singlet Oxygen Generator 
Zinc Phthalocyanine 
Aluminum Phthalocyanine 
These keywords were added by machine and not by the authors. This process is experimental and the keywords may be updated as the learning algorithm improves.
Copyright information
© Springer Science+Business Media New York 2013