Maximum Agreement Supertree
Living reference work entry
DOI:
https://doi.org/
10.1007/978-3-642-27848-8_222-2
Years and Authors of Summarized Original Work
2005; Jansson, Ng, Sadakane, Sung
2007; Berry, Nicolas
2010; Guillemot, Berry
2011; Hoang, Sung
Problem Definition
A phylogenetic tree is a rooted, unordered tree whose leaves are distinctly labeled and whose internal nodes have degree at least two. By distinctly labeled, we mean that no two leaves in the tree have the same label. Let T be a phylogenetic tree with a leaf label set S. For any subset S′ of S, the topological restriction of T to S′ (denoted by T | S′) is the tree obtained from T by deleting all nodes which are not on any path from the root to a leaf in S′ along with their incident edges and then contracting every edge between a node having just one child and its child. See Fig. 1 for an illustration. For any phylogenetic tree T, denote its set of leaf labels by Λ(T).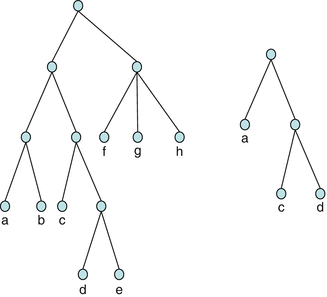 Keywords
Phylogenetic tree, Maximum agreement supertree, Rooted triplet, NP-hardness, Fixed-parameter tractability 
Notes
Acknowledgements
JJ was funded by the Hakubi Project at Kyoto University and KAKENHI grant number 26330014.
Copyright information
© Springer Science+Business Media New York 2015