PICALM
Living reference work entry
DOI:
https://doi.org/
10.1007/978-3-642-27841-9_7143-3
Definition
PICALM is a ubiquitously expressed 660-amino-acid protein. PICALM localizes predominantly to the cytoplasm where it is involved in clathrin-mediated endocytosis. Structurally, PICALM contains several domains important for endocytosis, including an ENTH domain, DPF and NPF motifs, and a clathrin-binding domain (Fig.
1
).
PICALM
has been identified in leukemic chromosomal translocations with
AF10
and
MLL
, encoding for fusion genes
CALM
-
AF10
and
MLL
-
CALM
, respectively (Fig.
1
).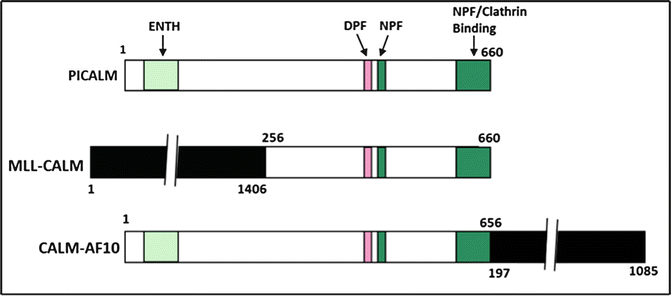 Keywords
Acute Myeloid Leukemia 
Alzheimer Disease 
Amyloid Precursor Protein 
Amyloid Plaque 
Bone Marrow Transplantation Model 
These keywords were added by machine and not by the authors. This process is experimental and the keywords may be updated as the learning algorithm improves.
Copyright information
© Springer-Verlag Berlin Heidelberg 2014