Cryptotanshinone
Living reference work entry
DOI:
https://doi.org/
10.1007/978-3-642-27841-9_7124-8
Definition
Cryptotanshinone is a cell-permeable diterpene quinone and natural product isolated from the root of
Salvia miltiorrhiza
Bunge (Fig.
1a
), a widely used herb in China for treatment of cardiovascular and cerebrovascular diseases.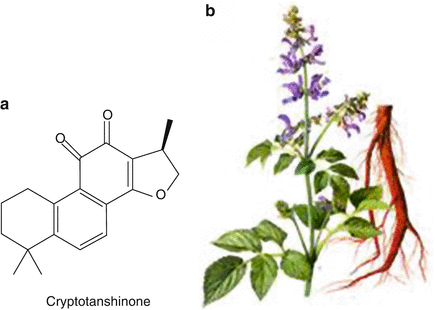 Keywords
Androgen Receptor 
Bovine Aortic Endothelial Cell 
DU145 Prostate Cancer Cell 
Prostate Cancer Cell Proliferation 
Inhibit Tube Formation 
These keywords were added by machine and not by the authors. This process is experimental and the keywords may be updated as the learning algorithm improves.
Copyright information
© Springer-Verlag Berlin Heidelberg 2014