Bisphosphonates
Living reference work entry
DOI:
https://doi.org/
10.1007/978-3-642-27841-9_660-2
Definition
Bisphosphonates are potent inhibitors of osteoclast-mediated bone resorption. These compounds are stable analogues of the inorganic pyrophosphate (PPi), which is an endogenous regulator of bone mineralization.
Characteristics
Bisphosphonates were developed in the nineteenth century for industrial use, in particular as "water softeners." The first clinical use of bisphosphonates in humans was in the 1960s for the treatment of Paget disease, a focal disorder of bone remodeling due to abnormally increased osteoclast-mediated bone resorption. So far, bisphosphonates have been successfully studied in several clinical disorders characterized by an alteration in bone resorption, such as metastatic and osteolytic bone diseases, hypercalcemia of malignancy, and osteoporosis.
All bisphosphonates share a common structure which consists of two phosphate groups attached to a single carbon atom (P-C-P) (See Fig.
1
).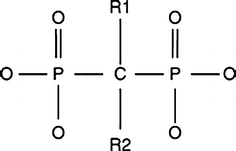 Keywords
Breast Cancer 
Bone Mineral Density 
Multiple Myeloma 
Bone Metastasis 
Zoledronic Acid 
These keywords were added by machine and not by the authors. This process is experimental and the keywords may be updated as the learning algorithm improves.
Copyright information
© Springer-Verlag Berlin Heidelberg 2015