UCN-01 Anticancer Drug
Living reference work entry
DOI:
https://doi.org/
10.1007/978-3-642-27841-9_6091-2
Definition
UCN-01 is an indolocarbazole compound originally isolated from
Streptomyces spec
. cultures, similar to
staurosporine
, but with an additional hydroxy group on the lactam ring (Fig.
1
). It acts as an ATP competitive inhibitor targeting several kinases including protein kinase C (PKC),
cyclin-dependent kinases
, and Chk1 and shows high preclinical and clinical antitumor activity. UCN-01 can abrogate
DNA damage
-induced cell cycle arrest in S and G2 phases of the cell cycle and thereby sensitize tumor cells to DNA damage-induced toxicity. Currently, several phase I/II clinical trials explore UCN-01 as a stand-alone therapy or in combination with various DNA-damaging chemotherapeutic drugs.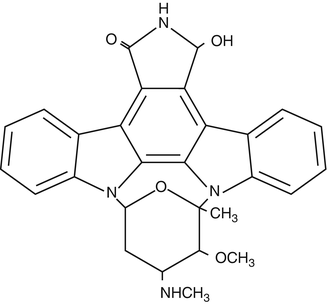 Keywords
Aurora Kinase 
Spindle Assembly Checkpoint 
Spindle Checkpoint 
Mitotic Catastrophe 
Chk1 Kinase 
These keywords were added by machine and not by the authors. This process is experimental and the keywords may be updated as the learning algorithm improves.
Copyright information
© Springer-Verlag Berlin Heidelberg 2012